Nitzer Ebb announce career-spanning box set, Nitzer Ebb 1982-2010: the Box Set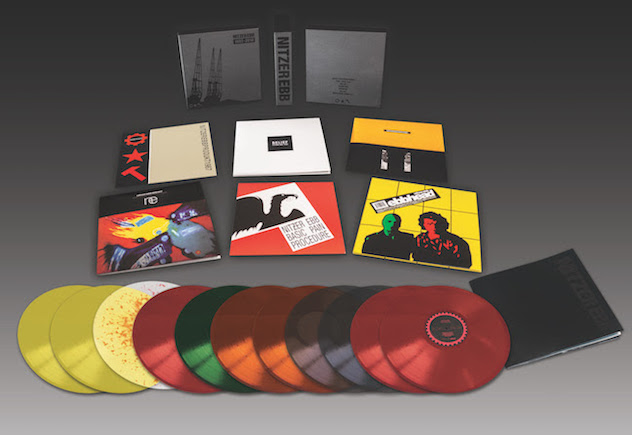 English industrial/synthpop veterans Nitzer Ebb will be anthologized in vinyl box sets containing remastered versions of their catalog of albums from the Geffen and Mute labels. These come in advance of at least one 2019 festival appearance bringing Nitzer Ebb's four founding members together on stage for the first time since 1987.
Two versions of Nitzer Ebb 1982-2010: The Box Set arrive on October 5, each including several bonus tracks and hard-to-find 12" mixes, expanded album artwork, and a book of liner notes by Nitzer Ebb's co-founders Douglas McCarthy and Bon Harris with never-before-seen content and a career chronology. The 10-LP version includes black vinyl double-disc editions of That Total Age, Belief, Showtime, Ebbhead, and Big Hit, with space for collectors to include more recent vinyl pressings of their self-released debut Basic Pain Procedure and their 2010 album Industrial Complex. The 11-LP limited edition finds the five albums on colored vinyl, as well as Basic Pain Procedure on splatter-colored vinyl. California's Pylon Records—home of catalog reissues by the likes of Ride, Abecedarians, Death in June and Monster Magnet—handled the box set remastering and packaging, and is the sole online source for the colored vinyl limited edition.
Nitzer Ebb also confirmed their first live performance since going on hiatus in 2010. Their July 20, 2019 date at the Amphi Festival in Cologne, Germany will see McCarthy and Harris reuniting with David Gooday and Simon Granger, present from the band's formation in 1982. More shows are slated to be announced. With this flurry of activity, Nitzer Ebb now seek to label their work as NITZEREBBPRODUKT (NEP) and have rebranded their web presence as TEXTPRODUKT, which you can visit here.
Find the complete tracklist of the box set here.
Nitzer Ebb appear twice in Mute Records: 40 Essential Tracks, celebrating the label's 40th anniversary.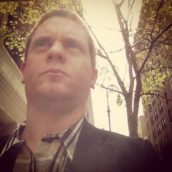 Adam Blyweiss
Adam Blyweiss is associate editor of Treble. A graphic designer and design teacher by trade, Adam has written about music since his 1990s college days and been published at MXDWN and e|i magazine. Based in Philadelphia, Adam has also DJ'd for terrestrial and streaming radio from WXPN and WKDU.