Celebrate the Catalog: Nitzer Ebb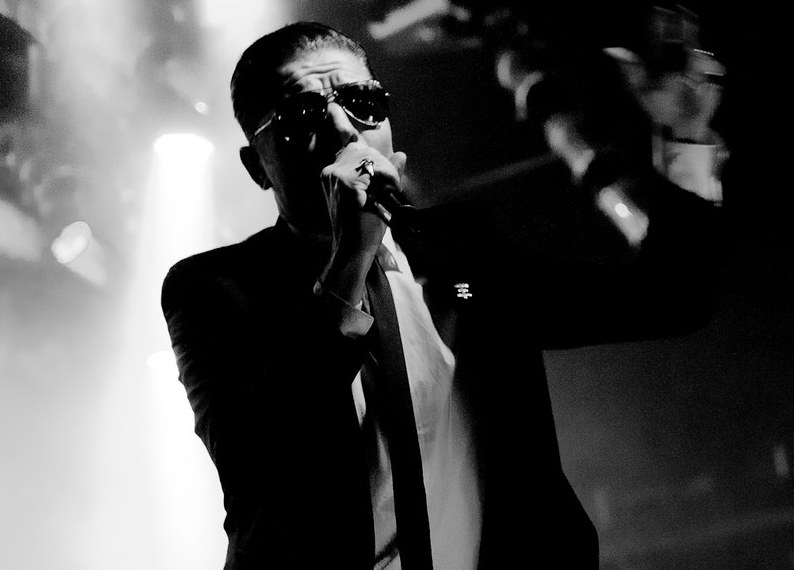 After an eight-year hiatus, industrial giants Nitzer Ebb have lurched back to life. The pioneering Essex EBM group with the German-sounding name are hitting a bunch of festivals throughout 2019, with a lineup bringing together members stretching back to the band's inception in 1982: Douglas McCarthy, Bon Harris, David Gooday and Simon Granger. The industrial pioneers built their reputation on succinct, mechanized grooves run through with social isolation and shorthand political anger. In addition to the tour celebrating that music, they've teamed up with Pylon Records to repackage it in the comprehensive Nitzer Ebb 1982-2010: The Box Set, stuffed with B-sides and remixes by everyone from Adrian Sherwood to William Orbit to Barry Adamson. With its arrival this past weekend, we're taking the opportunity to celebrate the band's catalog and review the major releases given space in this Nitzer Ebb archive.
Photo by Petter Duvander, Creative Commons [CC BY-NC-SA 2.0]
---

Basic Pain Procedure
(self-released, 1983; Pylon, 2012)
The first eight songs Harris, McCarthy, and Gooday were brave enough to commit to tape comprised a demo to shop to labels and a product to sell to early fans and concertgoers. Most follow a painfully basic formula: spare drum patterns and loud crash cymbals, repetitive synth stabs from one keyboard with similar notes across multiple songs, and McCarthy delivering not his signature gravelly yell but soulful half-singing in the style of Bauhaus' Peter Murphy. Wildly different from the Nitzer Ebb we know, on its face it doesn't seem a particularly strong contemporary of anyone in industrial music's earliest melodic spaces. Somehow, it still got their foot in the door. Thank goodness.
Rating: 6.5/10

That Total Age
(Mute/Geffen, 1987)
Given a wider array of equipment and competent studio assistance from British producer Phil Harding (Dead or Alive, Depeche Mode), Nitzer Ebb make a quantum leap on their major-label debut. The soundtracks and narratives in songs like "Warsaw Ghetto" are much more dense and complex. When paired with McCarthy's screamed melodies, they resulted in no less than three de facto EBM anthems: "Murderous," "Let Your Body Learn," and "Join in the Chant," the last of which extended to Ibiza, MTV, and other dance-music mainstreams. It's the sound of masculinity working out its toxicity grunt by grunt, a perfect album for stomping dancefloors, pumping iron, or breaking shit in frustration.
Rating: 9.5/10
Belief
(Mute/Geffen, 1989)
From this album on, Harris and McCarthy would work largely as a duo and be produced by legendary electronica studio hand Flood. It's unclear if Gooday's hands and contributions were missed, but everything about Belief feels strained and restrained. The beats are more spare, clipped, and spacious ("Captivate") than those programmed just two years earlier. McCarthy sounds like he's singing through gritted teeth and constipation ("For Fun"). Even the big hits like "Control I'm Here" rely on barely any melody. This is an album-length meditation on rhythm and power, and it's a headphone trip compared to the cathartic malice of That Total Age.
Rating: 8.0/10
Showtime
(Mute/Geffen, 1990)
A significant part of Showtime finds the duo playing soundalikes to then-current and near-future artists. "My Heart" and "Rope" seem lifted from Skinny Puppy, with McCarthy spitting at listeners over sizzling instrumentals; "Nobody Knows" and "One Man's Burden" are grinding digital slow jams heralding Marilyn Manson. The album's important singles, meanwhile, are car crashes. Nobody really survives "Fun to be Had," a George Clinton techno-funk vehicle that isn't much fun no matter what the lyrics say. Somehow it's "Lightning Man" that walks away from the fray upright, even with its anachronistic horn and woodwind patches and its timelessly weird refrain "Baby, come to daddy/Daddy, come to baby." This is a very strange album in that Nitzer Ebb felt drastically unsure of where to go next.
Rating: 7.0/10
Ebbhead
(Mute/Geffen, 1991)
Constantly morphing scene-setting rescued Nitzer Ebb's reputation at the end of as fertile and productive a period as any industrial band ever assembled. Their fourth album in five years finds McCarthy coming across as a slimy lounge singer ("Sugar Sweet," "Reasons") backed by some of the most jam-packed music they'd mixed yet. Incorporating hip-hop's samples and rapping ("DJVD"), high-energy balladry ("I Give to You"), and nods to squawking R&B and acid techno ("Trigger Happy"), Ebbhead proves the band could apply supple texture to music notorious for being flat.
Rating: 8.5/10

Big Hit
(Mute/Geffen, 1995)
This is about as straightforward a rock album as Nitzer Ebb could muster, swept up as music was in the search for the next big grunge thing post-Nirvana. The end result is… good? I guess? It's probably smarter than industrial's A&R wannabes of the day (Stabbing Westward, Machines of Loving Grace, God Lives Underwater), but weirdly enough there isn't a big hit (ha!) the band can hang their hats on here. There are tons of live drums and guitars, yet the biggest revelation is McCarthy's surprising spectrum of vocal styles and melody that their back catalog hadn't hinted at before. Unfortunately, in expanding their emotional range they end up watering down their emotional power.
Rating: 6.0/10
Industrial Complex
(Alfa Matrix/Major/Artists' Addiction, 2010)
The Nitzer Ebb name sat on the shelf for 15 years while McCarthy worked with new musical partner Terence Fixmer and Harris became an in-demand producer for alt-rockers and television shows. When they chose to dust it off, they ended up creating a solid, solidly middle-of-the-road modern EBM album. The band works best here on globby synth-driven songs for first-person shooters ("Once You Say," "Down on Your Knees," "I Don't Know You"), and luckily those make up the majority of the LP. Less successful are most of the guitar-driven rockers like "Payroll" and slower experiments like "Traveling" and "Going Away," but "Kiss Kiss Bang Bang" is evidence that the band actually knows how to smile, if not have actual fun. It's not a revelatory last chapter in Nitzer Ebb's history, but at least it showed they hadn't lost touch with the currency of the industrial genre.
Rating: 7.5/10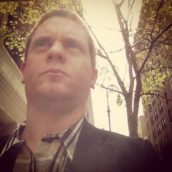 Adam Blyweiss
Adam Blyweiss is associate editor of Treble. A graphic designer and design teacher by trade, Adam has written about music since his 1990s college days and been published at MXDWN and e|i magazine. Based in Philadelphia, Adam has also DJ'd for terrestrial and streaming radio from WXPN and WKDU.