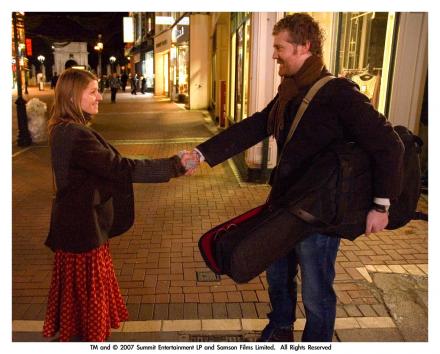 Earlier this year, we at Treble complied a best of movie songs; the best music moments on film. If that list was made this month rather than in February, I guarantee that the music from "Once" would have made the list. Once is an unassuming, little indie film from Ireland about two people: a vacuum repairman/street performer and a recent Czech immigrant. There is no great adventure, or far off lands, but really the story of two people who meet and share a very profound bond. I liken it to Richard Linklater's great companion films Before Sunset and Before Sunrise.
So? You might be asking, this website is about music, not films. Well, smarty-pants, Once is a musical. I know what you're thinking; this isn't like Dreamgirls or Joseph and the Amazing Technicolor Dreamcoat (though this might be the first time ever those two things are ever mentioned on Treble). Over the years, the genre of the musical has gotten the reputation of being bombastic and a bit cheesy. But let's take the word 'musical' to its strictest definition: a film or theatrical production consisting of musical numbers and dialogue based on a unifying plot. (Thank you, Merriam Webster.) That is precisely what Once is, the story is propelled by the songs and the music becomes a third character.
The film stars Glen Hansard, of The Frames and also the Alan Parker film The Commitments, and Marketa Irglova, in her first role. Before Once was even made, the two had collaborated on an album, many of the songs from which appear in the film and on the soundtrack. We never learn their names in the film yet they are still familiar and we become close to them. This familiarity is partly because of the winning performances but also because of the songs. Unlike traditional musicals, this one is built around pop songs and the heart-wrenching qualities of these songs allow the audience to identify with them and thus identify with the characters.
In the scene in which Hansard and Irglova meet, Hansard is giving a stirring performance on a worn out acoustic guitar. Count me as having a terrible memory because I can't quite remember if the song sung was "Leave" or "Say It To Me Now." Either way, both songs are highly emotional songs full of passion and anger towards the character's ex-girlfriend. Hansard sings (and at times screams) the song at night with no one around to listen. He is singing as much for himself than for anyone else. Moved by his performance, Irglova then begins to talk to him, recognizing his talent and artistry.
Once is as much about a strong bond between two people as it is also celebrating the performers. The couple bond over music and the film shows the sometimes frustrating and oft times euphoric act of writing a song. Not long after they meet, the couple head into a music store whose kindly owner lets the girl practice on the pianos. Here, he teaches her a song and they begin, haltingly then harmoniously, to sing and play together. It's barely twenty minutes into the film, but that scene is so profound that I was brought to tears even before even knowing these characters yet. The strength of that scene is a testament of how good the song is. "Falling Slowly" is the lead track off of the soundtrack and it's a wonderfully aching song. Hansard's lyrics are appropriate for the film as he sings "I don't know you, but I want you" and the chorus has a profound sense of yearning as Hansard and Irglova harmonize. It is in this scene that they bond in a way that is more powerful than romance, that there is a synergy between them.
Later on, Hansard gives Irglova a CD player and permission to write lyrics for a song he has trouble with. This is another lovely scene as Irglova runs out to a convenience store for batteries and she begins to sing freshly written lyrics on the walk back home. The resulting song, "If You Want Me," is vulnerable and coyly seductive. Irglova's sweet vocals recalls Stars' Amy Millian though with a more Eastern European slant. The scene gives Irglova's character a melancholy context, but it also exposes the fluidity of songwriting. Likewise a scene in which Hansard writes "Lies" as he watches a DVD recording of his ex-girlfriend on his laptop. "Once" is a film that more or less shows and celebrates the act of songwriting.
Hansard and Irglova may not be singing their songs on a stage or narrating the scenes with them, but the music in "Once" plays such an integral part to the plot that it's impossible to imagine the film without it. These characters don't say much in the way of dialogue, but they emit a wealth of emotions in the songs that they sing together. I doubt that I had ever seen a movie that utilized music in such a moving way. By themselves, these songs are wonderfully written but in the context of the film they take on so much more meaning. The film and the songs work together to create a singular moving piece of art.