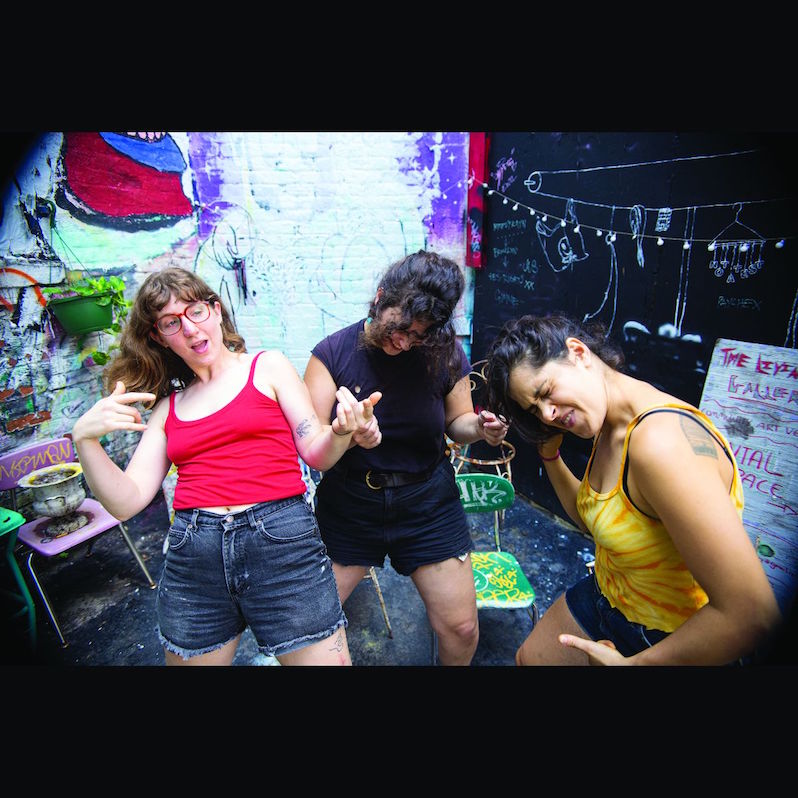 Palberta 5000 is really something else when you put into perspective the individual careers of the members of Palberta. Longtime best friends Nina Ryser, Lily Konigsberg and Ani Ivry-Block have been at it as Palberta since 2013, but their collaborations, solo pursuits and side projects seem boundless. Their greater circle of associates stretch far and wide across the national DIY circuits, but the band is most definitely an integral part of the New York and Philly scenes. I was watching that Laurel Canyon documentary and someone said that most of these bands forming at the time were basically super groups. Considering the collective output of its members, it's hard not to feel the same way about a band like Palberta, the only difference being they've worked in reverse. Turns out they've been super all along.
It seems the kind of operation Palberta got going is the tried-and-true approach that those Laurel Canyonites found fruitful; hanging out and playing music literally all the time. One can glean from the band's social media presence just how collaborative the trio's arrangements are. I'm off Instagram now but I recall how often I'd see videos of Ani Ivry-Block in front of the computer with Garageband up and guitar in hand. While Palberta 5000 was recorded upstate in Matt Lambozza's proper Peekskill studio, the revolving door approach the band members employ reminds me of the ethos established by the squeaky hinges in first sixteen seconds of "Tractor Rape Chain" by Guided By Voices: the door is always open the mic is always hot. And in the same way GBV subvert arena and radio rock of the '60s and '70s, Palberta upend the very foundation of pop music with volatility and abrasion, but also with thoughtful precision and some of the most excellent vocal harmonies in punk. 
Palberta 5000 continues that pop-subversive trend, but with an ever smoother finish. The new record ties down the bouncing luggage in the back of Roach Goin' Down. It's tighter and catchier, sure to snag the ears of new listeners who may be hooked on Lily Konigsberg and Nina Ryser's respective art-pop offshoots. The band condemns uncut rugs everywhere on the first half of "Before I Got Here" and works a Cars-esque synth into opener "No Way." They even sound anthemic on "Corner Store," a track Palberta devotees may recognize from the band's pre-COVID sets, renditions which were only enhanced by Ani Ivry-Block's rousing and raspy croons. As for the album cover, some might call it "postmodern," but I just think it's fun. It reminds me of a picture you'd see bounce into view for a few moments on a screensaver—a deep cut shot perfect for a too-busy-to-bother record sleeve reflecting the sheer amount of material these three heads have put out in their lifetimes.
There's a DIY renaissance going on in New York City, with Palberta being a focal point of the scene. That Laurel Canyon doc is great and some of these old dudes think highly of their own renaissance, but I think very highly of the circles in New York and Philly too. Palberta, Data, Shimmer, The Cradle, Old Maybe, This is Lorelei, Old Table. While Palberta's approach maintains its shifty and off kilter vision on Palberta 5000, there's a marked new brilliance in the band's grand design, a display of their obvious expertise in winning melodies and powerful song structure.
---
Label: Wharf Cat
Year: 2021
---
Similar Albums: