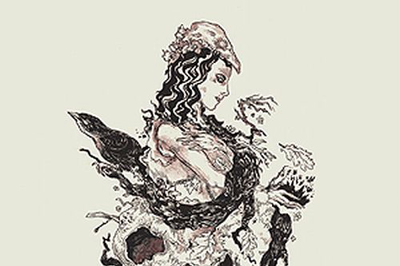 Next week, we begin to unveil our annual lists of the best albums and songs of the year. But before we get there, it seemed only fair that we look back to months past to dig up some of the releases we never got around to praising when they were a little fresher. However, that doesn't mean these albums have gotten any less interesting. In fact, if anything, these four albums have only gotten better over the course of the year. So here's a brief reminder of some great albums that might have slipped through the cracks, with Treble's seal of approval.
Danny Brown – XXX
(Fool's Gold)
If there's a moral to Danny Brown's XXX, it's this: Don't do as Danny Brown does. The Detroit rapper specializes in debauchery – narcotic, sexual, you name it – though not in a trolling, provoke for provocation's sake kind of Odd Future shock value. His heroic consumption of substances, be they illegal, legal or otherwise, is the central conceit of XXX, and Brown goes the extra mile in taking the listener through the peaks and valleys of what that entails. XXX, while aptly signifying high-test moonshine and pornographic content, is also the Roman numeral sequence for 30, which also happens to be Brown's age.
Deafheaven – Roads to Judah
(Deathwish Inc.)
If San Francisco's Deafheaven has been on the business end of some of that purist ire, it's only because their music seems far too graceful and elegant to qualify as metal under conventional terms. The band's Deathwish Inc. debut Roads to Judah certainly takes a crystal sledgehammer to those conventions, but does so with the kind of dense and raw menace that only a black metal outfit could provide. It's an immersive and beautiful experience, and, of course, a very loud one.
Peaking Lights – 936
(Not Not Fun)
The married duo of Aaron Coyes and Indra Dunis no doubt have some pretty interesting influences, as anyone who has listened to one or many of the mixes they have pieced together in the past year will have noticed: dub, Ethio pop, soul, disco, exotic psychedelic and pop, pop and psychedelic exotica. The dub influence is the hardest to miss, given the heavily hypnotic, distorted and very low bass-lines that assume pride of position in "Tiger Eyes (Laid Back)," "All the Sun that Shines," or "Birds of Paradise Dub Version."
Toro y Moi – Underneath the Pine
(Carpark)
Toro y Moi may be one man but there are many more sounds that come from him. The typical song off of Underneath the Pine, his sophomore full-length, is one layered with synths and other key-based and electronic instruments, held firmly together by pensive bass lines and angora-soft percussion. Occasionally a guitar gets a word in edgewise. Above all of it is Bundick's voice, which croons with hushed, slow-burning melodies and is amplified by reverb to the extent that it seems to have no other source than the ether itself.