40 Years of 'Melt': Peter Gabriel's catalytic third album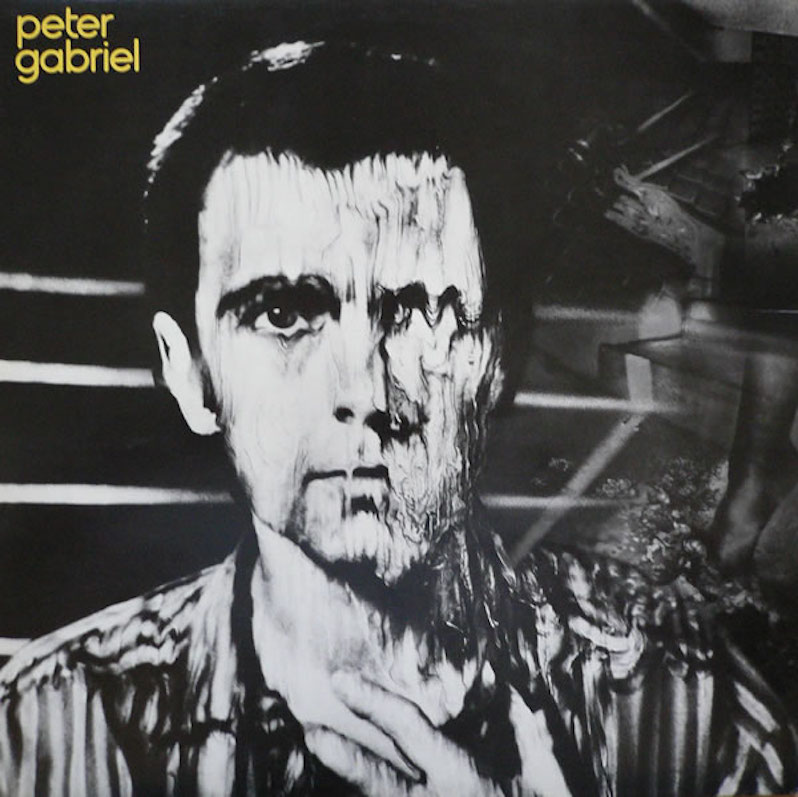 Catalysts are hard to define in pop music. You don't know how to describe them, but you know them when you hear them. Or, in some cases, when you see the melting face on the album cover.
Rock's most catalytic albums either change a musician's trajectory or establish their creed in the most permanent terms: Marvin Gaye's What's Going On, Stevie Wonder's Innervisions, Bruce Springsteen's Born to Run, Tom Waits' Swordfishtrombones, Beyoncé's self-titled album. They're clear demarcations that break with some aspects of a musician's past—neither rejecting nor dismissing it, but making it obvious that revisiting it will only serve a limited, usually commercial, purpose. What matters lies ahead.
Peter Gabriel's third album, released 40 years ago this month, is a catalyst. Officially his third straight self-titled album (which we will forthwith call Melt, as they now do on Spotify), it consummated the singular artistic expression he sought after leaving Genesis. It was a wholehearted embrace of technologies and sounds that even the most experimental musicians hadn't devised yet.
But most importantly, Melt reflected some common ailments and culpable obsessions that pop music had quarantined in the 1970s. Few records of the time (maybe Suicide's self-titled album) described the corrosion in such stark, unromantic terms; none of them created a whole new musical vocabulary to support it. Gabriel's break made its statements concisely and coldly. It also introduced techniques and approaches that other musicians picked up on, kept using, and still employ.
Peter Gabriel has always been an expeditionist. You get a sense of that in his early work with Genesis, especially when he was pursuing themes and plots in extended works like "Supper's Ready" or The Lamb Lies Down on Broadway. But Genesis was a songwriting democracy, so no matter how Gabriel stretched out he was always betrothed to the group dynamic. When he went solo in 1976 he was free to make a more personalized version of his own truths.
Gabriel's first two solo records were a debut produced by Bob Ezrin, the spectacle expert for Alice Cooper and KISS, and a drier sophomore album helmed by Robert Fripp. Both showed Gabriel's song craft reducing in scale from his Genesis years, narrowing down to a more personal focus, as on the optimistic hit "Solsbury Hill," which was ostensibly about leaving Genesis, more broadly about repossessing one's center.
Gabriel soaked up much of the ethos advanced by new musicians at the time, including the punks who were actively trying to put most classic and progressive rock behemoths out of business. But Gabriel was one of the few presumed old-school targets who embraced, if not the structure, then the liberating principles punk and new wave espoused. (Another was his friend Peter Hammill, late of Van Der Graaf Generator.)
For his third album Gabriel selected two younger audio professionals who were still cutting their teeth with a rash of new bands. Steve Lillywhite, a 24-year-old producer who had works by Ultravox!, Johnny Thunders and Siousxie & the Banshees to his credit, came on board with audio engineer Hugh Padgham, who had some old-prog experience with Emerson, Lake & Palmer and Gentle Giant.
Both were working on XTC's Drums and Wires at Richard Branson's studio The Town House in West London's Shepherd's Bush district when Gabriel inquired of Lillywhite's availability. XTC guitarist Dave Gregory, a fan of Genesis and Gabriel (who loved XTC back), persuaded him to take the gig. He brought Padgham, who would later produce the Police's and Phil Collins' albums, along to run the decks.
Gabriel used a combination of musicians for Melt, including many guests who didn't superficially square up with his musical past (except for his Genesis bandmate Phil Collins, of course). Gregory went across the hall to add guitar to a few songs; elsewhere Kate Bush, sax player Dick Morrissey, Fripp, and The Jam's Paul Weller made spot contributions.
Many of the musicians on Melt became regular collaborators with Gabriel, including guitarist David Rhodes, drummer Jerry Marotta, and bassist Tony Levin. In that sense Melt also served as the root of Gabriel's '80s work; all three joined his touring band, along with keyboardist Larry Fast, one of Melt's most important position players. They all reunited to record Gabriel's next album Security, and only Fast dropped out before the making of the blockbuster So.
The direction Gabriel went with Lillywhite and Padgham was shocking. Gabriel had trafficked in unease and casual anxiety before, but the music on Melt was fraught with fear and cascading disaster. Gabriel stripped his lyrics down to the most basic, economic storytelling. The repeated refrains in "No Self Control" ("I don't know how to stop"), "And Though The Wire" ("I want you"), and "Biko" supplied all the subtext the listener needs; otherwise they were straight catalogs of misbehavior and urges.
The sounds Gabriel and his producers invented—the sick creaking of "Intruder," the jolting distortion of Robert Fripp's guitars, Phil Collins' newly found gated reverb—were meant to displace and disorient. Even the stable marimba rhythms in "No Self Control" and "Lead a Normal Life" give a sense of creeping faults underneath their regularity.
One of Gabriel's rules for the recording of Melt had unexpectedly far-reaching implications: The drummers on the album were not allowed to use cymbals. This neat tactic prohibited listeners from hearing the percussive, bashing code that stood for interior closure or resolution. The disquiet simply rumbles throughout the record with no cathartic release.
The cymbal's removal forced the album's drummers to find other strategies to fill the gaps, so Phil Collins conspired with Lillywhite and Padgham to create an effect in which the reverberation of a hard-hit drum is suddenly cut off well before its final decay. The "gated" reverb sound made its debut on "Intruder," setting the terroristic tone for the rest of the record right up front. It worked so well that Collins and Padgham re-employed gated drum reverb for Collins' solo hit "In the Air Tonight," and many recording engineers couldn't be talked out of it for another decade and a half.
There's no evidence to suggest Gabriel had a strict concept in mind with Melt. But its sequence supports a dual-story structure similar to Stanley Kubrick's Full Metal Jacket: the development and curation of individual psychoses on Side 1, and those pathologies turning into public policy on Side 2. The first part catalogues the terror of self-realizations, the sense of knowing something's amiss and having no resources to repair it.
The second part (starting with "Games Without Frontiers") doesn't fix those problems either—instead, it channels those glitches into operations that flow seamlessly into group efforts towards mutually assured destruction, nationalism, racism, group conformity, and finally political murder. No errant impulse will go untapped; no character flaw will go demobilized.
Melt was so unsettling and difficult that Atlantic Records, Genesis's American label who also distributed Gabriel's solo work, refused to put it out. Atlantic head Ahmet Ertegun wondered if Gabriel had been institutionalized. Mercury Records picked up the album instead. The supposedly inaccessible work became Gabriel's highest-charting US album at the time, including his Genesis work. Somewhere Wilco is furiously nodding.
But as a catalyst, Melt altered multiple orbits, besides cementing Gabriel's status as a certified solo artist and opening new doors for his excursions into global rhythms and causes. It corralled the uncomfortable subconscious of the decade it preceded; the doubts of the '80s commoner could be summed up neatly in its first side. It warned of mindless conformity, and its ironic second side decried the lack of ambition and patience to find holistic solutions.
Gabriel found the enemy, and it was us. And we had to diagnose and start working on the problem before all of our faces melted off.
Track By Track
"Intruder"
Say hello to the album's happiest character. The Intruder gets immense satisfaction from stealthily invading others' lives, making his presence felt without being seen, accumulating his victims' intimates and fetishizing their terror. With ghoulish creaking noises, Gabriel's suspenseful piano stabs and Collins' relentless gated drums, the Intruder gets what he gets without detection but still manages to "leave his mark." In the final verse Gabriel switches to the third person in case he gets caught and needs to dissociate in a hurry.
"No Self Control"
"No Self Control" may be Melt's thematic centerpiece: Most of the album's songs address the characters' inability or refusal to resist an outside force—or, in the case of "Biko," what happens when one confronts it. In "No Self Control" the singer completes an arc from desperation to vampirism, scaling from seeking relief from hunger to intense anxiety, until finally committing an unspeakable act. He must never cease moving, as Morris Pert's persistent, Steve Reich-influenced marimba line suggests.
"Start"
An instrumental intermezzo of deceptive respite brought to you by Dick Morrissey, the late saxophonist who achieved pretty much the same effect two years later on the love theme to Blade Runner.
"I Don't Remember"
A lockstep beat and Gabriel's robotically sung verses suggest data failure, but the details of "I Don't Remember" point more clearly to carefully staged denial: "What's gone is gone and I do not give a damn." The singer's in a landscape dotted with unfamiliar landmarks and strangers who seem to be in their own stages of denial as well, just more socially approved and satisfied ("With eyes to the sun and your mouth to the soda/Saying 'Tell me the truth, you got nothing to fear'"). Dave Gregory and Robert Fripp's unhealthy guitars fight in the boiler room with Tony Levin's Chapman stick.
"Family Snapshot"
A three-movement piece partially based on the memoirs of would-be political assassin Arthur Bremer, "Family Snapshot" works through a snarl of motives: envy, methodicalness, coldness, and finally childhood loneliness. Gabriel's first-person shooter's casual realizations are balanced by John Gilbin's fluid bass counterpoint. Although the story of broken families breeding indifferent killers is familiar now, Gabriel's psycho-portrait was still chilling in 1980. The gulf between fame and its consumers is acutely felt: "Today is different, today I make the scene," Gabriel's shooter sings. "Now, Arthur Bremer Is Known" headlined a 1972 story in the New York Times.
"And Through the Wire"
Paul Weller's tangled guitar hook steers Melt's most upfront rock song, but Gabriel's fragmented phrasings make it the album's most open-to-interpretation lyric. Technology's part of it, and so is the singer's dependence on it, but what does all he see and hear through the wire stir him to do? He's driven by unspecific desire, but it's displacing him instead of grounding him ("Prowling the waterhole, I wait for the kill"). Is Gabriel receiving what the wire delivers, or being absorbed into its movement? In my entirely self-devised album structure, I'm guessing the wire's delivering all the characters and their neuroses from Side 1 toward the "solutions" offered on Side 2.
"Games Without Frontiers"
Jeux sans frontières was actually a European TV game show invented by French President Charles de Gaulle. I'm not kidding. (The BBC version was called It's a Knockout.) Contestants from different European countries squared off in a series of ridiculous contests, often dressed in ludicrous costumes. Not being one to miss a slam-dunk metaphor, Gabriel funneled the concept into a statement on the dumb danger of nationalism, war, and the psychological remoteness of its best/worst players. Kate Bush sings the French-language hook; Gabriel, Lillywhite and Padgham gaily whistle across their own private River Kwai.
"Not One of Us"
The other side of the anonymous desperation outlined in "No Self Control" and "I Don't Remember": xenophobia, and it's an all-skate. The group singers have processed out all emotional fragility ("It's only water in a stranger's tear") and rallied around the concept of racism. They believe it because it's simple, and because the guys directly next to them seem to believe it as well. It's not coincidence that "Not One of Us" bears the album's chirpiest melody line; it fits with the chorus' simulated finding of purpose, odious as it may be. Making it too menacing would have diluted Gabriel's point. (Compare Stephin Merritt's cover, in which he turns the chorus singers into flapping Munchkins.)
"Lead a Normal Life"
There's a frightening futurism to what is, for my money, Melt's most subversive track. The lyric's only four lines long, describing the placid life of an institutionalized human. Gabriel instead relies on the tight musical structure to convey the patient's surface stability—and quietly gathering doubt. Damned if the motif of marimba and digital piano doesn't resemble the soundtrack of an imaginary industrial film from the year 2035, promoting a pharmaceutical cure for sadness. By the time the theme is lodged in your head, you might not notice the end with its distant guitar squalls and bullying drums.
"Biko"
Melt's closing track climaxes the album's continental drift of madness and group psychosis into a dire end that was all too real. But astoundingly it did much more after its fade-out. Gabriel's simple eulogy for Steve Biko, the South African anti-apartheid writer and activist who died in white police custody, incorporated furtively recorded chants from his funeral, along with quietly hovering percussion and scant lyrics that describe frozen distress and a single, bare hope. "Biko" was the musical rallying point for a number of upshots. Besides Gabriel's own pivot into global rhythms that informed the rest of his career, "Biko" also influenced a new bracket of social activism, raised the profile of peace-seeking missions like Amnesty International, and inspired musicians like Steven Van Zandt (Sun City) to merge music with activism. It's not a stretch to say "Biko" launched a chain of events that resulted in more consciousness of apartheid, perhaps even its eventual demise.
---
Support our Site—Subscribe to Our Patreon: Become one of our monthly patrons and help support an independent media resource while gaining access to exclusive content, shirts, playlists, mixtapes and more.
Paul Pearson
Paul Pearson is a writer, journalist, and interviewer who has written for Treble since 2013. His music writing has also appeared in The Seattle Times, The Stranger, The Olympian, and MSN Music.