Peter Gabriel : Scratch My Back
I'm not sure anyone has ever accused Peter Gabriel of being too commercial. Sure, he's been successful, and his music successfully co-opted for commercial purposes, but he's always been a bit left of center. From his prog-rock roots in Genesis to what many considered his ill-advised departure, from his embracing of African musical styles and creating his own record label to his pioneering of the music video platform, from his songs being held aloft for romantic purposes to scoring the human struggles of Jesus Christ, Peter Gabriel has charted his own path, while influencing future generations. Presently, having just turned 60, Gabriel is still delivering his own unique message. Eight years having passed since his last studio album, he delivers the first half of a compelling two-part package, Scratch My Back.
Scratch My Back is a covers album, but in true Gabriel fashion, not your typical covers album. He culls from an equal measure of his musical peers and his antecedents, building a bridge between past and present. The songs themselves, ranging from the popular to the somewhat obscure, are all put in stark relief by the tone of solo piano or lush and melancholic string arrangements. The first two tracks, David Bowie's "Heroes" and Paul Simon's "The Boy in the Bubble," are slowed down to the point of being sorrowful dirges, yet the lyrics in each make this kind of interpretation more than possible, instead somewhat appropriate. I have normally, in the past, balked at covers of iconic songs such as "Heroes." The Wallflowers' version, in particular, gives me fits. However, if there's one artist who could pull off the gravitas, the vocal emotion, and the respect the Bowie version deserves, while still adding something of his own touch, it's Gabriel.
Those classics are followed up with two from a newer generation, Elbow's "Mirrorball" and Bon Iver's "Flume." Though I have never been huge fans of either, these songs are particularly beautiful, and solid choices for this format. In fact, it's fairly remarkable how much Guy Garvey's voice sounds nearly identical to Gabriel's. From this point on, old and new trade places, with an interesting centerpiece, a new song from a veteran rock and roller, "The Power of the Heart," from Lou Reed. This song, originally used for a Cartier commercial, is absolutely stunning in its transposition of simple romantic lyrics, Gabriel's raspy voice, and sweeping strings. It is bookended by songs originally performed by bands that could arguably be called the standard bearers of art rock in their respective generations, Talking Heads and Arcade Fire, the former given new life in this incarnation, the latter has the life somewhat sucked out of it, with the absence of the pipe organ, but that in itself gives the lyrics a different dimension. The lack of the pipe organ is, however, made up for with the addition of a church choir.
The first single from Scratch My Back is quite possibly the best track on the album, "Book of Love" from the Magnetic Fields. Stephin Merritt's already deep delivery, remarkable lyrics, and spare musical style lend themselves well to Gabriel's interpretation. In turn, Merritt covered Gabriel's "Not One of Us," for the B-side, but more on that later. Randy Newman's transition from piano to strings on the cinematic "I Think It's Going to Rain Today," seems the easiest to replicate, and in fact, little is changed. Gabriel's decision to change Regina Spektor's piano to a string arrangement is a solid one for "Apres Moi." And, as much as I love the Boss, I always preferred Neil Young's "Philadelphia" to Bruce's "Streets of Philadelphia." It appears that Gabriel has the same preference. The album wraps up with quite possibly the most iconic band of this generation, Radiohead, and a song that Thom Yorke finds so troubling that he has to distance himself from it emotionally, a song he says is "the dark tunnel without light at the end," and "about staring the fucking devil right in the eyes, and knowing, no matter what the hell you do, he'll get the last laugh." Gabriel closes that distance on "Street Spirit," in much the same way that Johnny Cash closed the emotional distance in "Hurt." The result is shattering. Gabriel's voice goes in and out of tune, straining at the pitch, and it just makes it that much more rending.
The second part of this project, which I've alluded to earlier, is a companion album called I'll Scratch Yours, another covers album with those being covered on this album returning the favor. The Magnetic Fields and Paul Simon have already recorded "Not One of Us" and "Biko" (natch) respectively. The only other reported tradeoff is Radiohead's choice to cover "Wallflower" from Peter Gabriel's untitled fourth album (in the U.S., called Security). Gabriel's widely blogged about cover of Vampire Weekend's "Cape Cod Kwassa Kwassa," in which he sings "It feels so unnatural / to sing your own name" is not featured here, though it would be incredibly interesting to see if they return the favor on this next album. Peter Gabriel has always defied expectation, and with this project, continues to do so. Scratch My Back is an atypical covers album that only Gabriel could deliver, a gorgeously orchestrated set of meticulous songs.
Similar Albums:
Johnny Cash – American IV: The Man Comes Around
Bryan Ferry – Frantic
Kate Bush – Aerial
Download at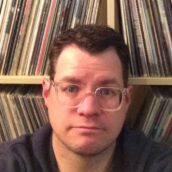 Terrance Terich
Terrance Terich firmly believes that 1985 is the best year for music. He lives near Seattle with his books, movies, and music.