Phosphorescent : Muchacho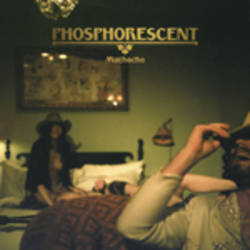 Nobody is going to be particularly surprised by the latest offering from Phosphorescent, AKA Matthew Houck, titled Muchacho. Houck has his country rock sound down, and it's one that has been well-traveled over the course of rock and roll history. The album may be a bit more refined and robust than prior effort, but Houck has been consistently heading in this direction with each passing release. Each has been, for the most part, just a little more thoughtful, a little more diverse and, yes, a little more polished than the previous. These have been incremental changes that have made each Phosphorescent album interesting, if not necessarily better than the last. Here's to Taking it Easy housed some of Houck's most well written songs to date, however the album played like a pretty straightforward country-rock record. So while it was largely excellent, some of the idiosyncrasies that made Pride so charming had been sanded away.
The synth arpeggio and pastoral harmonies that open Muchacho announce its intent upfront; this album is intended to expand the definitions of what a Phosphorescent album is, while still retaining the hallmarks that have made previous records so endearing. Newcomers may initially feel like Houck is mimicking Fleet Foxes' harmony drenched works, but rest assured, Phosphorescent has been doing this sort of thing even a tad longer than that Seattle-based band has.  "Sun Arise! (An Invocation, an Introduction)" is pleasant, but it's the second track, "Song for Zula", where the album's grander ambitions are made clear. The song spans six brilliant minutes and seamlessly interweaves strings, steel guitar and synths into a dreamy, stirring opus. It takes an awfully cynical look at love, seeing it as a "caging thing/Just a killer come to call from some awful dream." Throughout the record, love enslaves and in time ravages its victims. But the story doesn't really end there. On "Muchacho's Tune" Houck admits "I've been fucked up and I've been a fool," later to claiming "I will fix myself up to come and be with you."  Love, in this instance, is suddenly worth working for.
Throughout Muchacho, Houck sounds weary and beaten down by the world, and yet the record is brimming with life at every turn.  The gorgeous, but disenchanted "A New Anhedonia" finds Huock lamenting that "It's unbearable real, to find you feeling so tired." He always manages to infuse even the most exhausting and jaded tracks with enough beauty to keep them from becoming oppressive. Houck further balances out the record with upbeat sing-alongs like "Right On / Right On" and "A Charm / A Blade," in which the eruptive choruses have an almost ABBA-like contagiousness to them. And then there's the barn burning ending to "The Quotidian Beasts," which is an amazing experience.
Once we get to the closer, "Sun's Arising (A Koan, an Exit)", it becomes clear just why Muchacho is special within the Phosphorescent catalog to date. The track is an ambient one, centered on layers of vocals reminiscent of Pride's closing title track; however there are some very notable developments apparent. Whereas "Pride" was wild and unhinged, "Sun's Arising" is focused, to the point and even more affecting. So, while nothing on the record feels completely without precedent in the Phosphorescent catalog, the album seems to expand on all of the best ideas Houck's records have had in the past. Above all else though, the album just feels like a fully fleshed out production with subtle touches (see the beautifully incorporated horns on "Terror in the Canyons (The Wounded Master)").  From beginning to end, every detail is parsed out for maximum effectiveness and every song is a thoughtful gem. Phosphorescent has essentially delivered the album Houck has always seemed capable of.
Similar Albums:


Fleet Foxes – Helplessness Blues


Sun Kil Moon – April


Sharon Van Etten – Tramp