Pretty Evil: An interview with The Black Heart Procession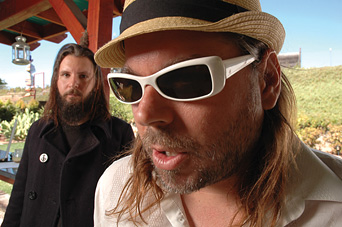 When a band calls itself The Black Heart Procession, it's fairly safe to know what you're getting into—to an extent. The San Diego band has become known for its dramatic and macabre compositions, as each of their six albums features its share of ghostly, heebie-jeebie inducing elements. How those elements are translated into melodies, however, varies widely. On early albums like 2 and Three, the band created gloomy dirges a la Nick Cave and Tom Waits, heavy on reverb and minor key piano melodies. Yet in recent years, the band has taken on a more ambitious and diverse sonic approach, layering on bigger arrangements here and banging out a noisy rock song there. The apparitions still loom large in their music, but how they're exorcised has become much more unpredictable.
The Black Heart Procession is, at its (black) heart, Pall Jenkins and Tobias Nathaniel. According to Jenkins, "Every song that's Black Heart is me and Toby from the beginning, and all of the people that come through, that's the procession." That procession has included a lengthy cast of characters from Joe Plummer (Modest Mouse) to Mario Rubalcaba (Rocket From the Crypt, Earthless) to Jimmy LaValle and Matt Resovich of The Album Leaf. The band's 2006 album The Spell was even recorded as a full band, which was apparent through its louder and fuller sound.
For Six, the band's newest effort, Jenkins and Nathaniel have simplified a bit. Whereas The Spell featured a larger pool of collaborators, and its predecessor, Amore del Tropico was a sprawling concept album involving a companion film, Six finds the duo getting back to basics. Its songs are rich in sound and melodically adventurous, but Jenkins and Nathaniel took a simpler approach this time around, starting from the bottom up and adding elements as they were needed.
"The last record was a larger band effort where we had the drummer and the violin player and people played with us," Jenkins said. "First we started and said let's go back and start writing songs ourselves and build up that way and we'll add to it as we need things. We would do one to two or three songs at a time in the studio and build `em up that way, rather than a bunch of writing and recording all at once.
"I kind of feel like making a record is a bit like a puzzle. The shapes start coming together and you start to form them into something that has stories within it and hopefully makes a whole cohesive record that has kind of a vibe to it."
Six is, unambiguously, The Black Heart Procession's sixth album. In the band's early years, each record was named for its placement in the sequence—1, 2 and Three being their first three albums. But even as the group interrupted the pattern thereafter, they still tied their fourth and fifth albums to the rest of their discography with visual cues. On Amore del Tropico, a "4" was hidden beneath the CD tray. And on The Spell, the figure on the cover is holding up five fingers. The return to a numerical title, in a way, ties the album back to the group's early days, but according to Jenkins, it's also a signifier to the "evil" within.
"How often do you get to call it your sixth record?" Jenkins said. "That's pretty evil. Six is a very evil number, so you want to flaunt that as much as possible, especially being an evil band such as ourselves. We almost called it `666,' but then we thought we were getting a little ahead of ourselves."
And `evil' the album is. The Black Heart Procession are certainly no strangers to a hook, as evident in songs like 1998's "Blue Water Black Heart," or "Tropics of Love," the Latin-flavored opening salvo of Amore del Tropico. Yet Six plays up the band's creepier and darker aspects. On the song "Rats," for instance, Jenkins sings of the devil and "rats with blood in their eyes" before threatening, "If you leave, don't ever come back." And that's the lead single. The other 12 songs that populate the album go into even more haunting places, from the somber dirge "Drugs" to the harrowing "Suicide" to the spectral, cinematic "All My Steps," find the band returning to some of their most chilling material since 2000's Three, albeit with a few more upbeat songs.
"I feel the new record is one of our darker records," Jenkins said. "The songs that are upbeat are still kind of dark and hopeless. I think on the previous records, I always tried to add some light at the end of the tunnel when it came to lyric writing. I kind of felt like this record, I didn't need to have any explanation of the songs about killing yourself. I don't need to give a reason for why I'm talking about it. It's a less forgiving record, it's more hopeless in a certain sense. I don't recommend it as music for anyone who's unstable…or thinking about evil thoughts. I don't want to encourage people with sharp objects."
Dark though Six may be, it's a characteristic that the band has taken full ownership of. According to Jenkins, morbid and devilish sounds are what they do best.
"We do better when we write darker, weirder stuff," Jenkins said. "So I think the songwriting, we wanted to make sure we were doing something that sounded good to us, and we liked. I don't feel this record has big hits on it or anything like that, not that any of our other stuff did either. But, yeah, I think it's a darker record, that's what we wanted to do. I think we accepted that, if that's what we're known for, or if people already assume that, let's go ahead and do it without apology."
Each of the band's last three records has taken around three years to complete, but early on in the Black Heart Procession's career, Jenkins and Nathaniel turned out records at a pretty speedy pace. Their first three records were released within a year of each other, and their debut took only two months to write and record. When Tobias Nathaniel moved to Portland, Ore., and got married, however, it did present a bit of an obstacle toward making music as frequently. Nonetheless, the Black Heart Procession, even if separated by a few thousand miles, continues to thrive.
"As the band goes on it gets harder to make a record," Jenkins said. "You get older, you get married, you have situations, other bands, other things you're dealing with. You're living in different cities."
No matter the obstacles, The Black Heart Procession take great pride in the art they create, from their haunted ballads to the artwork that lines their albums, which is all done by Jenkins himself. And even if it's just outside of perfect (or especially if it's just outside of perfect), Jenkins will proudly stand by their body of work, warts and all.
"You just do the best you can and make the music you like," he continues. "Just put some work into it. I did some work in my back yard and put some bricks down and flattened all this area out. And I looked at it and I didn't quite flatten everything good, but I said, `I did that.' It's a lot of work, it's not perfect but it has my character to it. And I look at music the same way. I feel like doing my own thing, my own voice. It's not always perfect, but if people like it, that's great. I don't have to feel like I'm not myself."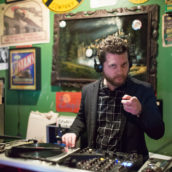 Jeff Terich
Jeff Terich is the founder and editor of Treble. He's been writing about music for 20 years and has been published at American Songwriter, Bandcamp Daily, Reverb, Spin, Stereogum, uDiscoverMusic, VinylMePlease and some others that he's forgetting right now. He's still not tired of it.