Primal Scream : More Light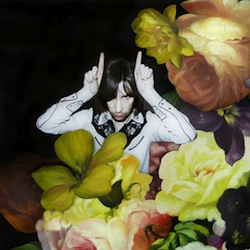 Looking back on the discography of Primal Scream, one thing becomes readily apparent: Expect the unexpected. There are few other bands in modern rock history that have fully embraced the kind of diversity, innovation and passion behind each and every Primal Scream release. From their humble beginnings as an indie rock group on 1987's Sonic Flower Groove to the acid soaked electronica of Screamadelica, to the venomous quasi-industrial sneer of XTRMNTR, it's clear that Primal Scream has never been comfortable dwelling in the same sonic territory for too long. But instead of reinventing the burning wheel with their first album in five years, More Light, the band opted to take bits and pieces of their sound from the past 25 years and create something wholly new, yet familiar.
More Light opens on a grand scale, with "2013." With a propulsive bassline, infectious saxophone flourishes and a chorus that's tailor-made for arena sing-alongs, the track feels like an instant classic for the group, even in spite of its close to ten-minute run time. But as much as it has to offer musically and lyrically, what really sets it apart is how carefree and fun it sounds. For the first time in the band's last handful of releases, lead singer Bobby Gillespie finally sounds like he's let go of his past demons and is ready to have a good time.  The lighthearted feeling continually makes appearances throughout More Light, especially on "Invisible City," which packs a pop punch, while the minimalistic classic rock dirge "Elimination Blues" sees Gillespie trade verses with none other than Led Zeppelin's Robert Plant.
That's not to suggest that Primal Scream has lost any of their edge. "Culturecide" is a blistering track comprising equal parts guitar distortion, saxophones, flutes and electronic tinges reminiscent of the band's XTRMNTR days, without all the preaching. Similarly, "Hit Void" is a fuzz junkie's wet dream, with its layers of droned-out distortion and garage rock sensibilities, while the sprawling "Relativity" sees the group shift from frenzied electro punk to spacey psychedelic rock without ever missing a beat. While the newfound, upbeat outlook of More Light is surprisingly satisfying, it stands in stark contrast to "Tenement Kid," which is easily the album's gloomiest cut. Haunting lyrics combine with truly incomparable music to create More Light's standout track, in spite of its rather depressive appearance.
While the diversity presented throughout Primal Scream's back catalog is something to be admired, it has also historically left something to be desired. Experimentation can be an ideal quality in an artist, but the same can be said for consistency. Finally, with More Light, Primal Scream has concocted the perfect amalgamation of experimentation and continuity. As such, slight missteps like the contemplative "Walking With The Beast" are largely forgiven and what's left is a collection of vibrant, fun and daring tracks uniquely their own.
Similar Albums:


Primal Scream – Screamadelica


Unkle – War Stories


The Avalanches – Since I Left You