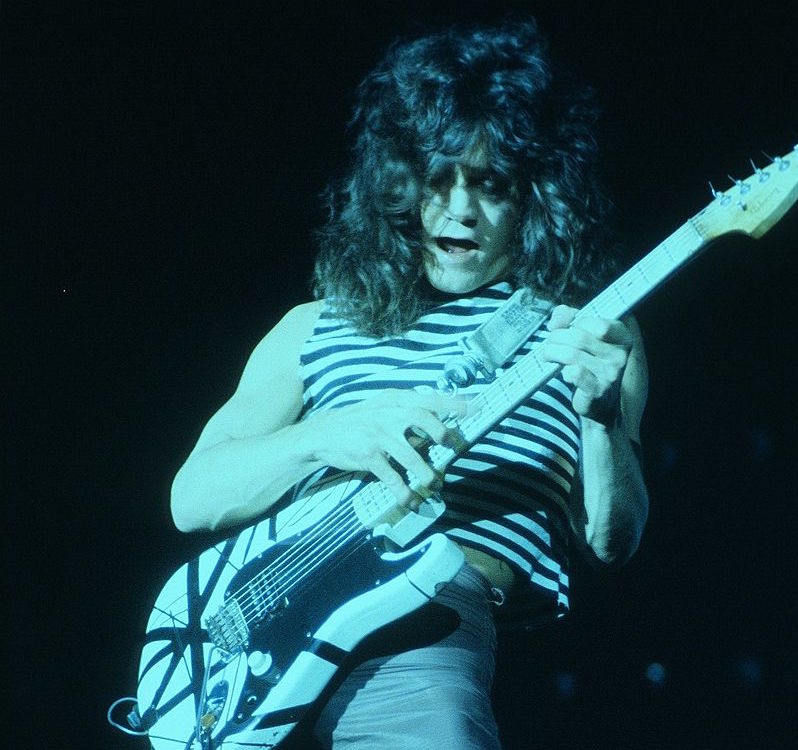 Eddie Van Halen, founder and guitarist of heavy rock icons Van Halen, has died after a long battle with throat cancer, according to a report from TMZ. He was 65. Van Halen's son Wolf confirmed the news on Twitter, posting a statement that reads in part, "He was the best father I could ever ask for. Every moment I've shared on and off with him was a gift. My heart is broken and I don't think I'll ever recover from this loss."
Van Halen was born in Amsterdam, The Netherlands in 1955, and relocated to the United States in 1962 with his family, settling in Pasadena, California. He first learned to play piano with his siblings, and later began to start playing the guitar after hearing his brother Alex play The Surfaris' "Wipe Out."
In 1972, Eddie and Alex formed a band, officially calling it Van Halen in 1974, and became a staple of the Los Angeles rock scene in the '70s. The band was offered a contract by Warner Bros. in 1977, and released their debut self-titled album, featuring rock classics such as "Runnin' With the Devil" and "Ain't Talkin' Bout Love," in February of 1978. Van Halen's fingertapping performance on the instrumental "Eruption" became a massively influential moment in rock guitar. The band released a new record every year for five years, and in 1984, with their sixth album 1984, earned their first number 1 hit with "Jump." Though the group's lineup changed, replacing original vocalist David Lee Roth with Sammy Hagar and then eventually, for one album, with Extreme's Gary Cherone, Eddie and Alex Van Halen performed on all of the group's studio albums.
Van Halen also is the lead inventor on a handful of patents, including a support device that allows him to play guitar horizontally, like a piano, as well as a switch that adjusts the string tension on a guitar.
Van Halen has won one Grammy for Best Hard Rock Performance for 1992's For Unlawful Carnal Knowledge, as well as four MTV Video Music Awards and one American Music Award.
Van Halen's self-titled album is featured on our list of the Top 150 Albums of the '70s.