Panopticon has become one of black metal's most fascinating acts in the past decade. Austin Lunn, the mastermind behind the project, has continually built upon his craft, presenting extraordinary atmospheres that blend serenity with chaos. In 2018, Lunn released two captivating LPs in the form of Panopticon's The Scars of Man on the Once Nameless Wilderness (Parts I & II), offering two records that greatly contrast one another—one LP embracing black metal instrumentation, the other playing to Americana/folk music and, combined, are a remarkable meditation on the wonders of nature. Just shy of a year since the double LP's release, Lunn provides another mesmerizing experience in a two-track EP entitled The Crescendo of Dusk. With all of Lunn's passion and respect for nature, he turns his attention to the northern lights, paying tribute to their beauty.
As always, Lunn takes charge of practically everything heard throughout the EP (minus some assistance on mixing, mastering, re-amping, and some key work). The EP's two tracks, "The Crescendo Of Dusk" and "The Labyrinth" were written and recorded during both the Scars of Man and Autumn Eternal sessions (respectively). Over 20-plus minutes, the EP is an astounding work of atmosphere; whether it's the strumming of acoustic guitar wrapping the listener in warmth, or clashing drums sending chills through their eardrums, The Crescendo of Dusk engages with the senses.
In the title track, Lunn kicks things off with his traditional black metal approach. The hypnotic blend of melody and rhythm invite the listener into the flow, with further immersion through its hectic drumming. Over the runtime, the composition shifts in speed, maintaining intensity and providing the opportunity to absorb each instrumental component. Near the halfway point, "Crescendo" enters a beautiful trance section; as if translating the awe-inspiring visual majesty that is the northern lights, the segment offers a space for peaceful reflection. As the track progresses towards its end, there is an elegant balance between heavy drum work and the trance-like melody.
Whereas the first track has Lunn providing haunting screams, "The Labyrinth" takes on a spoken-word approach. It gives off a sitting-around-the-campfire intimacy with Lunn's words taking on more of the focus rather than the instrumentals. The slower, poetic nature of the track makes for a gentle means to end the EP.
Panopticon always issues releases worth keeping an eye on and diving into. The Crescendo of Dusk is no exception, an unexpected, phenomenal surprise; in the EP's two tracks, Lunn once again presents a superb experience that embraces nature's gifts. Through profound atmosphere and poetry, The Crescendo of Dusk is another reminder of his talent and knack for balancing extremes.
Similar Albums: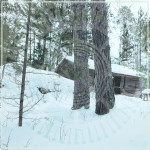 Panopticon – The Scars of Man on the Once Nameless Wilderness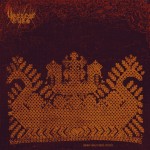 Yellow Eyes – Immersion Trench Reverie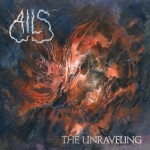 Ails – The Unraveling