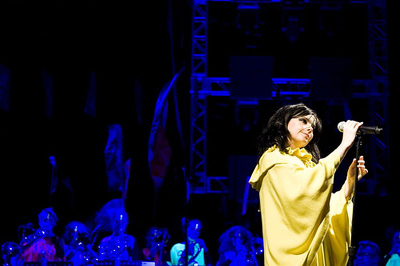 It used to be that Europe was in the forefront concerning the quality of the music festival. Glastonbury, Roskilde, Reading and Leeds were the preeminent venues for rock shows with multiple acts, days and stages. Today it seems as though the U.S. has at least nudged itself into a tie with our European brethren with the onset of Coachella, Bonnaroo, the now stationary Lollapalooza and Sasquatch. The little northwest local festival that could is now mentioned up there with the big boys, and as well it should. The quality of performers becomes more impressive every year as the venue finds that more and more attendees come from further and further away. The amazing thing is that Sasquatch manages to grow by leaps and bounds despite what some would consider "hand of God" weather events. This year was no different as day one was diametrically different than day two with glorious sunbursts on Saturday and violent chilly windstorms Sunday. The wind caused its own set of problems, and they were not the only issues at the festival, but the good definitely outweighed the unfortunate. Besides, what these events are mostly about are camping with a bunch of friends (in my case, the best bunch of camping companions on the face of the earth), enjoying the latest and greatest music and, in the case of Sasquatch, taking in one of the most phenomenal views in venue history.
Just as with my trip to SXSW, I had a choice to make. I could either diligently plot out my day, hour by hour, band by band, setting up interviews with as many of the acts as I could, or I could spend some time with friends and take in the show(s) how it's seen by every ticketholder. I opted for the latter. I've always found that when traveling, you never have quite as much fun when you fill every minute of every day with sightseeing. You have to allow some time for some organic, spur-of-the-moment spontaneity. That decision becomes tougher, however, when Sasquatch gives you three stages of great music, mostly overlapping. Because of a late start out of the campground, the band of intrepid concertgoers arrived at the end of Ozomatli's Mainstage set, just before the triumphant arrival of Neko Case. Case is one of Sasquatch's most reliable performers, this being the third year she's attended (four if you count the New Pornographers in 2004). But the real story for Case is what happened the last time she performed when she was interrupted by a hailstorm of biblical proportions. "Maybe this time I'll get through a whole set," was Case's introductory remark and the many repeat attendees cheered her on. She played a solid, if somewhat sleepy set, complete with a remark proving a truism that was happening all throughout the weekend. She commented on the fact that the sad song she was about to play didn't work so well in the bright daylight. There seemed to be a lot of acts that would fare better in a small club-like nighttime setting rather than blistering heat or sixty m.p.h. gusts, but you take what is given to you.
Case used to be relegated as simply a "local artist," playing a festival that was made to feature local artists, but has since come up in the world thanks to a spectacular last album. Now that the festival is bigger and better, the Yeti stage is now a mini Sasquatch in and of itself, featuring all Northwest acts. Saturday found solid performances from the Blow and Viva Voce as well as Mirah and Aqueduct. The Wookie stage ventured out of the pines and traveled all over the map from Sweden's Loney, Dear to England's Electrelane and back to U.S. shores with Brooklyn's Grizzly Bear and the Beastie Boys playing an instrumental set. Reviews were mixed on the Beasties' instrumentals with some finding it sloppy while others found it charmingly amateur. The trio played both days to both please their longtime fans as well as prepare them for their upcoming instrumental album, The Mix-Up.
Walking back to the Mainstage, one couldn't deny the crackling energy that rippled throughout the crowd. That's because Spanish born, French-raised worldly artist Manu Chao was wowing his many fans with a fusion of folk, reggae, rock and whatever else he could fit into an hour long set. The music was impressive, the aroma of the crowd, as we tried to scope out a good location for the Arcade Fire, was not.
The Mainstage wrapped up with its two headliners, the Arcade Fire and Björk. These three hours could easily go down as the most exciting in Sasquatch history. The Arcade Fire stepped up their game from their appearance two years prior, energizing the crowd with selections from two stellar albums. Circular video screens and a suspended pipe organ only added to the theatricality. They proved with one set why they deserve all the hype they receive as the best indie band in the world. Björk only upped the ante, appearing with a brass band, dressed all in yellow with intricate face paint and a triumphant return to the techno leanings of her first few solo albums.
Sunday's line to get in the venue was even longer than Saturday's, which led me to miss Earl Greyhound. There seems to be some kind of force that causes me to miss this excellent band at every opportunity. Someday… Anyway, Sunday's local artists at the Yeti stage were top-notch and I ended up spending most of my time there. Minus the Bear never disappoints and Helio Sequence gave us all a little preview of what's to come with a new album. Common Market, making another Sasquatch appearance, was the first to feel the brunt of the sudden onset of gusty winds as the turntables were rendered completely useless. Still, they managed to, along with the Saturday Knights and Gabriel Teodros, let the world know that Seattle still brings the hip-hop strong. Then came Smoosh. I'll admit, they aren't the most technically adept musicians, as I think they'd admit as well (though drummer Chloe rocks the traps like nobody's business. Also, they're just damn cute. Smoosh stepped up their game as well by adding younger sister Maia on bass. Now that she's 11 (which was about how old Chloe was when they started the band) she's been able to join. What was even adorably cuter about the band was that the bass was so big for little Maia that she had to bend down to her left to reach the end of the neck. Awesome.
The wind really began to kick up at this point and word spread that the Mainstage had closed. The Polyphonic Spree's set had been cut short due to swinging lights and other possible hazards. This made it extra special for Smoosh as a good portion of the Mainstage crowd made their way to check out this extra special sister combo. Michael Franti was moved to the Wookie stage after it closed out with the Black Angels and the Dandy Warhols (another lethal combination), which pleased both Franti and his fans as he was allowed an extended set.
Black Angels / Dandy Warhols

Spoon was delayed until the wind died down, and even then it was truncated. Still, it was Spoon, so it was bound to be great. The headliners threatened to be even more impressive than the first night's, though I unfortunately wouldn't know as we left for the campsite early due to the freezing winds. We could still hear the music from the campsite and enjoyed it from there. Interpol interspersed some classic stuff with some new material from their forthcoming album, Our Love to Admire. The Beastie Boys returned after their set on day one, this time concentrating on the hip-hop and blazing through a setlist of hits.
Besides the wind, the only real detraction from Sasquatch was the basic non-appearance of emcee Sarah Silverman. The number of times she appeared on the Mainstage could be counted on less than one hand on Saturday, while she was an entire no-show on Sunday. Sources at Sasquatch claim she was sick, but that doesn't necessarily excuse Saturday's invisibility. I like Sarah Silverman. I think she's hilarious. But I do hope, for the sake of the ticketholding public, that she didn't get paid for this. Regardless, thanks to a great lineup, and even better friends, this year's Sasquatch was a great big hairy beast of a good time. If I've learned nothing else from my Memorial Day weekend, I've at least learned that there is nothing more sublimely divine than bacon from heaven, a politically incorrect game of Apples to Apples is hi-larious and you can't spell "gorgeous" without the Gorge. Just check out these pics taken by my friend Dan Zelazo (aka "The LJ"). Word.