"The Day the Conducator Died," Scott Walker's macabre Christmas carol

Scott Walker never seemed a likely candidate to record a Christmas song. To do so would require a certain irony-free sentimentality—a sense of warm and fuzzy nostalgia that, even despite a brief stay on the pop charts, never seemed of any interest to him. Good-old-days are in short supply in Scott Walker's music; though he was often something of a chronicler of history, he did so without rose-colored lenses, depicting the ignominious fall and tragic fate of various notorious figures and unwitting victims with a peculiar sense of amusement. He did, after all, borrow the title of his last album from Hieronymous Bosch. But a seasonal holiday song eluded him.
The most likely time in which Walker would have paid a visit to the holiday canon, at least in hindsight, probably would have been his early years as a member of pop group The Walker Brothers. The American-born artist, who lived in England for much of his career, only ever briefly showed much interest in popular music in the most literal sense. In the 1960s he recorded a half dozen albums with The Walker Brothers, a trio who weren't actual fraternal brothers (Scott's real last name is Engel) but something more like The Ramones with a nattier wardrobe, their output primarily comprising pop standards by the likes of Burt Bacharach. Though the group scored a major hit both in North America and Europe with "The Sun Ain't Gonna Shine Anymore," Walker increasingly found himself drawn toward more ornate songs and arrangements. He parted ways with the Walker Brothers in 1967 to focus on darker and more elaborate orchestral pop albums before eventually delivering his first masterpiece as a solo artist, Scott 4, with songs inspired by Bergman movies and Josef Stalin.
In a curious twist of irony, his reunion with The Walker Brothers in the late '70s provided a portent of the grim and at times horrifying music he'd pivot toward later in his career. The band's 1978 album Nite Flights was their only album of all original material, all of which took a much weirder turn into dystopian nightmare disco and sleazy funk rock. Particularly its sole single, "The Electrician," a peculiar choice to be sure, with eerie horror strings and lyrics about atrocities committed under the reign of Chilean dictator Augusto Pinochet. This began what would become a continuous thread of Scott Walker songs focused on authoritarian leaders and war criminals, including "Clara" from 2006's The Drift, written about Mussolini's girlfriend, and "The Cockfighter" from 1995's Tilt, inspired by the trial of holocaust architect Adolf Eichmann. Suffice it to say, a Christmas carol was long out of the cards by this point.
It wouldn't be until 2012, long after Scott Walker had abandoned pop music—at least as most of us recognize it—that he'd end up finally recording a Christmas song. Of sorts. "The Day the Conducator Died," which closes his final solo album, 2012's Bish Bosch, isn't sleigh rides and jingle bells but a trail of blood in the snow.
There's no ambiguity that it's a Christmas song; for one, the full title is "The Day the Conducator Died (An Xmas Song)", and persistent throughout the full eight minutes of the song is the festive rattle of sleigh bells. But it's less a celebration and more of a historical document, perhaps in the same way that "Good King Wenceslas" is, but with its focus shifted on a figure who died in infamy.
On December 25, 1989, Romanian dictator Nicolae Ceasescu and his wife Elena were tried before a court on charges of genocide and shortly thereafter executed by firing squad that same day. The end of Ceausescu's reign was swift and brutal, the bloody climax of an anti-communist revolution in Romania that came to a boil less than two weeks earlier as military forces and police fired at protesters in the city of Timisoara, killing and injuring as many as 1,000 civilians. The uprising followed years of economic austerity measures, wealth hoarding, censorship and violently quashing dissent. Nicolae and Elena Ceausescu's execution was televised in Romania and its video distributed to worldwide television stations in the days that followed.
"The Day the Conducator Died" is somber and funereal, defined by its stark arrangement of open ringing guitar tones and voice. "Conducator" is the title used by certain Romanian leaders, most notably Ceausescu and his predecessor, Ion Antonescu. But Walker treats his subject not with sympathy or regret but a kind of ironic amusement. His lyrics read like a personality profile or career-aptitude test, emphasizing a cluelessness how public opinion could turn so swiftly against a megalomaniac: "Most of the chaos in my life is caused by: Internal factors/External factors." In the lyric sheet for the song that accompanies the album, "internal factors" and "external factors" are each printed next to a bubble, a darkly humorous choice to make it multiple choice.
Yet the song's chorus is simple, stark and brutal, Walker singing, "And nobody waited for fire/Nobody waited for fire"—referencing the fact that no order to "fire" was ever given. The firing squad simply started shooting.
"I don't feel anything for those guys because they're dangerous clowns," Walker said in an interview with The Quietus in 2012. "It's hard to feel any sympathy for them."
He added, "They all live like that and then the end comes… the brutal end… and they can't believe it. It happens to all of them. "What went wrong?! What did I do wrong?!"
Walker saves the cruelest irony for the end, in which everything drops out—the guitar drones, Walker's stark narration—and all that's left are the rattling sleigh bells, and the lone, slow plink of "Jingle Bells" on a glockenspiel. The delicate sound of snowflakes landing after the echo of gunfire fades.
---
Treble is supported by its patrons. Become a member of our Patreon, get access to subscriber benefits. and help an independent media outlet continue delivering articles like these.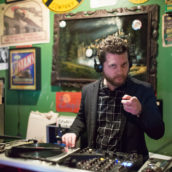 Jeff Terich
Jeff Terich is the founder and editor of Treble. He's been writing about music for 20 years and has been published at American Songwriter, Bandcamp Daily, Reverb, Spin, Stereogum, uDiscoverMusic, VinylMePlease and some others that he's forgetting right now. He's still not tired of it.