Sebadoh : Bakesale: Deluxe Edition
It's difficult for me to discuss Sebadoh's Bakesale without getting a little nostalgic. Every critic has his or her one record that served as an introduction to indie rock (no doubt both a blessing and a curse), and this one was mine. It would be another couple years before I would delve into the catalogs of Pavement, Sonic Youth or Guided by Voices, and my discovery of the album was almost entirely an accident. During the mid-'90s, TBS aired a series called "Live from the House of Blues," which delivered exactly what it promised, that being artists performing live, at the House of Blues. Though the artists whose sets aired rarely surpassed Counting Crows levels of humdrum, I caught a few short clips of Sebadoh playing tracks like "Careful" and "Rebound," the latter of which I subsequently heard approximately twice on KROQ, at which point I had become totally intent on picking up this scruffy, tuneful and absolutely fantastic little indie rock record.
Reading the liner notes of Sub Pop's new deluxe reissue of Bakesale, it's clear that Sebadoh's two central songwriters, Lou Barlow and Jason Loewenstein, likewise, are imbued with a certain kind of nostalgia, looking back at the period surrounding the album with fondness and general positivity. Barlow even goes so far as to state that he never listens to the album because he doesn't want to spoil the special memories he has, and he continues to enjoy playing its songs to this day. However, he also states that he doesn't by any mean think it's the band's best (to which he points to Bubble and Scrape as well as, curiously, The Sebadoh). It's here that I have to disagree with Barlow. For while I can't separate my own rose-tinted memories associated with the album, Bakesale contains many of the band's best songs, and unlike many of their previous releases, has scant few moments that beg for the skip button.
On Bakesale, Lou Barlow, Jason Lowenstein and Bob Fay had become a raw yet tightly wound unit, offering up 15 brief but outstanding rock songs that sounded perfect, no matter how rough around the edges they were. In less than two minutes, the band rips through blistering post-punk on "License to Confuse," descend into a quietly intense psych-rock dirge on "Not Too Amused," pile on a few extra layers for the breathtaking "Dreams," and even hammer out a pair of unstoppable singles in "Rebound" and "Skull." Much to the contrary of Barlow's other band, Dinosaur Jr., Sebadoh never sounded like they were about to swallow the listener whole, but here the band takes on a much tighter and more powerful approach, with punk rock blazers like "Give Up" showing off the kind of energy and mischief of which the band was capable. And as a result, Barlow's aw-shucks lyrics of heartbreak and sentimentality seem just that much more grown up.
Bakesale largely differs from its predecessors in that it contains little to no filler, whereas III and even subsequent releases like Harmacy had their share of good-natured dicking around. In this case, pretty much all of those moments were used as B-sides instead, and reappear on the Deluxe Edition's disc of bonus material. A lot of it is highly inessential, from "MOR Backlash," which is essentially a messy chop-up of the chorus to Led Zeppelin's "Whole Lotta Love," or "Give the Drummer Some," which is basically just a drum jam. That isn't to say there are no gems here, however. The acoustic versions of "Not a Friend," "Rebound" and "On Fire" make for highly satisfying alternate versions, while the hazy "Lime Kiln" and the yin and yang of "Fancy-Ass/Destitute" are thoroughly enjoyable pop tunes, even if a little messy.
Sebadoh is a band whose entire identity was based on being imperfect, yet with Bakesale, they came as close as they ever got. While it's not often held to the same kind of critical esteem that Slanted and Enchanted or There's Nothing Wrong with Love are, it's easily as good, and even a little more fun. Maybe Bubble and Scrape was a bigger leap for the band, or III was more radical for its time, but as far as I'm concerned, Bakesale will always be the band's best.
Similar Albums:
Superchunk – On the Mouth
Pavement – Crooked Rain, Crooked Rain
Pixies – Surfer Rosa
Video: Sebadoh – "Rebound"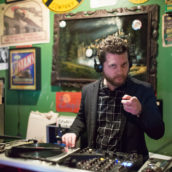 Jeff Terich
Jeff Terich is the founder and editor of Treble. He's been writing about music for 20 years and has been published at American Songwriter, Bandcamp Daily, Reverb, Spin, Stereogum, uDiscoverMusic, VinylMePlease and some others that he's forgetting right now. He's still not tired of it.