Shout Out Louds : Howl Howl Gaff Gaff
The inherent problem with releasing European albums stateside lies in the delay it takes to put the damn things out. Chances are, web savvy audiophiles will get hold of notable releases across the pond before labels have a chance to even publicize the US versions. That doesn't mean that any of them are less enjoyable when we actually do get them, they just may not seem as exciting, and certainly not as new. Having learned that The Shout Out Louds' debut full-length Howl Howl Gaff Gaff has been out in the band's native Sweden for about two years, I feel as if I've been given the task of reviewing something long after the fact. And, technically, I have. Still, it's new to the US, and most haven't heard these cats yet. So, let's pretend that this is, actually, brand new.
The Shout Out Louds' Howl Howl Gaff Gaff is a powerful and accessible rock `n' roll record with the new wave sensibilities of post-Pornography Cure and the transcendent pop of The Arcade Fire. Propelled by the first single, "Very Loud," a shuffling, emotional anthem, The Shout Out Louds have already begun to turn some heads in the States. Though they're far from superstars as of yet, I can easily see them eventually raising to the same plateau atop which bands like Modest Mouse and Interpol currently sit. Once you hear the chorus of "Very Loud," with its emo yawp of "Little by little/you're gonna hear me cry," it's not hard to picture at all.
Everything about this band is very familiar — the rough, yet earnest vocals; the jangly guitars; the endless hooks — but they don't sound all that much like any one band in particular. Sure, the Cure and Arcade Fire are good starting points, but there are bits of The Cars, The Smiths, Modest Mouse, et al. It may be a melting pot, but it's a tasty stew, an indie rock Stone Soup with just a little bit of all of their predecessors' most succulent offerings.
The solid four-four opening of "The Comeback" sounds like a slowed down, less ambivalent version of The Strokes with better hooks. "A Track and A Train" is the most Arcade Fire sounding track, with chiming bells and an irresistible chorus. "Please Please Please" has a Johnny Marr-influenced guitar hook, while vocalist Adam sings "won't you please please please come back to me?" It could have had potential to sound like Dashboard Confessional, but a good tune balances it out, resulting in a catchy little single. "There's Nothing" is oddly mixed, with Adam's vocals seemingly burying the background music, which is subdued, save for the distorted lead. Handclaps drive the punk rocker "Hurry Up Let's Go," while "Shut Your Eyes" is the band's most obvious case of Cure borrowing.
It's worth noting that the American/International version of Howl Howl Gaff Gaff is akin to the Clash's first American album, half made up of album material and half singles. That said, this "album" is a compilation of sorts, and sequenced as such, is new to everyone. Logistics be damned, Howl Howl Gaff Gaff is good. I believe that will suffice.
Similar albums:
The Cure – Staring at the Sea: The Singles
Snow Patrol – Final Straw
The Arcade Fire – Funeral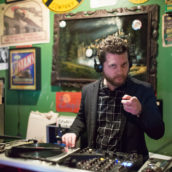 Jeff Terich
Jeff Terich is the founder and editor of Treble. He's been writing about music for 20 years and has been published at American Songwriter, Bandcamp Daily, Reverb, Spin, Stereogum, uDiscoverMusic, VinylMePlease and some others that he's forgetting right now. He's still not tired of it.