Small Black : Limits of Desire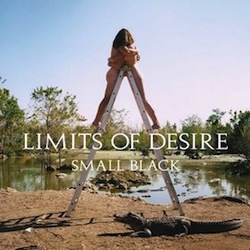 Buy at iTunes | Buy at Insound (vinyl)
With the release of their debut full-length, New Chain, Small Black were squarely categorized under now-defunct subgenre chillwave. It was 2010, and at the time fans and critics liberally placed the tag on any artist with layered synth textures, mid-tempo drum sections and hazy lyrics. Essentially, the sound was the intersection of synth and dream pop. Small Black's peers included artists that have since broken free and produced acclaimed music (Washed Out, Toro Y Moi, Wild Nothing, Twin Shadow) as well some who are still searching for a new footing (MillionYoung, Teen Daze, Memoryhouse). In late 2011 Small Black released the Moon Killer mixtape that, while still heavy on the synths, attempted to throw off listeners' expectations with Nicki Minaj samples and a Das Racist vocal collaboration. As lead singer Josh Kolenick stated in interviews, the end result was influenced by New York hip hop records and would be a forebearer of what fans could expect from their upcoming 2012 album. That year came and went without a Small Black release and somewhere in that time frame the band stepped away from 808s and doubled down on the synth layering and lighter-than-air vocals while forming Limits of Desire, a tight, highly cohesive release that never wavers too far from its core.
"Free at Dawn" and "Canoe" are light-hearted, breezy, and fairly introverted openers that set the stage for one of the highlights of album, "No Stranger." Kolenick tries to cut through the inherent anonymity of meeting someone new as he sings "Tell me how you've come to be/ in this place." It's an honest and direct question but Kolenick seems to be more concerned with the act of communication than the answer as he follows the query with "Tell the story how you want to/ Make up all the details." The lyrics waver beautifully between a reluctance to trust and a willingness to confide in someone you just met.
"Breathless" is one of the more uptempo tunes on Limits of Desire and one that connects well with Small Black's previous work. "Only A Shadow" is another strong point with Kolenick singing about a girl he can feel but can't see. The two tracks are some of the catchiest offerings on Limits of Desire and the instrumentation feels like a slightly more dance-friendly version of Wild Nothing's excellent 2012 LP, Nocturne.
Like Washed Out's 2011 album, Within and Without, Limits Of Desire features a naked couple embracing for the cover art. However, instead of Washed Out's white satin sheets, Small Black prop their couple up on top of a ladder, in the wild, above an alligator. It's a weird visual, no doubt, and a large, serif typeface puts a serious spin on the image, provoking a pretentious modern art tone that doesn't do the band any favors. Throughout Limits of Desire Small Black put forward some memorable synth melodies and interesting subject matter, but I could never shake the feeling that they were holding back something for the sake of saving their artistic face. And it's not that this was a bad decision necessarily, it's just that with a more narrow sonic breadth, Small Black really needed to come through with killer melodies/hooks and/or interesting song structures to elevate their status amidst the maturing chillwave class from which they've graduated. Limits of Desire probably won't shock any fans, but it is an entertaining release from a very talented young band. Small Black has a promising future if they can maintain their attention to detail and take a chance stepping off the ladder.
Similar Albums:


Wild Nothing – Nocturne


Washed Out – Within and Without


Nightlands – Oak Island