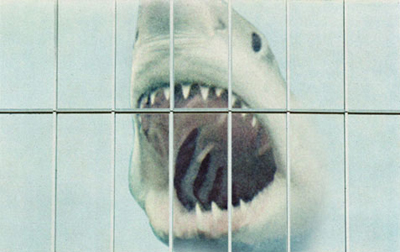 After eight months of releases from the likes of LCD Soundsystem, The National, Arcade Fire, Titus Andronicus, Big Boi, Robyn, Caribou and dozens of other amazing artists, it's hard to believe that there's potentially still a lot of great music to come in 2010. Oh, but it's true! Every fall is a rich and fertile ground for new music, and this year is no exception. To celebrate the coming season of great music, we've assembled 21 albums that we're most looking forward to hearing this fall, from Interpol and Blonde Redhead to Kanye West and Brian Eno. And there are dozens more we didn't get around to including, but one way or another, it looks like it's going to be a great season for music.
Interpol – Interpol (Matador, Sept. 7)
In the three years that have transpired since Interpol's third album, Our Love to Admire, a lot has changed about the gloomy New York post-punk outfit. Around the time that the band announced the album's release, they also announced the departure of longtime bassist Carlos D, and that he would be replaced on tour with Slint/Zwan veteran David Pajo. In addition, the band would not be releasing the album on Capitol, but Matador Records, which released their first two albums. Yet despite whatever transformation the band has undergone, their dreamy rock songs remain as moody and streamlined as ever. Through lineup and label changes, canceled U2 tours or not, Interpol is still Interpol.
Black Mountain – Wilderness Heart (Jagjaguwar, Sept. 14)
Black Mountain introduced their third album to fans the right way, by unveiling an album cover with a big ass shark on it. That's as good as any indication that the band's latest rocks harder than most. And, indeed, Black Mountain has never delivered anything less than a super heavy and massive rock 'n' roll record. That hasn't changed this time around, though there's a little more classic rock boogie, a few more hooks and some choruses you can sing along to. And there's riffs aplenty, so throw those horns up!
Blonde Redhead – Penny Sparkle (4AD, Sept. 14)
Every Blonde Redhead album, to a certain degree, is a blend of intense rock music and ethereal mysticism. That doesn't necessarily change on Penny Sparkle, but the band does, however, play up their ethereal side even further, crafting an album that fits in with the rich history of abstract, shoegazing pop on their label home, 4AD. First single and preview track "Here Sometimes" is a fine teaser, like one of the more subdued tracks from 2004's Misery Is a Butterfly or its 2007 follow-up, 23. Perhaps the Fugazi-isms of the band's early albums are all but forgotten, but in their place is something truly lovely.
Grinderman – Grinderman 2 (Anti, Sept. 14)
In the past, Nick Cave has gone through periods of chamber pop goth balladry, but as the Australian crooner matures, he seems to grow ever more interested in plugging in and kicking ass. With the second release by sleaze-rockers Grinderman, Cave and his co-conspirators offer more Stooges-style aggression, psychedelic freakouts and mischief galore. And the first video released from the album features nudity and machine guns, so it doesn't appear that they're mellowing anytime soon.
Of Montreal – False Priest (Polyvinyl, Sept. 14)
As time goes on, Kevin Barnes' epic glam-rock odysseys just keep on getting weirder and more ambitious. So it goes for the band's latest, with its odd religious themes and characteristically flamboyant compositions. But this time around, Barnes & Co. are joined by an even more impressive supporting cast, from legendary producer Jon Brion, to amazing art-pop icon Janelle Monáe and R&B princess Solange Knowles. If that means a more soulful Of Montreal, count us in.
Robyn – Body Talk Pt. 2 (Konichiwa/Cherrytree-Interscope, Sept. 14)
When Robyn announced at the beginning of the year that she was going to deliver three full-length albums in 2010, we should have known we were in for something incredible. The first installment of the Body Talk series, which was released in June, found the Swedish singer delving further into the sassy electro-pop that made her self-titled album such an amazing discovery. And early reports of its follow-up indicate that she's only raising the bar that much higher. And with yet another installment due sometime in the winter, this is far from the last we'll be hearing of Robyn in 2010.
Vaselines – Sex With an X (Sub Pop, Sept. 14)
Scottish duo Eugene Kelly and Frances McKee are known for being a particularly clever pair, so it seems fitting that the group's first new album after 20 years is called Sex With an X. The lo-fi twee-pop heroes championed by Kurt Cobain are backed on this album by Stevie Jackson and Bob Kildea from Belle and Sebastian, as well as Michael McGaughrin from the 1990s. Expect some raw, catchy pop tunes, witty wordplay and a whole lot of fun.
Walkmen – Lisbon (Fat Possum, Sept. 14)
The Walkmen have always had a bit of an old-timey sound; just listen to the piano on songs like "We've Been Had," for example. But on Lisbon, the group's fifth album (or sixth if you count Pussy Cats), The Walkmen step back to the '50s, drawing inspiration from the likes of Elvis and Sun Records. However, frontman Hamilton Leithauser also said that the album doesn't necessarily sound like that, per se, but will have simple instrumentation and slapback guitar effects. As long as the songs are as good as those on 2008's You & Me, that's all that matters.
Superchunk – Majesty Shredding (Merge, Sept. 14)
This is a big year for Superchunk. Not only have they rung in the new decade with a serious of live dates, their first since the early aughts. And for that matter, Merge Records just reissued their early albums No Pocky For Kitty and On the Mouth. To top this all off, September will bring the band's first new album since 2001, Majesty Shredding. With the band's earlier, spiky material used as reference points, in addition to their powerful live shows, Majesty Shredding may well be a return to the high energy rock that made Superchunk so infectious way back when.
Swans – My Father Will Guide Me Up a Rope to the Sky (Young God, Sept. 21)
Swans' Michael Gira, when announcing the first new Swans album since 1996, added the disclaimer that it isn't a reunion. We're not sure what that means, but we do know that My Father Will Guide Me features the likes of Mercury Rev's Grasshopper and Devendra Banhart, as well as Gira's three-year-old daughter, who guests on a track called "You Fucking People Make Me Sick." If you can't disturb your family, who can you disturb…we guess?
Torche – Songs For Singles (Hydra Head, Sept. 21)
Depending on who you ask, Torche's newest release is either an album or an EP, or a sequence of four double-sided singles, none of which have actually been released as seven-inches. What we do know is that it has eight tracks, spans a little over 20 minutes long and kicks a whole lotta ass in just a short amount of time. With leadoff track "U.F.O." making the Internet rounds, fans can hear for themselves just the kind of ruckus the band has in store, and it sounds great.
Deerhunter – Halcyon Digest (4AD, Sept. 28)
Deerhunter went about announcing their fourth album Halcyon Digest the right way, by launching a new website and holding a contest in which participants post promotional posters of the band's new album in conspicuous places. And in return, said participants are rewarded with first single "Revival." And that first single is pretty spectacular, among the most accessible tracks the band has ever recorded. Deerhunter isn't a band that offers anything less than awesome, and we expect Halcyon Digest to be among the fall's great rock records.
No Age – Everything In Between (Sub Pop, Sept. 28)
No Age has been gradually progressing since they debuted a series of raw, noisy singles on 2007's Weirdo Rippers. Continuing the melodic, yet abrasive sound of Nouns and last year's Losing Feeling EP, Everything In Between promises another step forward for the band's songwriting. Check first single, "Glitter," for a taste; effects squeal and billow, distortion still remains a dominant force, but Dean Spunt's vocals sound more melodic and as a whole, the tune is a fantastically warped pop song. And just think, there's eleven more where that came from!
Three Mile Pilot – The Inevitable Past Is the Future Forgotten (Temporary Residence Limited)
Legendary San Diego outfit Three Mile Pilot hasn't released an album since the 1990s, mostly because that's around the time they broke up. But after reuniting for local venue The Casbah's 20th Anniversary celebration last year, Zack Smith and Pall Jenkins began writing new material, in between their respective duties as members of Pinback and Black Heart Procession, respectively. And on first listen, it sounds as if the songwriting duo hasn't lost a step.
Women – Public Strain (Jagjaguwar, Sept. 28)
Calgary psych-pop outfit Women caught our attention (and a lot of other folks') two years ago wit their brilliantly skewed self-titled debut. And with Public Strain, the group promises something even more layered and complex. Curiously teasing the album with its closing track, Women released "Eyesore" as a free MP3 on Jagjaguwar's website, and it's a dazzling, swirling wonder of a song. And if that's how the album closes, the journey getting there can only bring amazing things.
Corin Tucker Band – 1,000 Years (Kill Rock Stars)
Members of Sleater-Kinney have been hinting, recently, at the possibility of getting back together. However, that doesn't appear to be part of their plans in the immediate future. Yet the group's frontwoman, Corin Tucker is returning to the stage after a long absence. Having spent most of the past decade's latter half focusing on being a mother, Tucker has assembled a new band and recorded an album of all-new originals, moving away from her other band's more aggressive punk rock sound in favor of a singer-songwriter approach. Yet while it may be a bit mellower than her past work, having the backing of Unwound drummer Sara Lund does promise just a little bit of rocking out.
Small Black – New Chain (Jagjaguwar, Oct.)
These synth-pop chillwavers presumably goofing on Steve Albini made a big impression with their self-titled EP, originally released last year and reissued in 2010 by Jagjaguwar. But with their first full-length, the group promises even bigger things. Better production, stronger songs and colossal synthesizers abound on New Chain, sure to be one of the most talked-about debuts of 2010. And with any luck, perhaps one of the best as well.
Sufjan Stevens – The Age of Adz (Asthmatic Kitty, Oct. 12)
Sufjan Stevens already dropped one surprise in 2010, thus far, that being the 60-minute "EP," titled All Delighted People. And, apparently, after a five year drought, the singer-songwriter is opening the floodgates, because a new full-length album is due Oct. 12 from the singer-songwriter. One track, "I Walked," is already available to stream on his Bandcamp page, and it reveals a completely new side to the ever-evolving artist. There's a lot of synth, dub effects, and no acoustic guitars, making it a far cry from the folky ditties that earned him accolades in the '00s. That said, the singing and songwriting style is classic Sufjan, so we should be in for something amazing.
Stereolab – Not Music (Drag City, )
Stereolab is technically on hiatus right now, which is why singer Laetitia Sadier happened to have the time to record and release a solo album of her own. But before announcing their break, Stereolab put together a whole new album, consisting of unreleased material recorded around the same time as their previous effort, Chemical Chords. And despite the title, we fully expect some melodic electronic gems.
Kanye West – Good Ass Job (Def Jam, tba)
Everyone likes a story of redemption, especially when it means we get a really good hip-hop album in the process. After a drunken awards show stunt and, prior to that, a robotic Auto-tune pop album, what, I'm not hesitant to say, we all want most is another powerful hip-hop album from Yeezy. The overachieving rapper/producer may or may not be working with the likes of Pete Rock and the RZA on this album, but based on early single "Power," we know for sure this is going to be a spectacle. It may or may not still be called Good Ass Job by the time it comes out, but when it does, we'll be ready for it.
Brian Eno – Small Craft on a Milk Sea (Warp, Nov. 2)
Warp Records made a huge announcement earlier this month when the influential electronic label said that Brian Eno had joined its roster. However, it's a perfect fit when you really think about it. And in a year full of long-awaited reunions and follow-ups, a new album by Eno seems to trump them all. A collaboration with Jon Hopkins and Leo Abrahams, Small Craft will likely see Eno in the ambient mode he's made famous. And for collectors, the album comes in a variety of deluxe formats with extra goodies, trinkets and knick-knacks. Hooray!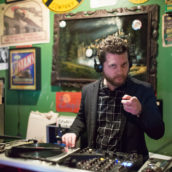 Jeff Terich
Jeff Terich is the founder and editor of Treble. He's been writing about music for 20 years and has been published at American Songwriter, Bandcamp Daily, Reverb, Spin, Stereogum, uDiscoverMusic, VinylMePlease and some others that he's forgetting right now. He's still not tired of it.