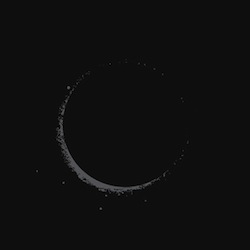 Buy at iTunes | Buy at Insound (vinyl)
One listen into Son Lux's latest album, Lanterns, and its creator's pedigree probably won't come as much of a shock. The project is essentially Ryan Lott, a classically trained composer with a resume loaded with projects as disparate as composing music for choreographed dance as well as hip-hop beat production. As his past work suggests, Lanterns is clearly the work of someone with too many ideas to narrow down. Adding to the mélange, the album boasts a pretty impressive roster of guest musicians, ranging from Peter Silberman of The Antlers, DM Stith to yMusic (a string ensemble who have played strings on the most recent Dirty Projectors album), to name a few. So, as you probably guessed, at any given point on Lanterns there is quite a bit going on in the details.
Like any skilled composer, Lott has a knack for quickly transitioning arrangements. A chorus of voices moves in, subsiding for a lush string section under an electro-pop beat, another section of voices starts singing. Some songs have so many changes, it can become a bit overwhelming, but the best tracks always give you plenty of hooks to grab onto among the shuffle. "Lost It to Trying" pulls off the maximalist angle to dizzying heights. The convulsive wind instruments are constantly swirling about creating a dense thicket that's easy to get lost in.
That said, the most immediate tracks on Lanterns are unquestionably the quieter ones. For one, tracks like "Ransom" and "Enough of our Machines" are just easier to get lost in, simply because there isn't much competing action. Even "Ransom"'s climax, which is quite dramatic, never becomes overwhelming. And the truth of the matter is that at this point Lott is more consistently successful when he lets his songs breathe a bit. If the album has a flaw, it's that the restlessness of some tracks makes them difficult to follow, even after repeated listening. Some of the hyper-paced instrumentation can undermine an otherwise great melody. On the other hand, "Easy" is very enjoyable and it's largely due to the fact that the sax hits, for instance, resonate with force when they're not contending with a few dozen other ideas. For the most part, though, Lott is able to successfully synthesize his ideas into a pretty compelling whole.
Throughout Lanterns, Lott's stylistic twists and turns seem oddly appropriate. The dark, brooding electro-pop of "Pyre" is stirring, while the aforementioned "Enough of our Machines" is a piano-based highlight that bears similarities to both "Pyramid Song" and Chelsea Wolfe. It might just be my favorite song on the record, showing off Lott's skill at producing some sublimely dark beauty. "Alternate World" has echoes of Sufjan Stevens who, not surprisingly, Lott has worked with in the past. Lott's approach comes across as equal parts scattershot genre hopping and meticulously orchestrated craft, which tends to leave the album feeling a bit inconsistent. That said, in a world where it's become increasingly common for digital textures and organic sounds to collide, this method helps Son Lux stand out as a unique voice in a crowded field.
Similar Albums:


Doldrums – Lesser Evil


Baths – Obsidian


Panda Bear – Tomboy