Songs About Nothing: An Interview with Women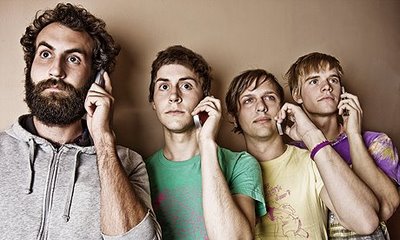 When Calgary noise-pop quartet Women set out to create their second album, Public Strain, they had a vague concept they intended to follow: to re-record U2's The Joshua Tree, or so says guitarist and singer Patrick Flegel.
Spoiler alert: that didn't happen.
Public Strain bears little to no resemblance to U2's classic 1987 album, instead focusing on the juxtaposition of noise and melody. It's more Sonic Youth or Wire, or perhaps a mutant offspring of The Zombies' gorgeous melodies and This Heat's menacing post-punk. There's very little in music today that sounds quite like it, but it took some time for Flegel, his brother Matt, Mike Wallace and Chris Reimer to find their muse.
"Back in the day, people would record in a week," Flegel said. "[This album] took about 10 months, which comes down to about a song a moth. We would track for two days, and then not talk for a week. So there's a lot of variation from song to song. Some stuff we wrote as we recorded. I'm happy with the variation, the way the different sounds come out.
"It's really just a compilation of things we came up with over a period of time."
There's a vast array of sounds on Public Strain, from the epic and triumphant closer "Eyesore," to the more ambient tone of "Bells" and the blissful pop of "Narrow With the Hall." It can sometimes be difficult to pin down where Women stand, stylistically, yet from one sonic leap to another, each song is unmistakably their own. The stylistic leaps on the record reflect the group's fractured songwriting methods, which can stem either from a home-recorded demo or a jam session breaking off of an extended cover of The Stooges' "Loose."
"A lot of the more melodic songs, the moodier ones… the slow jams, if I'm just sitting down with a guitar I'm more likely to write a ballad or something," Flegel said. "Or a pop song. It just seems to happen. If we're just hanging out, we're jamming out. We just don't seem to practice. I was living with this girl and she would say, "You don't practice, you just play Iggy Pop covers!" We'll play Pink Flag in its entirety. But sometimes we'll stop and then these songs come together."
While the process of writing and recording Public Strain took close to a year to finish, the momentum really began to pick up during the winter. It's hard not to draw a connection between the environment and the band's sometimes chilly and distant abstract post-punk sound. In fact, the cover of the album depicts a pretty threatening looking snowstorm. According to Flegel, however, the biggest influence the winter played on the album was that it forced the group to focus.
"It's weird because when we started recording, it was during the fall," Flegel said. "It was kind of funny. Things weren't picking up. We thought we'd learn from our mistakes, and basically the same thing kept happening. We didn't know what we were doing. But once it started snowing, we said 'OK, now we'll start to record.'"
Women's self-titled 2008 debut was produced by labelmate, fellow Calgary native and experimental pop songwriter Chad VanGaalen. And when it came time to start recording a follow-up, the group chose to work with VanGaalen yet again. However, Flegel said that their relationship in the studio is less of a traditional artist/producer dynamic, and much more relaxed.
"Chad is amazing," Flegel said. "He's endlessly enthusiastic, and a very patient guy. As far as being the producer, he doesn't really force anything. He does suggest things but he's really accommodating. He's just one of our best friends.
"We didn't really know him when we made the first record, but he's a great guy and the roles of producer went back and forth. We'll have a big idea and he'll just throw out ideas here and there. He'll add some synthesizer, or hit something on the wall with a drumstick, subliminal stuff like that."
There's a great deal of mystique in Women's sound, from the abrasive sound of their recordings to their atypical time signatures, tempo shifts and stylistic configurations. Lyrically, they're even more mysterious. Patrick, Matt and Chris are often singing beneath layers of reverb and distortion, making some of their vocals more like an added instrument rather than having any clear-cut message. And when those lyrics are eventually deciphered, the words prove just as oblique and impenetrable, as Flegel readily acknowledges.
"These aren't songs about concrete things," Flegel said. "I noticed, looking at a lot of the lyrics, if there's imagery, it's usually contextualized by something in my mind. But it could be construed different ways. That sums up a lot of the lyrics.
"Like a lot of people, I have a book, and I jot things down when I feel like it. I'll write down things I like the sound of. It's hard to finish thoughts. When I should have the lyrics finished, I don't. So we'll finish them as a group. It's just kind of stream of consciousness stuff. Even though they are removed and abstract, though, sometimes they're things that are uncomfortable to talk about."
As a unit, Women operate in unusual ways, but what comes out on the other end of their creative process is frequently amazing. Public Strain may not be the band's version of The Joshua Tree, but it's a sound worth hearing and soaking in, and its secrets worth unlocking.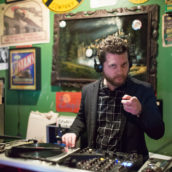 Jeff Terich
Jeff Terich is the founder and editor of Treble. He's been writing about music for 20 years and has been published at American Songwriter, Bandcamp Daily, Reverb, Spin, Stereogum, uDiscoverMusic, VinylMePlease and some others that he's forgetting right now. He's still not tired of it.