Carrying the Torch: An interview with Spirit Adrift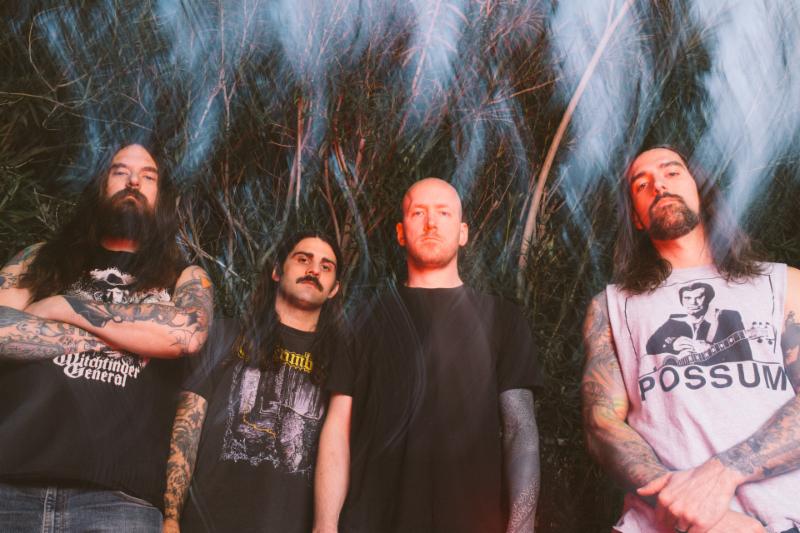 Nate Garrett only has a few things on his agenda tonight. In a few hours he'll be putting his efforts toward playing a heroic live set with his band, Phoenix-based heavy metal outfit Spirit Adrift. The most pressing, however, is making his way through the comically large burrito that's just been served to him at JV's, the taco shop across the street from the predominantly metal San Diego venue, Brick by Brick, which is hosting the band and tourmates Haunt—who, incidentally, have their own goal of emitting a steamy, sweaty mist onstage. Garrett, however, is mystified by the forearm-length gut-bomb in front of him, but he gives it his best.
For the longer term, Garrett has a larger and more ambitious goal—making music that leaves a positive impact on other people. Spirit Adrift's new 20 Buck Spin-released album, Divided by Darkness, is the most driving and immediate music they've ever released, building on a tradition of both '80s heavy metal and more contemporary experimentation with classic, melodic songwriting at the center of it. But there's also a sense of anger behind it that marks a noticeable change from the more mournful tone of previous records. The cover art od Divided depicts a lone traveler holding a torch over a trail of skulls, chased by a cosmic monster and seemingly surrounded by wolves. The metaphor, though perhaps not subtle, is apt—times are dark, seemingly hopeless, but Spirit Adrift is doing their part to help keep the torch lit through our contemporary gauntlet of weaponized disinformation, eroding rights and intolerance.
On past records, however, Garrett was more prone to looking inward, and the introspection was well earned. For most of his adult life, and even before that, Garrett has spent his waking hours playing in literally dozens of bands. But it's only been in the past few years that he's done so entirely sober. Years of heavy drinking took a toll on his physical health, but it also kept him from being able to perform or make music—both of which he credits as being vastly more beneficial to his mental health.
"The last 10 years of it I was drinking every day. The last three years, I was drinking enough to kill a normal person. I couldn't do anything, I couldn't form a fucking thought," Garrett says. "I would say it's been an immeasurable improvement in all aspects of my life. The smoking thing too. Cigarettes and whiskey are two entirely different things. Whiskey will kill you fast and take over your whole life. I never cared that much about cigarettes, but ever since quitting, I can sing better, breathe better. I just feel better overall. Every single aspect of my life got better, almost immediately, and continues to get better the longer I stick with it."
Now healthier, more driven and more productive, Garrett has turned his perspective outward. With Divided by Darkness, the darkness in question that he tackles is still, in some sense, very personal. But he mostly turns his gaze outward, weaving narratives that can be read in a manner similar to the escapist tales of classic heavy metal but always tying back to something real, something more urgent and terrifying. Its eight songs are not specifically about the U.S. government and the top of its leadership, as popular a topic as that might be at the moment. But Garrett says that figures like Trump are merely "a symptom of a deeply flawed place that humanity has found itself in." A war of propaganda and corruption forms the backdrop of the driving opening track "We Will Not Die," while a bleak and morbid inevitability is at the center of ornate waltz "Tortured by Time." But the album's best song, "Angel & Abyss," is a powerful dirge that rises up into a badass thrash metal burner with a message of hope and determination.
That determination is central to who Garrett is. He's seen his own dark personal days and come out the other end even stronger, but when that darkness threatens to engulf everyone else, he only grows more motivated to fight back.
"You can let all that shit put you into a state of non-action and depression and helplessness, or you can get mad about it—there's this corny-ass cliche that your anger is like a fire. You can use it to cook your food or you can burn your house down with it," he says. "Anger is more effective than sadness. Curse of Conception was a very sad album that was more about my life and things I have to deal with and things I dealt with in the past that are still affecting me. This is about frustration and things I perceive that are wrongdoings that are happening more to other people. I tend to get more angry when harm is being done to someone else. With this album being about the wrongdoing I see being done to other people and the planet, I'm more able to get fired up about it. Like 'fuck you, don't do this!'"
In a manner of speaking, Garrett is a warrior, and he has the scars to show for it, most of which come from the physical damage that being in a touring band does to the human body. By his count, he's been in 29 bands that have either released music or played shows—including fellow Arizona metal outfits Gatecreeper and Take Over and Destroy—with a 30th just on the cusp of happening at some point. But 12 years of packing in and out of vans, carrying heavy gear and racking up the bruises to show for it, he admits to being a little worse for the wear. Yet the toll that goes into it only makes him more confident in his decision to make Spirit Adrift's music as strong as he possibly can.
"I've been touring since 2007, and it's hard," Garrett says. "I have the body of someone in his sixties who played football. We're all fucked up. We have back problems, knee problems. Touring just makes you crazy. So I was ready to just make this music, and that'll keep me happy, and people wanted to hear that music live. I hate half-assing it. I can't do it, I don't want to do it. If we're going to be a real band, let's try to be the best band."
Spirit Adrift have long shown the promise of being that band, and with Divided by Darkness—a heavy, complex yet hopeful set of powerful contemporary metal—they sound stronger than they ever have. But Garrett is always aiming higher. In the course of an hour-long conversation, toward the end of which Garrett finally throws in the towel on that burrito, he talks enthusiastically about early Metallica, Ozzy Osbourne and Morbid Angel, and has the passion of a fan as much as a creator. That love for the craft and for the music that inspired him comes through in what Spirit Adrift does. And in turn, it's an avenue through which Garrett can put something positive back out into the world.
"At the risk of sounding naive and idealistic, I want to use the one thing I'm good at, which is music, to make the world better as I can with what I got," he says. "Music made me feel better when I was suffering, and it still does."
---
Support our Site—Subscribe to Our Patreon: Become one of our monthly patrons and help support an independent media resource while gaining access to exclusive content, shirts, playlists, mixtapes and more.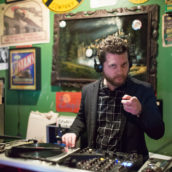 Jeff Terich
Jeff Terich is the founder and editor of Treble. He's been writing about music for 20 years and has been published at American Songwriter, Bandcamp Daily, Reverb, Spin, Stereogum, uDiscoverMusic, VinylMePlease and some others that he's forgetting right now. He's still not tired of it.