Spiritualized : Everything Was Beautiful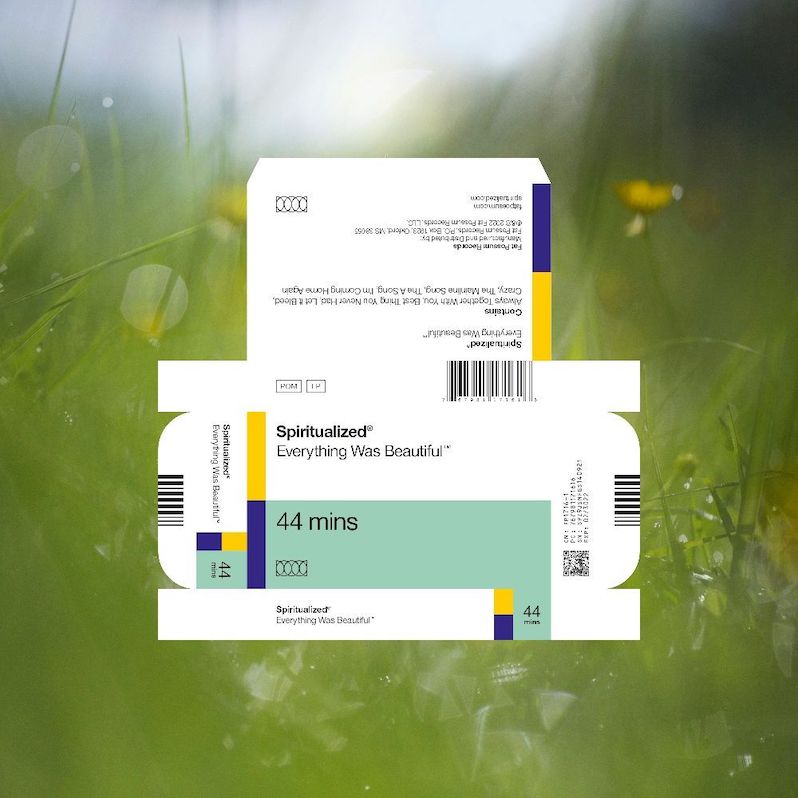 Jason Pierce is an aural showman. Ever since his first record with Spiritualized in 1992—and most prominently on their masterpiece, Ladies and Gentlemen We are Floating in Space—the singer, songwriter, and multi-instrumentalist frontman has helmed a theatrical, psychedelic sound: strings, steel, harmonica, gospel choirs, glossy guitars and druggy textures. The past few releases have pared things back, dipping more heavily into country and the blues, while still embracing a maximalist aesthetic. Everything Was Beautiful is the latest iteration of this approach, featuring over 30 musicians and seven genre-spanning compositions over the course of 45 minutes.
Even when he plays it tender, Pierce doesn't take half-measures sonically, and this record is no exception. The problem is that much of it does not feel intentional. Some of these songs seem like smaller ideas stretched and elongated to arbitrary lengths. Yearning opener "Always Together With You" makes use of a gospel choir and starts with the beeping of a hospital ECG monitor, just like the opening title track on Ladies and Gentlemen. But the song feels distended and curiously hollow. Sonically, it's every bit as maximal as "Ladies and Gentlemen," but it sounds more compressed, coming off more like Ladies and Gentlemen cosplay for the digital age than a genuinely new statement from Pierce and his ensemble.
"Best Thing You Never Had (The D Song)" is this record's "Come Together"—the gritty, hard-driving wake-up call before the slow-burning "Let It Bleed (For Iggy). "I labored over these words too long. They're nothing to behold. I wanted it to be special for you, but it's just a song," Pierce sings. There's a kind of resignation here; however grandiose his compositions are, Pierce has no illusions that these outsized songs have the power to move mountains.
Fittingly, at this point he decides to make room for another songwriter. Enter the record's standout single, "Crazy", a cover of "Out of My Mind" by Pierce's former tourmate, country artist Nikki Lane, who joins him on backing vocals. The song is gorgeous, a glimpse of a pure country pop performer within Pierce waiting to flower. "Crazy" is exhilarating, but the song doesn't announce itself the way singles on previous albums do. It blends in seamlessly with the record's flow, acting like a gateway: it rises from the ashes of "Let it Bleed"'s brass assault, offering a breezy reprieve before the more forceful second side.
This is where the album starts to lose steam again. "The A Song (Laid In Your Arms)" crackles with static tension and arena-rock release, in the vein of the nerviest cuts on Ladies and Gentlemen. But the two other tracks, "The Mainline Song" and "I'm Coming Home Again" fall relatively flat. The latter in particular stretches to almost ten minutes without much justification for the length. Like "Always Together With You" it feels inert, lacking the dynamism that characterizes rockers like "Hey Jane" or the tight watery groove of "Cop Shoot Cop…"
In the end, Jason Pierce is an artist who knows exactly what he's about, and Everything Was Beautiful proves it. He hasn't lost his aptitude for dense orchestration and anthemic song structures. But in light of all the aesthetic callbacks to Ladies and Gentlemen, Pierce seems ambivalent about fully moving on. We know he can make a genre-bending epic. Here's hoping the next Spiritualized outing offers a different angle.
---
Label: Fat Possum
Year: 2022
---
Similar Albums:
Casey Burke
Casey is thinking about modern hip-hop and 70s rock. He's written for Grandma Sophia's Cookies, Brainchild, Plaze Music and WTJU.