Spring Singles Spectacular!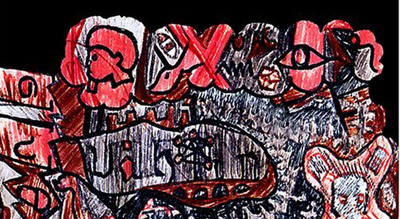 Did we skip winter? Damn. There must have been tons of new singles and EPs released in the past six months, but we're not going to attempt to give the run-down on all of them. Instead, we'd like to offer a few of the more notable EPs of late, not because of their star power, but because they caught us by surprise. Here are a few brief discs that almost went unnoticed; good thing I gave them a quick sample in the ol' boombox.
Georgie James – Need Your Needs (Laboratory)
After D.C.'s funkiest post-hardcore troupe Q and Not U parted ways, each member's output has been as diverse and as exciting as one could possibly imagine from such a vibrant set of musicians. Harris Klahr has been delving into electronic music and remixing, while Christopher Richards started avant-folk project Ris Paul Ric, in addition to starting up a live hip-hop group. John Davis, however, went the pop route with Georgie James, a collaboration with singer-songwriter Laura Burhenn. The result is an energetic blend of QANU's funkiness with the accessible indie pop smoothness of Maritime. "Need Your Needs," the leadoff track on the group's new EP, has a surprising fullness and denseness for a two-person group. "Cake Parade," meanwhile, bounces along with a rich organ groove, and closing Paul Simon cover "El Condor Pasa" reveals a gentleness and somberness that the group's pop sheen might not initially suggest. Once again, a D.C. punk expatriate surprises and astounds with a new and exciting sound.
The Inevitable Backlash – Sex for Safety (Hegemony)
Chugging, distorted guitars? Check. A snarling vocalist? Check. A drum beat that hits like a concrete block to the skull? Check. From the first few seconds of "He Never Left," the opening track on The Inevitable Backlash's new EP, the band makes their mission quite clear—to rock you hard, slap you around, steal your beer and maybe break a couple windows. It's not a complex sound, nor one that hasn't been covered a hundred times before, by the likes of Nirvana, The Stooges, The Sex Pistols…you get the idea. But if the formula worked so well the first time, why mess with it? These five tracks do no such thing, but hey, they don't have to.
Eastern Conference Champions – Eastern Conference Champions (Suretone – Interscope)
The shadow of Radiohead still looms large over the modern rock landscape, seemingly every other band borrowing liberally from either The Bends or OK Computer, and in a few rare cases, Kid A and Amnesiac. Eastern Conference Champions fall in the former category, playing dramatic alternative guitar rock with an obvious flair for Radiohead-isms. The Bucks County, PA trio doesn't necessarily directly rip-off the band. That sort of thing is better left to groups like PaloAlto. But Josh Ostrander's vocal affectations instantly recall Yorke's, making the similarities jump further to the forefront. However, with the metal-influenced, piano-pounding "Gucci No. 3," the band sounds a lot more like the UK's increasingly prog-oriented heroes Muse. If the songs weren't so strong, all of this would be a lot less forgivable, but as it is, they have a knack for writing powerful, dynamic songs full of twists and turns and soaring choruses. A little Radiohead influence never hurt anyone, I guess.
True Primes – We Have Won (Locust)
True Primes' debut, We Have Won, might not necessarily fit in with the rest of the EPs and singles here, primarily because it's almost a half-hour long. But it's still a bit short of a full album, featuring only five songs, two of which are versions of the title track. So in that sense, I say it counts. In any case, most of the songs here are lengthy, stretched out meditations, minimal, yet cacophonous. The Brooklyn duo finds their muse in the chaotic fun-core of Deerhoof and the wild, experimental pop of Animal Collective. While some tracks, like "We Have Won," are spare and spacious, others, like "In the Surf," are playful romps in which sound bends and shivers and the beats skip along with a manic glee. There's very little quite like True Primes, primarily because True Primes have a way of betraying just one musical style or settling comfortably into either feedback or melody. They do both quite stunningly, but an hour of this sort of thing might get extremely exhausting.
Pacific UV – e.p. (Warm)
Athens, GA's Pacific UV do noise-rock right. With a dark, post-punk influence and an immense wall of feedback, PUV pushes the treble to the limit, busting eardrums with its loud, yet glum sound on their new, four track EP. Leadoff track "Know" shifts from JAMC feedback squalls to downtempo trip-outs, while "Chemical" blends heavenly sounds and loads of reverb before getting its jangle on and bursting into a garage rock gem. The closer on the record is Eluvium's remix of "L.A.P.D. vs. N.Y.P.D." from the group's first record, awash in swirling effects and layers and layers of elegant psychedelia. A wonderful way to end a short but badass set of rock.
Mando Diao – Long Before Rock `n' Roll (Mute)
Though I wasn't always a fan of Mando Diao's power-chord flailing garage rock, I've come to appreciate the overwhelming level of fun the band crams into their songs. The title track on their new EP is just such a song, impossibly catchy, bouncy, raw and loud. It doesn't take much more than that to create a great rock song, and the kicker here is Daniel Häglund's wail "before rock `n' roooowwwlllll!" The b-sides are just as likeable, "Popovic" settling into a crisp, retro pop groove, doing away with distortion temporarily and adding a chorus that could spawn a single of its own. Mellow acoustic track "Chet Baker" has a romanticism to it that the titular crooner would find endearing, even if its a rare, quiet moment for the Swedish outfit. The live version of the title track rocks equally hard, if not more than the studio version, albeit a tad rawer, and with an introduction in Swedish. And no, they don't sing the song in Swedish.
Louis – Freak Show Revenge (Superphonic)
Louis Schefano's name might not ring a bell, but the man has played in at least one outfit you may recognize, whether its Regia, Little Red Rocket, or more likely, Remy Zero. On his first release as Louis, Schefano takes on a warm, fuzzy, laid back indie pop sound, one that fits in snugly alongside his previous projects, but with a dense, melancholy flair, and a great set of songs. The title track lazily plods with a sleepy melody, albeit a gorgeously fractured one, while "My Own Good" swaggers a bit more in its bluesy haze. "Your Disease" and "Ten Thousand Years" more crisply glimmer in their somber, soporific ways, sounding a bit like Canadian troubadour Hayden in their soft simplicity. It's cloudy day music from start to finish, but Louis' tunes have a warmth to them that can cure any oncoming seasonal affective disorder.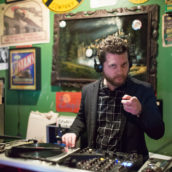 Jeff Terich
Jeff Terich is the founder and editor of Treble. He's been writing about music for 20 years and has been published at American Songwriter, Bandcamp Daily, Reverb, Spin, Stereogum, uDiscoverMusic, VinylMePlease and some others that he's forgetting right now. He's still not tired of it.