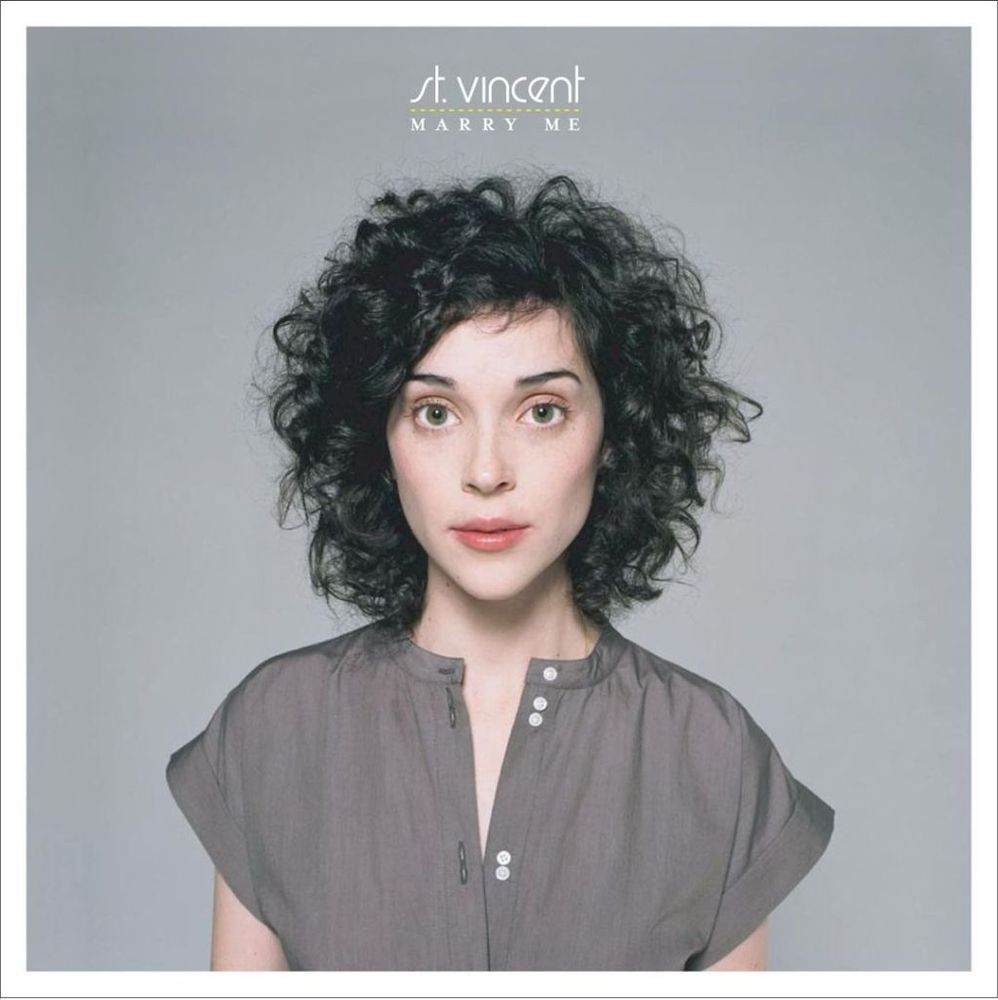 Cigarette smoke drifts toward the ceiling of the dimly-lit bar. Flirting singles chirp nonchalantly, the din of their conversations lost within the myriad voices. Ice clinks in glasses, people laugh. Seductions continue, for the most part, unnoticed, until a striking young woman, head full of springy brown curls and soulful brown eyes, wide and bright, intones in a sultry soprano. She is tucked away in the corner, lips pressed against the microphone. Silence falls over the bar so that every inch of her voice, every note, fills the space. It sounds like Paris before impending war, laced with the lingering shade of darkness of what is yet to come.
But the mysterious woman isn't French (or even French-Canadian for that matter); she's Tulsa, Oklahoma native Annie Clark, St. Vincent to those lucky enough to have heard of her, at a mere 24 years old. Her music, splashed with varying black and white tones of noir, is evocative of an unrivaled classicism. Clark's debut Marry Me wields an impressive array of differing styles; at one moment Clark growls out menacing rockers ("Your Lips Are Red") and the next coos carefree and light lounge numbers ("What, Me Worry"). Guitars strum wildly at times, softly at others, while keyboards scatter electronic nuance in too many complimentary ways to count.
St. Vincent marries (yeah, I know…) the traditional with the modern, acoustic arpeggiation and the unmistakable lush sheen of synthesizers ("Paris Is Burning"), militaristic drumming and strange vocoder interludes ("Jesus Saves, I Spend"). The former weaves, waltz-like, through the dark corridors of a city on fire, recalling the decadence and pomp of cabaret on more than one occasion. "All My Stars Aligned" is a gentle acoustic strummer with chilly piano flourishes and the occasional dapple of keyboard. Where contemporaries might shy away from such experimentation, Clark revels in the quirky combination of new with old, with an elegance befitting her humble origins.
"Landmines," elegiac, melancholic, and just plain gorgeous, builds atmospheric layers upon brushed drums and reverberating guitar as Clark unfurls a sordid love tale full of fatalistic war imagery and her ever hair-raising soprano. "I'm crawling through landmines just to know where you are/ there's smoke in my eyes `cause you're burning the ground," she sings with bruising metaphor. Lilting brass, finger snaps and the lithely picked guitar of "Human Racing" finds Clark beating Leslie Feist at her own game, an upbeat romp through billowy fields and a legitimate contender to "Mushaboom." Elsewhere, strings swirl in soaring symphonies ("The Apocalypse Song") or a lone piano plinks sadly ("We Put A Pearl Into The Ground").
The one misstep comes in the title track, an overly sentimental exercise in devotion that might have worked had it only been more sarcastic. But it is easily forgiven in the form of a riveting thriller of discordant piano and foreboding guitar freak-outs that spray like shrapnel: the aforementioned "Your Lips Are Red." Even more of a surprise is the song's transformation midway through with the emergence of swooning strings and the softening of Clark's growl into a plaintive plea, "Your skin's so fair it's not fair."
When it comes to love and war, the battlefield inevitably lies strewn with regret, something Annie Clark seems awfully familiar with. My own regret comes from not seeing her perform at this year's Sasquatch! Music Festival. To avoid the astronomical cost of beer inside ($10 dollars for 24oz!), my friends and I enjoyed Brass Monkeys (in honor of The Beastie Boys) in the parking lot while St. Vincent played. But as luck would have it, Bumbershoot is just around the corner (where Ms. Clark is scheduled to perform) so all hope is not lost. It may not be within the shell of a smoky Parisian bar, but, all the same, a chance to see St. Vincent won't be missed again.
---
Label: Beggars Banquet
Year: 2007
---
Similar Albums: