State Drugs : Live, Laugh, Love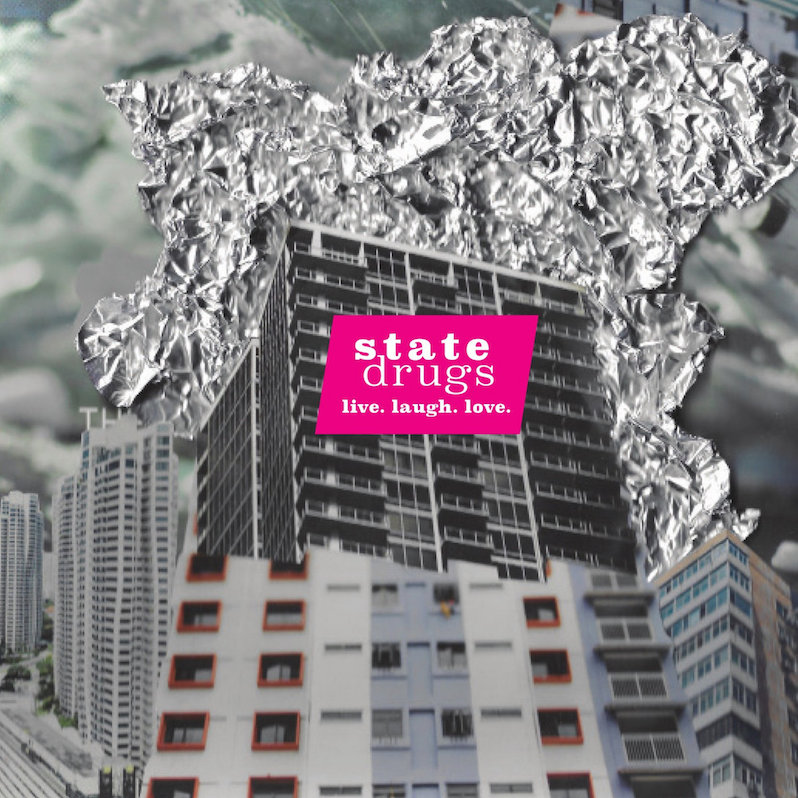 The first State Drugs LP 666, Blah, Blah, Blah offered a survey of '90s alt-rock-inspired harmonies along with triumphant choruses, their sonic influences made perfectly evident with a cover of Jawbreaker's "Jet Black". On their second outing, Live, Laugh, Love, the Denver group exhibit a marathon spectacle of jangly punk-tinged fury, backed by a production that towers over their previous outing. Yet at the heart of this album is a group of musicians who are older, wiser, attempting to craft from both memories and nostalgia a framework, a response to the present through the past.
This nostalgia is most evident with the song construction on the album, which immediately shows lead guitarist Tom O'Leary and rhythm guitarist Matt Sharkey's predisposition for push-and-pull writing. "Beautiful Broke" finds a sense of immediacy, yet distressed guitar style that remains deeply evocative of Dinosaur Jr.'s J Mascis or Braid's Bob Nanna. From soaring, deep angular guitar solos to throttling reverb backed by a percussive cadence from AJ Rothermel, it's all a brilliant backing for Chris Kuhn's delicate vocals. As a sonic blueprint, it's fitting for the album, but its thematic setting is rich and exemplified here. As much as the chorus sounds sugary, its lyrical intent isn't: "maybe there's no fixing/all that's beautiful and broke".
Kuhn's efforts on bass are nothing to be ignored either, deploying an often rigid simplicity that belies a sonic complexity. On "Good Enough" Kuhn's bassline preserves a perfect clarity, a broad composition that tightens and growls through chorus and bridge alike, a perfectly strong spine that helps broaden the band's sonic palette.
Lead single "Threat Level Midnight" opens candidly with surf-rock inspired melodies, before leaning hard into wild, treble-heavy riffs in warm, analogue tones. Kuhn's hushed singing leads listeners to a chorus that feels inescapable, building tension through a steadfast rhythm, all the while the band is in refinement mode. You can feel the energy.
"Country Culture" and "A Little, A Lot" all lean heavily on some of the established moods of prior tracks, sounding like a long narrative or even a longer track cut up and reorganized. This cohesion is a benefit, specifically when the style change is so abrupt and intense, as heard on "Reason." The song opens with a pinched throttling of the fretboard and expanding into an increasingly melodic palette, shining in surprising ways, forgoing a chorus that typically would enchant through its harmony or earworm-like quality, there's a subtle snarl throughout. Something almost resembling menace.
Closer "Rain King" leans heaviest into State Drugs' established style, doing an effortless job of encapsulating the entirety of the album. What's most important are the soulful transitions of Kuhn's patterns, which subtly change to encompass a more dynamic range. In terms of instrumentation, it's great, deeply reminiscent of '90s radio earworms, providing either a comforting or bewildering sense of deja vu in equal measure. It's the guitar that separates it, singing wildly in small bursts, crunchy bridges and big sound in general.
Live, Laugh Love, is a fantastic second LP. It finds the band well aware of their limitations, but like any now retro-genre conflagration with an added sheen of modern production, what is old is indeed new again. But it's more than that, an album big on immediacy but carrying a sorrow that seems inescapable.
---
Label: Ashtray Monument/Snappy Little Numbers
Year: 2021
---
Similar Albums: