The Menzingers : Rented World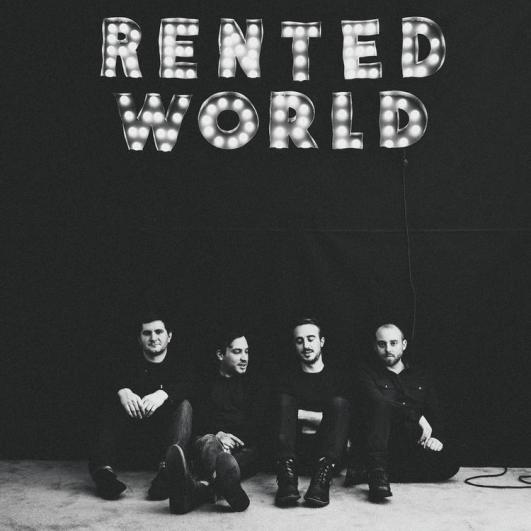 In 2012, with On the Impossible Past, The Menzingers brought Philadelphia's punk scene – though a different sector of it than, say, Pissed Jeans might represent – to mainstream critical recognition. The effectiveness behind the band's approach on that record was rooted largely in a tradition that has often served Philly artists (from Hall & Oates to The Roots) well: writing earnest and soulful music. It may have been surprising at the time but, in retrospect, that release – along with the switch to Epitaph that preceded it – was one of those necessary and crucial moments of transition in the life of a band. The Menzingers' success in pulling it off was an indication that they were the real deal. Rented World, this year's follow-up, confirms that beyond a doubt.
Similar to how Husker Du transitioned from a record of wide stylistic and narrative expression (Zen Arcade) to a more streamlined punk rock classic (New Day Rising), The Menzingers have concentrated and refined their songwriting approach on a record of similar emotional intensity. Following a big commercial and critical breakthrough, this tends to be a pretty solid approach, and indeed it is here as well, as the group scales back from the conceptual focus of On the Impossible Past and improve the consistency of their hooks, vocal melodies and guitar interplay.
As a result, Rented World doesn't have one bad song on it. Opener "I Don't Wanna Be An Asshole Anymore" establishes the band's basic formula for the record: big, polished, and confessional pop punk with catchy and anthemic hooks. What is remarkable is how the Menzingers manage to keep this formula fresh and engaging (with the assistance of a ballad here and there) over the course of twelve tracks. This is primarily a testament to their extremely tight sound — which evokes (at its most impressive) Television or Buzzcocks — and the raw, convincing emotion in both singers' vocal performances. It's rare for a rock frontman to be able to deliver blunt statements of vulnerability ("nothing feels good anymore;" "I don't wanna be an asshole anymore;" "never loved you anyway") without, intentionally or unintentionally, incorporating a degree of self-parody, but both Tom May and Greg Barnett come across with the undeniable passion requisite to avoid that pitfall. The most fortunate corollary of this is its large role in maintaining the degree of emotional impact previously achieved in On the Impossible Past.
Rented World also avoids monotony by offering a diverse array of riffs and sonic textures. Whereas a more sloppily written record would tend to recycle sounds in the absence of other genres to experiment with, Rented World shows The Menzingers to be competent and practiced musicians, creating a series of stylistically coherent but unique tracks (e.g. the progression from "Where Your Heartache Exists" to "My Friend Kyle" to "Transient Love"). With such a wide spectrum of tone over the album, a variety of different techniques are necessary to match; from the on-a-dime, quiet-heavy turn of "Nothing Feels Good Anymore" to the euphonious backing vocals on standout single "In Remission," the Menzingers prove themselves up to the task repeatedly. Of course, this showcase of ability (occurring throughout Rented World) shows exciting glimmers of the possible directions that The Menzingers may take in the future. For now, though, this lean and impressive record is more than enough to celebrate.
Similar Albums:


You Blew It! – Keep Doing What You're Doing


Jawbreaker – Unfun


PUP – PUP