Stephen Malkmus and the Jicks : Real Emotional Trash
After seeing Stephen Malkmus and the Jicks open for Radiohead a few years back, my brother said that they sounded exactly like The Grateful Dead. While I didn't exactly agree, I could understand how one would hear that, particularly because Malkmus's songs, over time, have become a lot more jam-rock than anything he recorded with Pavement. On both Pig Lib and Face The Truth, Malkmus and The Jicks spread out into a handful of lengthy, brazenly solo-happy compositions that meandered, though still remained enjoyable and melodic in spite of how long the solos dragged on. Yet a part of me always feared that the band would follow this muse for a bit too long.
If Malkmus' fourth album with The Jicks, Real Emotional Trash, demonstrates anything, it's that the Portland group isn't quite done with their extended jam sessions. This isn't a bad thing on its own, as The Jicks have already proven themselves adept at making lengthy instrumental passages more than just wanky noodling. But unless you're Mogwai (and sometimes in spite of being Mogwai), lengthy instrumental passages don't always cut it. For Malkmus, the jam session is often an extension of an already good melody, and I, for one, wouldn't complain if he released an album consisting of six songs in the vein of "1% of One," assuming they were as good as that 2002 highlight, but that might be asking too much.
I should admit, however, that I am relieved at seeing Real Emotional Trash has a few shorter tracks, though only four of the ten are less than five minutes. Three are between six and seven minutes, while the title track is a whopping ten. Opener "Dragonfly Pie," at a comfortable five, sounds epic, regardless, with heavy, Cream-like riffs and whimsical, jazzy choruses. Between riffs (and there are riffs upon riffs, here) Malkmus sings "of all my stoned digressions/ some have mutated into the truth," suggesting that maybe, even at his most meandering, he's edited out some of the filler. Or not—his lyrics never made much sense. Jazzy prog excursions abound on "Hopscotch Willie," a track with lots of great grooves and, yes, more and more riffs and solos.
"Cold Son" is one of the shorter tracks, and therefore a welcome reprieve from the longer, more exhausting tracks. That its chorus is so instantly memorable makes it all the more inviting. However, it is followed by that monster title track, which starts off strong, gets stronger after the chorus, and then gets, well, kind of boring. Contrarily, sprightly waltz "Baltimore" is an outstanding tune, starting off with a strong melody, and thereby minimizing buildup overkill. Sure, there are still licks aplenty, but remember what I was saying about making an album of songs like "1% of One?" This would be a good start. In fact, it's better than that. The instrumental interplay is integral to the song, but there's a stronger structure, that grounds the song even when it seems ready to float off into the cosmos. It's one of the best songs Malkmus has written in this decade, as is "Gardenia," a light, bouncy three-minute pop song with a Thin Lizzy swagger and a playfulness reminiscent of Pavement's "Speak, See, Remember."
Real Emotional Trash marks the first album the band has recorded with new drummer, ex Sleater-Kinney member Janet Weiss, who definitely lends a little something extra to these songs. I've long considered her one of the best drummers in the land, and while her approach here isn't quite as intense and aggressive as on, say, The Woods, her skills as a drummer, and as a singer for that matter, are well on display. Trash is a good album, I won't deny that, but had the group reined in some of their more indulgent tendencies, it could have been a great one.
Similar Albums:
Built to Spill – Ancient Melodies of the Future
Love As Laughter – Laughter's Fifth
Dios (malos) – Dios (Malos)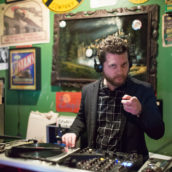 Jeff Terich
Jeff Terich is the founder and editor of Treble. He's been writing about music for 20 years and has been published at American Songwriter, Bandcamp Daily, Reverb, Spin, Stereogum, uDiscoverMusic, VinylMePlease and some others that he's forgetting right now. He's still not tired of it.