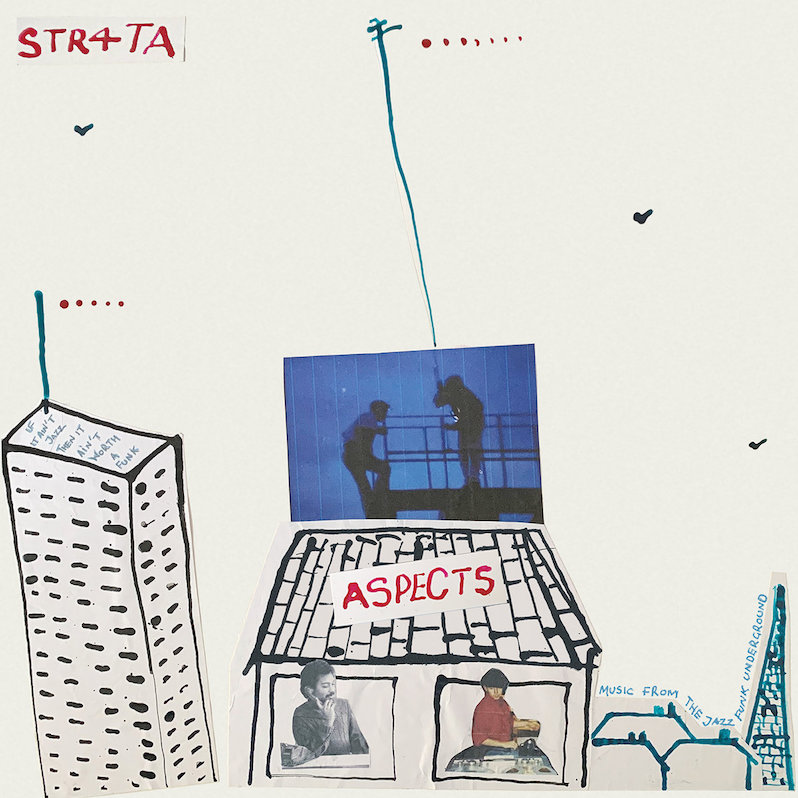 Gilles Peterson and Jean-Paul "Bluey" Maunick first connected in the late 1980s for a chance interview at the garden shed of Maunick's parents' home, where the two exchanged ideas and shot it so straight from the hip for Peterson's pirate radio show that they became mates. A fact "Bluey" likes to present as Peterson became "part of the family"—soon after they put out a string of significant Incognito albums (the band Maunick is still a member of to this day) on Peterson's innovative, now-discontinued Talkin' Loud imprint. A label that turned on a generation of future electronic music producers, of the adventurous type, on both sides of the Atlantic.
These salad days would shape their future musical careers: Peterson, the tastemaking record label boss, DJ, collector and championing broadcaster; and Maunick the musician, bandleader and composer, leaving his impact on radio hits in the U.S. Both artists point to the brief era of Britfunk, from the mid-'70s to the early '80s, as their formative years. This music, originally pulled from American funk bands and jazz artists who added groove to their game—Johnny Hammonds' "Gears" and "Los Conquistadores Chocolates" being prime examples of the genre's dexterity—found their way into influential DJs' sets, in a crafty part of Soho, for a new generation.
"It was the first time Black and white kids were mixing at that level. That's not to be not to be taken lightly," Maunick said in an interview with The Independent. "Especially for someone like me, who came to England and walked around the streets with my mother looking for a place to live and coming across signs with things like, 'No Pakis, no blacks, no dogs, no Irish'. … To be a part of that [shift] was a triumph for me. It was a breaking down of racial barriers like never before." That combination of rock, punk, funk, and disco gave the bands from this era a no wave feel that relied on attitude, not charts. Feel, not precision.
Decades later, Peterson and Maunick wanted to work together again on just a little something new, no real rules, just short-hand among friends. While the schema was always in place for STR4TA—it was a statement from Tyler The Creator after winning at the 2020 Brit Music Awards ("Shoutout to all the British Funk from the '80s that I try to copy") where the two old friends promptly identified that co-sign from right now. Their cherished Black British musical genre was at it again, shaping the cultural Zeitgeist. Aspects, their nine-song, funk-forward album, caught somewhere between the groove-laden era of Donald Byrd and early Brand New Heavies, is flush with that on-the-fly spirit.
From snout to rear, it's almost too funky for its own good. Maunick pogos between different eras of bass playing, giving tutorials in some stretches. From the '70s LA session figure-hugging patterns found on the opener "Aspects" to the unflinching slap bass stature driving the mega-watt bump and glide of "Rhythm in Your Mind," not a speck of dust has touched his form. Credit the remainder of the band—Francis Hylton, Matt Cooper, Richard Bull, Peter Hinds and Randy Hope-Taylor—for moving in any direction on a dime.
With all the numerous time changes in these compositions, the band as a unit covers wide terrain in this tight but loose configuration. "Steppers Crusade," a broad stroke funker, hits like a forgotten Kaidi Tatham arrangement dipped in that mahogany keyboard work, complete with a chest-out groove and a tasty Brazilian bridge that keeps everything suspended above the skyline. It brings back those diversity feels initially developed by groups like Atmosfear, Hi-Tension, Light of the World and Freeez, culminating into the post-punk, proto-house, no-wave amalgam that invaded Larry Levan's Paradise Garage back in the day and seeped into Black radio by way of WBLS in New York. "We Like It" is another uncommon arrangement, encasing this disco "hustle music aesthetic" within the funk structure. Bright keyboard lights drive the composition until a Fender Rhodes feature, uptempo and blindingly jazzy, keeps riding until the fade-out. It's a Stevie Wonder/Herbie Hancock staredown you never want to end.
"The idea of the project was to capture that raw, moment-to-moment sound," Maunick says, drawing a contrast to the touches of refinement he and his peers have acquired in the years since. In its early days, the Brit-funk sound—and the London jazz-funk milieu it grew out of—was rooted in raucous live shows, rivaling those of the punk bands in that same period. Recalling his role in the process, Peterson says he was the one making sure things didn't get too polished: "I was there at the back, telling them, no, leave it like that, cut it there, or just use that first take." Funk never seemed so punk.
---
Label: Brownswood
Year: 2021
---
Similar Albums:
John-Paul Shiver
John-Paul Shiver has been contributing to Treble since 2018. His work as an experienced music journalist and pop culture commentator has appeared in The Wire, 48 Hills, Resident Advisor, SF Weekly, Bandcamp Daily, PulpLab, AFROPUNK and Drowned In Sound.