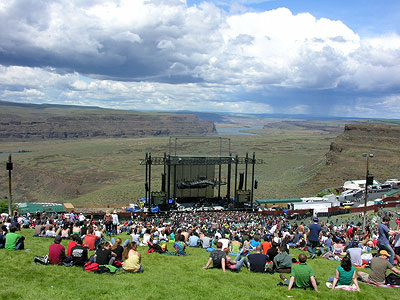 The summer music festival. They have different names, take place on different days and sport varied lineups. What they lack in uniformity, they make up for in wallet-crushing vendors, unbearable heat, long lines at the porta-potties and, oh yeah, a hell of a great time. Their names live in infamy, on the tips of our collective tongues, with people claiming their attendance as a badge of honor for the rest of their lives: Woodstock, Live Aid and the US Festival. So, which festival of 2007 will be the one that finds the future population claiming, `I was there.' There are a lot of festivals to choose from, and if you're truly insane, you could try to hit them all. SXSW wasn't technically a festival, but a conference, and that's long since past. Coachella was the spring kickoff, and that's now complete. Here's a preview of what's to come, in chronological order:
Sasquatch (May 26-27)
Memorial Day is usually the time when the biggest summer blockbuster movie is released. Now it's the herald for the oncoming music festivals! Most people associate this festival with Seattle, and that's most likely from where a majority of the attendees are coming, but it's actually on the Columbia River near George, WA, in the center of the state. (Get it? They named it George…Washington!) The venue is called the Gorge, which makes things a tad bit confusing, but for sheer natural beauty, nothing beats it. Some even call it the Grand Canyon of the Pacific Northwest. In fact, it's won Pollstar's award for best outdoor venue nine times. Yes, Bueller, nine…times. There's sort of a caste system of stages, all named after famous shaggy bipeds. It used to be that the Sasquatch Festival was mainly focused on showcasing local talent. It's grown much larger than that since those times, although there are plenty of Northwest acts to choose from. Yours truly will be giving you a full report on Sasquatch very soon. Here's the lineup, complete with accompanying `missing link' style stage name (and yes, I know one of them is a space creature, don't correct me):
Saturday
Yeti Stage: Aqueduct, Mirah, Visqueen, Viva Voce, The Blow, Gabriel Teodros, Blitzen Trapper. (hosted by Michael Showalter)
Wookie Stage: Loney, Dear, The Slip, Two Gallants, Electrelane, Ghostland Observatory, Grizzly Bear, The Beastie Boys (special instrumental set) (hosted by Aziz Ansari)
Sasquatch Mainstage: Mix Master Mike, Saturday Knights, The Hold Steady, Ozomatli, Neko Case, Citizen Cope, M.I.A., Manu Chao, The Arcade Fire, Björk (hosted by Sarah Silverman)
Sunday:
Yeti Stage: The Blakes, Stars of Track and Field, Minus the Bear, Helio Sequence, Common Market, Smoosh, Jesse Sykes (hosted by Aziz Ansari)
Woookie Stage: St. Vincent, Earl Greyhound, Patrick Wolf, Money Mark, Tokyo Police Club, The Black Angels, Dandy Warhols (hosted by Michael Showalter)
Sasquatch Mainstage: Total Experience Gospel Choir, Mix Master Mike, Blackalicious, Bad Brains, The Polyphonic Spree, Spoon, Michael Franti & Spearhead, Interpol, The Beastie Boys (hosted by Sarah Silverman)
Also look for Incredibly Strange Wrestling to be going on!
Bonnaroo (June 14-17)
As for Bonnaroo, held in Manchester, Tennessee in mid-June, there are echoes of Woodstock as it is planted in a 700-acre farm near Nashville. The range of artists is broader than most festivals making for a truly eclectic experience. Besides the list of luminary bands, there's an entire comedy line-up and a number of minor artists playing the `café's.' Treble's own Anna G. will report back to y'all about this here festival. Here's who you can see in Tennessee:
Ryan Shaw, The Black Angels, The Little Ones, Doug Wamble Quartet, Uncle Earl, The Wild Magnolia Mardi Gras Indians, Apollo Sunshine, Jacky Terrasson Trio, The New Orleans Klezmer All Stars, Mute Match, The Robert Glasper Trio, Sonya Kitchell, Charlie Louvin, Elvis Perkins in Dearland, The National, Sam Roberts Band, Tea Leaf Green, Annuals, Widespread Panic, The White Stripes, Ben Harper & the Innocent Criminals, Wilco, The Flaming Lips, MANU CHAO, Radio Bemba Sound System, The String Cheese Incident, Franz Ferdinand, Ornette Coleman, Bob Weir & Ratdog, Damien Rice, Ween, Gov't Mule, Ziggy Marley, The Decemberists, The Roots, Kings of Leon, Michael Franti and Spearhead, Wolfmother, Regina Spektor, The Black Keys, Galactic, DJ Shadow, Gillian Welch, Spoon, Keller Williams (WMD'S), Sasha & John Digweed, Lou Donaldson & Dr. Lonnie Smith Quartet, STS9, Old Crow Medicine Show, North Mississippi Allstars, The Hold Steady, Lily Allen, Fountains Of Wayne, David Murray Black Saint Quartet, Hot Tuna, Feist, Hot Chip, Mago Feat. Billy Martin & John Medeski, John Butler Trio, El-P, Ralph Stanley & the Clinch Mountain Boys, Ravi Coltrane Quartet, Aesop Rock, The Richard Thompson Band, Dierks Bentley, James Blood Ulmer, Xavier Rudd, The Philadelphia Experiment, David Bromberg and Angel Band, Gogol Bordello, Junior Brown, Tortoise, T-Bone Burnett, Mavis Staples, Don Byron Plays Junior Walker Feat. Chris Thomas King, Clutch, Stanton Moore Trio, Pete Yorn, Stefon Harris & Blackout, Cold War Kids, Dr. Dog, Scott Amendola Band Feat. Nels Cline, Paolo Nutini, Brazilian Girls, RX Bandits, The Nightwatchman, The Slip, Lionel Loueke, Girl Talk, Railroad Earth, Martha Wainwright, Yard Dogs Road Show, Rodrigo y Gabriela and, of course, Tool and the Police, though not together.
Summerfest (June 28- July 8)
Summerfest in beautiful Wisconsin claims to be `The World's Largest Music Festival.' It's certainly the longest, spanning eleven days! So, grab your cheese and beer and listen to one of these acts on one of these days:
June 28: Steely Dan, the Violent Femmes, Say Anything, Jack's Mannequin, Wolfmother, REO Speedwagon, Phil Vassar, Flyleaf, Puddle of Mudd, Dickey Betts
June 29: Def Leppard, Styx, Foreigner, O.A.R., Shiny Toy Guns, Silversun Pickups, Sugarland, Blue Öyster Cult, Sum 41, Fuel, Mint Condition
June 30: The Fray, OK Go, Mae, Goo Goo Dolls, Rise Against, Sara Evans, Lindsey Buckingham, Lifehouse, Ryan Shaw, James Hunter
July 1: Ludacris, Chris Brown, Ciara, T-Pain, Sister Hazel, Built to Spill, Big & Rich, George Thorogood, Local H, Tye Tribbett & GA
July 2: Roger Waters, Heart, Social Distortion, Ne-Yo, Family Stone Experience, Femi Kuti, the Wailers, Jackyl, Clay Walker
July 3: John Mayer, Ben Folds, Brett Dennen, Buddy Guy, AFI, Weird Al Yankovic, WAR, Skillet, Finger Eleven, Randy Travis
July 4: Tool, the Black Crowes, Plain White T's, Less Than Jake, Reel Big Fish, Asia (all 4 original members!), Los Lonely Boys
July 5: Bon Jovi, Rusted Root, Spoon, Umphrey's McGee, B.B. King, Bob Weir & Ratdog, Sevendust, Willy Porter, Keller Williams
July 6: Augustana, Chevelle, Morris Day & the Time, Peter Frampton, Dashboard Confessional, Hellyeah!, Cowboy Mouth
July 7: Panic! At the Disco, Gym Class Heroes, The Academy Is, The Hush Sound, Live, Papa Roach, El Gran Combo, the New Cars, Guster, Collective Soul, the Old 97's, Son Volt
July 8: Toby Keith, Miranda Lambert, Flynnville Train, Lupe Fiasco, Blue October, G. Love & Special Sauce, INXS, Brian McKnight, the Gufs, Pat Green
Pitchfork (July 13-15)
This one is fairly self-explanatory. I've heard there might be a Ryan Adams piñata party! For the first day, Pitchfork will be teaming up with All Tomorrow's Parties to host their landmark `entire album' concerts. Sonic Youth will grace the crowd by playing Daydream Nation. GZA / Genius will play Liquid Swords and Slint will play Spiderland. Wow. That's gotta be something. Anyhoo, you're guaranteed no 0.0's in this group!
July 14: Yoko Ono, Cat Power and Dirty Delta Blues, Clipse, Iron and Wine, Girl Talk, Grizzly Bear, Battles, Califone, The Twilight Sad, Fujiya & Miyagi, Oxford Collapse, Dan Deacon, Beach House, Professor Murder, Ken Vandermark's Powerhouse Sound
July 15: The New Pornographers, Stephen Malkmus, De La Soul, Of Montreal, Jamie Lidell, The Sea and Cake, Klaxons, Nomo, Deerhunter, The Ponys, Menomena, Craig Taborn's Junk Magic, Fred Lonberg-Holm's Lightbox Orchestra
Lollapalooza (August 3-5)
Ah, remember back in the day when Lollapalooza was a `traveling' festival? I had been to two Lolla's, the inaugural featuring Jane's Addiction, Siouxsie & the Banshees, Nine Inch Nails, etc. and the fourth version featuring the Beastie Boys, P-Funk, the Breeders and more. Now, Lollapalooza is relegated to Chicago's Grant Park. Here's who Perry Farrell has lined up for your listening pleasure:
Pearl Jam, Daft Punk, Ben Harper & the Innocent Criminals, Muse, Iggy & the Stooges, Modest Mouse, Interpol, My Morning Jacket, Satellite Party, Yeah Yeah Yeahs, Snow Patrol, the Roots, Patti Smith, Kings of Leon, the Black Keys, Regina Spektor, Spoon, Café Tacuba, Lupe Fiasco, TV on the Radio, Pete Yorn, G. Love & Special Sauce, Paolo Nutini, Amy Winehouse, LCD Soundsystem, Clap Your Hands Say Yeah, Silverchair, Femi Kuti, Yo La Tengo, Slightly Stoopid, The Hold Steady, Jack's Mannequin, Stephen Marley, STS9, M.I.A., Blonde Redhead, Sparklehorse, Sean Lennon, !!!, Blue October, Son Volt, Motion City Soundtrack, the Polyphonic Spree, Ted Leo & the Pharmacists, Peter Bjorn and John, Silversun Pickups, CSS, the Rapture, the Wailers, Roky Erikson & the Explosives, Tapes `n Tapes, Heartless Bastards, the View, the Cribs, the Fratellis, Ghostland Observatory, Tokyo Police Club, Rhymefest, Against Me!, Soulive, Cold War Kids, Annuals, Fields, Electric Six, Elvis Perkinds in Dearland, Sam Roberts Band, the Black Angels, Charlie Musselwhite, Kimky, I'm From Barcelona, Aqueduct, Juliette & the Licks, Dios, Viva Voce, David Vandervelde, Los Campesinos!, Chin Up Chin Up, Ryan Shaw, Colour Revolt, the Satin Peaches, Illinois, Arckid, Mickey Avalon, the 1900's, the Postmarks, Bang Bang Bang, Bound Stems, High Class Elite, John Paul White, Tom Schraeder, Carey Ott, Matt Roan, Cage the Elephant, Smoosh, Mrnorth, Kevin Michael, Powerspace, Inward Eye, Wax on Radio, Dear and the Headlights, Ludd, the Graduate, Lady Gaga
Bumbershoot (September 1-3)
Finally, we come full circle as we've done a loop around this great country of ours, jumped back and forth from Chicago and have now ended up safely home (at least my home) of Seattle. Bumbershoot somewhat closes out the summer music festival season actually in Seattle in the shadow of the Space Needle, not two and a half hours away. Here's whom you can see in early September. Since it's a ways away, not all the acts have been announced yet, but stay tuned to Treble News for info!
The Shins, Wu-Tang Clan, Panic! At The Disco, Crowded House, Lupe Fiasco, Steve Earle, DeVotchKa, Devendra Banhart, Gogol Bordello, Kill Hannah, Norma Jean, Plain White T's, The Gourds, Lyrics Born, Roky Erickson & The Explosives, The Holmes Brothers, The Avett Brothers, Yungchen Lhamo, Allison Moorer, Magnolia Electric Company, The Aggrolites and many, many more to be announced!
Well, make sure to pack your sunscreen! Enjoy the music!