The Beach Boys : The Smile Sessions
Nearly 45 years after its initial recording and subsequent shelving, The Beach Boys' Smile has created a legacy and legend significantly bigger than the album itself. Uncut recently crowned it the greatest bootleg of all time, a title that it has held unofficially ever since its release was canceled. As unreleased albums go, Smile has nonetheless been circulated for decades, ending up in the hands of thousands of Beach Boys fans, a feat that has been drastically simplified since the Internet has made the exchange of music much easier than it was in a predominantly analog time. But with no official release existing in the 44 years, the bootlegs that have circulated have varied in terms of which songs make up its tracklist, and in which order. It's generally accepted that "Our Prayer" is the first track, and "Good Vibrations" is the last, but the filling between these two end pieces has been shuffled around and edited numerous times. But perhaps even more important to some collectors than the continuity of the record itself is the backstory that comes with it.
As it was conceived by Brian Wilson following the release of the Beach Boys' masterpiece Pet Sounds, Smile was intended to be the "teenage symphony to God" that has been so often attributed to Wilson. A complex musical suite of sometimes pop-song length and sometimes much shorter pieces threaded together via an almost seamless flow of melody, Smile was a much more intricate and ambitious piece than the band had ever before attempted, which is saying a lot considering just how ground breaking Pet Sounds was. The sessions also proved to be extremely costly as well, with "Good Vibrations" alone costing $50,000 to record and produce, an unheard-of sum of cash to make a single back in 1966.
By November of 1966, however, Smile began to fall apart in dramatic fashion. Wilson began suffering from mental health problems in addition to his increasing drug use, his brother Carl fighting a call to be drafted to serve in the Vietnam War, and label problems with Capitol. But in addition to reservations about the project from manager Murry Wilson and Capitol Records, tensions had begun to escalate dramatically within the group, primarily between Mike Love and Brian Wilson, as well as arranger and collaborator Van Dyke Parks. Love even infamously recorded a narration over some rehearsals of the material, in which he dishes out some biting and cynical humor about the material, and its lack of commercial appeal. And later on, Wilson even cited Love's vehement opposition to releasing the recordings as one of the major reasons why he ultimately decided to scrap it.
Yet despite the dramatic collapse of Smile as the "teenage symphony" that Wilson had intended to release, pieces of it were broken off and attached to subsequent Beach Boys albums. "Good Vibrations," newly recorded versions of "Wonderful," "Vege-tables" and "Wind Chimes," as well as a new edit of "Heroes and Villains" ended up on their actual follow-up to Pet Sounds, Smiley Smile. And "Surf's Up" became the closing track to their 1971 album of the same name. Furthermore, Wilson, himself, recreated the entire album on his own version of Smile in 2004, which was then the closest thing to the completed version of the album seeing the light of day, and by all accounts a musical triumph, no matter how late its arrival.
As the 45th anniversary of Wilson's decision to cancel the release of the original Smile album, however, the Beach Boys are finally releasing a finished version of Smile, and in a variety of massive, deluxe packages. The basic Smile Sessions double-CD/LP collection features the original album, the tracklist of which was decided upon just recently, as well as bonus tracks and alternate versions of many of the album's songs, including an eight-minute highlight reel from the "Good Vibrations" sessions. Meanwhile, a five-disc box set version of the album tacks on extensive session fragments, including entire discs each for just "Heroes and Villains" and "Good Vibrations." This is, of course, more than excessive for listening beyond historical archival purposes, but given the landmark occasion of Smile actually seeing the light of day this far down the road, I'm not about to second-guess Wilson's decision to reward fans with overflowing riches of material, which, even if not suited for everyday listening, give a pretty good indication of just how ambitious a project Smile was in the first place.
So, let's get to that album: It's phenomenal. Many of us who have sought out bootleg versions (most likely in zip file format), are already familiar with the jaw-dropping arrangements and sheer audacity of the project. As a complete album, Smile is presented here in 19 tracks, which is even longer still than many of the unofficial versions. But in many ways, Smile is much less of a pop album than anything else the Beach Boys ever did. It's a tricky album to decipher, rife with strange coded imagery, and only a handful of its tracks can really be separated from the album as a whole. But the extended, 19-track flow of the album is an amazing, whimsical psychedelic pop journey. This is, certainly, a much less commercially friendly version of the Beach Boys than what many people were used to in 1966, and probably even still today. And it's also the only Beach Boys album to feature a cameo from Paul McCartney, chomping on a stalk of celery.
Despite the abstract and arty nature of much of Smile, however, it is gorgeous from start to finish, and it contains several of the band's greatest songs. One of those, "Good Vibrations," has lived a rich life of its own in spite of being attached to the doomed project, and with good reason. It's a massive pop song, dramatic and dense, and features one of the best uses of Theremin in pop music history. And the album's centerpiece, "Surf's Up," is an entirely different side of Wilson's songwriting, trippy yet melancholy, and gorgeous through and through. Wilson's solo piano version is included on The Smile Sessions, and it's a likewise stunning take on the song. Critics tend to argue over which version is the definitive one, but I've always preferred the fully fleshed-out arrangement, with its cascading vocal harmonies and haunting background chants of "bygones, bygones."
Given how unlikely it seemed for decades that Smile would ever be released at all, it's a pretty big deal that a real, genuine Wilson-sanctioned version of the album will actually be in stores. And the fact that it still sounds groundbreaking today doesn't seem to dull its impact in the slightest. The influence of Smile has seeped its way into the material of hundreds of artists, from Stereolab to Super Furry Animals (who even paid tribute by likewise having Sir Paul McCartney chew veggies on one of their songs). Inevitably, there's a feeling that some of what made Smile such an interesting and special artifact was the idea of it as a lost album. It's not unlike a former colleague of mine who once mentioned that once the Red Sox won the World Series, effectively ending the "curse," they lost the characteristic that made them stand out among other teams. But much like a Sox fan who would nonetheless rather see his team win the Series again, a fan of the Beach Boys' music should by all means celebrate hearing Smile in all of its glorious, expansive completed form.
Similar Albums:
The Beatles – Sgt. Pepper's Lonely Hearts Club Band
Van Dyke Parks – Song Cycle
Zombies – Odyssey and Oracle
Stream: The Beach Boys – "Heroes and Villains"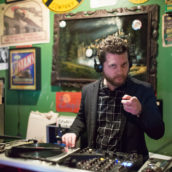 Jeff Terich
Jeff Terich is the founder and editor of Treble. He's been writing about music for 20 years and has been published at American Songwriter, Bandcamp Daily, Reverb, Spin, Stereogum, uDiscoverMusic, VinylMePlease and some others that he's forgetting right now. He's still not tired of it.