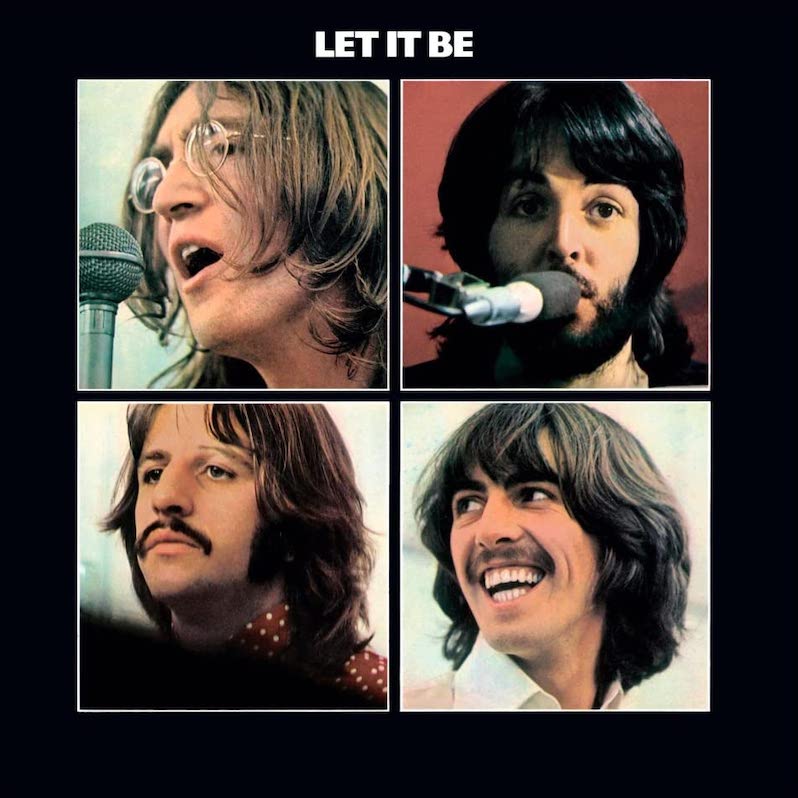 "The Beatles were bubblegum cards and Help at the Saturday morning cinema and toy plastic guitars and singing `Yellow Submarine' at the top of my voice in the back row of the coach on school trips. They belong to me, not to me and Laura, or me and Charlie, or me and Alison Ashworth, and though they'll make me feel something, they won't make me feel anything bad."
—High Fidelity, Nick Hornby
The long and winding road of The Beatles – from Hamburg to the rooftops of Apple Records, from a chase through the streets to that time they evaded a sinister Leo McKern, from surreal mystery tours to treks to Pepperland, from invented personas to two-record recordings – came to an end with Let it Be, an album originally recorded before 1969's Abbey Road. This swan song drew some negative reviews due in part to the gaudy garb of Phil Spector's overproduction. Paul McCartney, not a fan of Spector's, was particularly indignant, especially with the changes to "The Long and Winding Road." Critics also thought Let it Be to be filled with mostly so-so material from the Fab (and feuding) Four. Perhaps that sentiment rubbed off on the band. John Lennon stated "Dig a Pony" was the worst song he ever wrote.
Let it Be (originally to be titled Get Back) was intended as a throwback to the band's original releases, recorded live rather than relying on overdubs and layering. The Beatles attempted to record the album live in an impromptu rooftop concert atop Apple Records, the show cut short by neighbors' noise complaints. After a tentative tracklist was arrived at, Get Back's release was pushed back to September 1969 due to an accompanying making-of film and television special; and then again to December 1969 due to the release of Abbey Road. The session recordings, remixed by Spector who didn't work directly with the band, were finally released as Let it Be in May of 1970, coinciding with the release of the film. The Beatles had already broken up in April of that year.
Listening to the Phil Spector-produced Let it Be, one inevitably wonders about what could have been. "Two of Us," the bare Lennon-McCartney opener, is free from walls of sound and, with its lyrics of homecoming, point toward the original intent of the Get Back sessions. The chorus of "I Me Mine," and to some extent "One After 909," also achieve some of that in-studio rawness. Yet sadly, the possibilities of the throwback Get Back album are lost. Even 2003's Let it Be… Naked, as great as McCartney's denuded version is, can't exactly match what the band might have produced had death and business and creative differences not split them apart. Taking this swansong as is, there are still moments of grace and beauty becoming of a Beatles release that cannot be denied.
One of the maligned album's strongest entries is "Across the Universe," one of Lennon's finest compositions, which ironically follows the previously mentioned "Dig a Pony." The song, wispy and dreamy, was supposedly composed while Lennon's relationship with wife Cynthia Powell was on the rocks. Lyrically evocative, it's still a strong song even with Spector's involvement. It's also the only Beatles song to have female back-up vocals, the choral swoons provided by female Beatles fans lolling about outside the studio. The lyrics pour out with the poetry of spontaneous thoughts adrift in flux arriving at its destination somewhere across the universe; the spilling words tied to the meditative mantra "Jai guru deva om." Lennon would later play guitar on David Bowie's cover of the song on Young Americans.
And of course there is the title song, "Let it Be," lovely in its incarnation on the album and even lovely when redone on Sesame Street as "Letter B." Written by McCartney and inspired by his late mother, Mary, the song remains something so hopeful and uplifting. Its message of peace and forgiveness and the gospel feel have led many to read the song as purely exegetical rather than being both personal and Biblical. Uplifting without being saccharine, imparting a message without being pedantic, the call to action in "Let it Be" is still relevant and resonant and still manages to move and sway and turn harder hearts into better, gentler material. To my knowledge, "Let it Be" is still my mom's favorite Beatles song and when I hear her hum or sing it, I smell her food and see her smile and recall being only head-high to her hip.
McCartney's other fine ballad on the album, "The Long and Winding Road," is one that definitely benefited from substantial undressing. The song was plastered with choral vocals and strings without McCartney's consent leading to a great deal of outrage and the genesis of Let it Be… Naked. Spector's additions detract from a song that lends itself better to a lonely voice and lonelier instrumentation. The version that appears on Let it Be… Naked or Anthology 3 bring the song back to its roots, giving it the true emotional weight it needs. Inspired by the hardships and differences The Beatles were going through, McCartney's call for reconciliation, to return to each other despite what differences may occur, are encapsulated in those opening lines: "The long and winding road that leads to your door / Will never disappear / I've seen that road before it always leads me here / Leads me to your door." In its most simplified form propelled by voice and piano, "The Long and Winding Road" is the song of second chances for anyone who's wanted to take a mulligan in a relationship rather than split apart. The album version, however, resembles a sentimental opening credits theme to a soap opera.
As the album closes with Lennon's "Thank you, and on behalf of the group and ourselves, I hope we passed the audition" taken from the rooftop concert, you notice a bittersweet tinge once the laughter and applause fade to silence. The Fab Four are no more, that glorious reign ending with disagreement and anger and an end product that, while better than most other stuff released by other bands, was not quite up to their usual standards. It's quite sad looking at Let it Be, especially with the deaths of both Lennon and George Harrison. It leaves you feeling disappointed that they never got back together, that they didn't meet one last time at the door for another rooftop show, for one last album, for maybe one last tour.
Yet what remains are those memories and those personal associations we have with their work. The Beatles are my mom singing happily and my brother and I watching Yellow Submarine. The Beatles are "Nowhere Man," one of the first songs I had on repeat after finding some "as seen on TV" compilation record my dad bought years ago. The Beatles are smiles on my face every time I see four Britons running in fast-motion through a field. The Beatles are the reason I laugh every time I think of Sgt. Pepperoni's Pizza in Newport Beach. The Beatles are Meghan Murphy singing "In My Life" at my brother's graduation reception; it was "In My Life" I kept hearing in my head as they buried my brother's best friend Greg Hawley; and it was "Blackbird" that they played at his wake. The Beatles are awkward renditions of "Hey Jude" on film critic contest cruises and inspirations for short stories. The Beatles are that band I can always listen to, speaking words of wisdom in times of trouble, comforting me in those dark hours when I'm broken-hearted, the sun coming through when the night is cloudy, shining around me like a million suns. They are part of our collective memories even decades after disbanding and until we all reach the end of that long lonely walk, we'll return and keep returning to them like old friends and old lovers with nothing but warm hellos.
"You and I have memories / Longer than the road that stretches out ahead"
–"Two of Us," The Beatles
---
Label: Apple
Year: 1970
---
Similar Albums: