The Best Albums of the '00s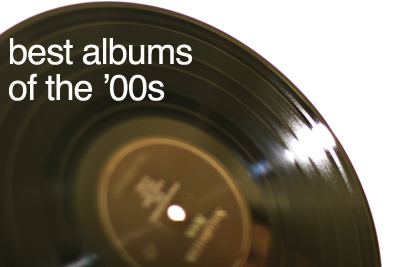 10. Broken Social Scene – You Forgot It In People
(2003; Arts & Crafts)
When I first started listening to You Forgot It In People, I was drawn to the triad of "Looks Just Like the Sun," "Pacific Theme" and "Anthems for a Seventeen-Year-Old Girl." It is a very full record, and I mean that as a compliment, that a portion of it attracted me so much, seemed enough to think about and listen to and get lost in. And it's not surprising, considering the number of talented people who appear on the album and who would work with other bands, or as well-loved solo artists for the remainder of the decade. But listening to You Forgot and thinking about it now, the sprawl of the record is perhaps its most unique and endearing attribute, the fact that it is impossible to pigeonhole what happens when this group of people get together and record music. Some great songs, to be sure, but something else that hangs over the record from start to finish and makes it exceed the sum of its parts. – Tyler Parks
9. Modest Mouse – The Moon & Antarctica
(2000; Epic)
The career arc of Modest Mouse is, even now, a bizarre one, though one most fitting for a bizarre-sounding band. It was not expected for a band known for its sprawling, disjointed and wordy indie rock records to be given the support of a major label during a time in which the major music industry was most hostile to indie rock acts, and yet it happened. Though it didn't necessarily defy the trends of the time in any large way, it was evident that even in with corporate backing, Modest Mouse were still very much independent, creatively potent and perfectly adaptable to heightened circumstances. The rough twang guitar and agitated vocals of The Lonesome Crowded West were smoothed out, making for a more polished, focused but no less complex record. It is at once the band's most refined and least accessible record, contrasted by florid composition — "Third Planet" and Dark Center of the Universe" — and lyrics that veer all too easily from the hallucinatory to the claustrophobic and paranoid — "Tiny Cities Made of Ashes," "A Different City" and "Paper Thin Walls." Modest Mouse could have ended there and Isaac Brock could have retreated back to working shitty jobs somewhere in his own hell and it would have made nary a difference. It's the best kind of transition record, one that didn't have to be a transition record. – Chris Morgan
8. Grizzly Bear – Veckatimest
(2009; Warp)
After the psychedelic sprawl of Yellow House, Grizzly Bear made a subtle shift in their approach and delivered an album of songs with more staid arrangements that were nevertheless even more enchanted than their predecessors. The slow-motion grandeur of "While We Wait for the Others," "Ready, Able" and "Two Weeks" show the band reaching a plateau of sorts, having found a way to take up their more experimental tendencies as tools for building some of the most beautiful and evocative songs that I have ever heard. Veckatimest's most vulnerable, transparently emotional moments—the coda to "All We Ask" or the pensive, skeletal "Foreground"—are still shot through with the band's characteristic ambiguity. While they make a lot of people feel something, I would wager that those somethings are of very different qualities, and that is one of the harder, and more important things that a record can do, now as ever. – Tyler Parks
7. Radiohead – In Rainbows
(2007; tba)
It hardly seems like three years since the release of In Rainbows. Radiohead made history for allowing an album to be downloaded for pennies before an actual physical release, but we still wouldn't be talking about it had the music been a disappointment. On the contrary, In Rainbows is one of their best. On this album, Thom Yorke dropped his mumbling cryptic vocal guise and became a soul singer. There's no other Radiohead album that shows an emotive Thom Yorke crooning like a reborn soul singer as he does on "House of Cards" and "All I Need." In Rainbows could also be seen as Radiohead answering the plethora of paradoxical queries asked by David Byrne on Talking Heads' immortal hit "Once in a Lifetime." Think of the album title as the symbol of what's at the end of the rainbows, happiness or lack thereof. "15 Step" is the feeling of waking up, asking, "My God what have I done." "Nude" is Thom on the loss of intimacy in marriage; "House of Cards" is about that couple who turn into swingers. "Jigsaw" is the moment at the bar when you feel the spark that you thought had been extinguished long ago, lit up in the promise of another. And "Videotape" is about a deceased man realized that happiest day is not his marriage but moment he died. In Rainbows is an imperfect circle in which I hear hints of hope for happiness. We don't want to be that guy at the end of "Videotape" whose happiest days are his last breaths. Thom and Radiohead help us realize that between the lyrical beats of imperfection, we will find our place of conviction. – Adrian Cepeda
6. Animal Collective – Merriweather Post Pavilion
(2009; Domino)
The beauty of Merriweather Post Pavilion lies not just in the kaleidoscopic layers of music, but also in the lyrics that center on the profound of the everyday and are their most revealing lyrics to date. The desire to shelter your family, walking with a loved one in the summer, driving your daughter around, hanging out with your friends in the living room—all of these things are not extraordinary subject matters but in the hands of Panda Bear, Avey Tare and the Geologist there is something so beautiful and exceptional about them. There is something wholly mature about Merriweather Post Pavilion as the band members take on adulthood responsibilities, find bliss in loved ones and negotiate anxieties that comes with growing up.
While the content of their songs are decidedly on the domestic slant, Animal Collective's music is far from boring. True, the songs here are more accessible than their older material, but they are still deeply rooted in their interest in texture, tribal inflections, experimental soundscapes and blips and bloops of electronics. Centered on heartbeat beats, the songs have a warmth to them that is alluring – inviting you to inhabit the shimmering, lurching, hiccupping sounds and sensations, and therein lies the magic. – Jackie Im
5. Sufjan Stevens – Illinois
(2005; Asthmatic Kitty)
Sufjan Stevens was oddly prolific until he wasn't. That 50 state/50 album cycle didn't always seem so dumb and insurmountable. Okay, it did. But Stevens falling strangely silent for years didn't diminish Michigan and Illinois, the two states he fixed in sweeping, granular detail. In fact they're better off alone; nobody wanted to be around for like, the Arkansas one. As written, Illinois is a multi-angled system of wit, density, and detective work; weird names and habits and references roll like an ancient baseball dream. Sangamon River; Nichols Park; Horseshoe Lake; Casimir Pulaski; Caledonia and Kankakee and "ancient hieroglyphic or the South Pacific." Stevens went out and learned this shit and then he taught it to us. How cool is that? As composed, Illinois is a frowzy racket of all the instruments we're cautioned not to take up: glockenspiel! Harpsichord! Triangle! Banjo! Dobro! Dulcimer with optional hammer! And Stevens knows all their secrets—a true auteur, he infuses every tone with his own particular magic and dread. It all ends up somewhere between a Sunday School picnic smashed on Kool-Aid and a murder of crows. "John Wayne Gacy Jr." teases the blood out of a heart black as oil; "Round Of Applause For Your Stepmother" turns "the edge of Decatur" into the edge of hell; the mad spelling and martial law of "They Are Night Zombies" are better and scarier than all that. Of course Chicago as city of refuge means Stevens is nothing but a biased elitist outsider. But "Chicago" kicks so much ass. David Foster Wallace, who grew up in Illinois and wrote thrillingly about its blank acuity and dazzling vastness, never wrote about Illinois or if he did I haven't seen it. But what DFW called the state's middle-of-the-ocean lonely Stevens makes into a feat fit for 50 albums. – Anthony Strain
4. Wilco – Yankee Hotel Foxtrot
(2002; Nonesuch)
It still amazes me that my pick for the best album of the decade, Yankee Hotel Foxtrot, almost wasn't. The stories behind the making of the album, most of which are deftly captured in Sam Jones' film, I Am Trying to Break Your Heart, would nearly outshine the album itself, if that were at all possible given that YHF is an unbelievable masterpiece. The album that found two Wilco members fired, a new drummer on board, and production help from the legendary Jim O'Rourke, lived its first life online. Most critics were calling it the best album never to be officially released. Finally, a label rose to the occasion, oddly enough from the same parent company, and many more people got to hear Wilco's landmark fourth record. Originally, YHF was slated to be streamed on Wilco's website on September 11, 2001, but it was delayed a week. This eerie tidbit, along with the twin towers of Marina City on the cover, and lyrics such as "tall buildings shake" ("Jesus, Etc."), and several themes and lines in "Kamera," "War on War" and especially "Ashes of American Flags," forever burn this album in listener's minds as being related to 9/11, even though the songs were written long before.
I go back and forth as to whether Summerteeth or YHF is my favorite Wilco album. It's a war that is playing consistently in my mind, but a war that ultimately has no losers. In actuality, the two albums are incredibly similar. I can think of few other records which house songs that are at once incredibly diverse and amazingly poetic. There is a track for every mood, from the late Beatles-esque "I Am Trying To Break Your Heart" (complete with a coda foreshadowing to "I'm the Man Who Loves You") to the ebullient and nostalgic "Heavy Metal Drummer," the languid sweetness of "Jesus, Etc." and the epic sparring of melancholy and love in "Reservations." After nearly eight years, I have not tired of this album, and I doubt I will any time soon. And that is the mark of a true classic. – Terrance Terich
3. LCD Soundsystem – Sound of Silver
(2007; DFA-Capitol)
If you told me LCD Soundsystem was the artist of the decade only because of "Losing My Edge," I'd listen. I might even buy the drinks. Losing My Edge stuck its tongue in the cheek of fanboy hypertension and pulled hard. So why'd he have to go and make a record as dyspeptic and witless as Sound Of Silver? Just kidding! Silver supposedly made the speed freaks crazy in Warholia. But the sound of it, as made by Murphy, breaks open calmer textures of dance music than anyone's ever made really, not since Kraftwerk anyway. This being Murphy there was plenty of talk about all the referential dissonance, about how many prefixes do you get until you're a Japandroids record. Murphy takes it all—basement pop, exploding disco, post-punk whatever—and damages it just enough to fit anywhere, although it's better if you don't try to call it anything. "North American Scum" is a pugnacious skate song, snare manically tight. "Us V. Them" celebrates at top velocity the kind of surveillance Murphy gets off to, and kind of hates. "Get Innocuous" gets fingers to dashboard scary fast. But Sound Of Silver is really all about metroliner singles "All My Friends" and "Someone Great": the former's a neoclassic orgasm of analytical angst, rubbed out on a screaming piano; the latter's a latter-day "Father Figure," weird and weightless and really, really sad. Not to get personal or anything cause I hate that shit, but my relationship with Sound Of Silver isn't what it was. For a whole nest of reasons it makes me remember being so happy I felt poisoned. So I don't really play it anymore, but you've got no excuse. – Anthony Strain
2. Arcade Fire – Funeral
(2004; Merge)
In August of 2004, next to nobody knew who Arcade Fire were, and by September of 2004, their whole damn tour was sold out. That kind of momentum is staggering, to say the least. And yet, that turn of events appears far more comprehensible once you've listened to Funeral. On the surface, Funeral doesn't appear to be that radical a statement. Bits and pieces of their soaring indie rock sound can be traced to various forebears, from Talking Heads and U2 to Modest Mouse and Neutral Milk Hotel. But the album doesn't comprise a mosaic of transparent influences either. Rather, its reference points are merely springboards for Arcade Fire's own unique songwriting, made more heroic by their stunning, often massive arrangements. "Neighborhood #1 (Tunnels)," "Wake Up" and "Rebellion (Lies)" are deceptively simple songs, but built into such monumental packages, they swallow the audience whole.
But it wasn't just a matter of the album having really fantastic songs. Sure, those songs are incredible, but what's perhaps more incredible is how heavy hitting they are. Win Butler & Co. hammer out these tunes like their life depends on it, projecting an emotional heft to which only the most cynical of listeners are immune. A sizable component of the album's emotional resonance lies within its recurring themes of death and loss, which are to be expected with an album named Funeral. Yet, the album could have more fittingly been titled Wake, for in spite of its pall, there's a comforting sense of universality and comfort through song. But whether one's reaction to this record comes from joy or pain, comfort or catharsis, it's a breathtaking listen made more profound through shared experience. – Jeff Terich
1. Radiohead – Kid A
(2000; Capitol)
No surprises, please. Just thumb any music rag or webzine pandering their best-of lists this time of year, from the tastefully liberal (Rolling Stone, Spin) to the musically innocuous (Time) and back up through more respectable ranks (us, of course), and it's nearly a given that Kid A belongs at the top. For an album that virtually begged commercial suicide – intentionally shunning pop templates, embracing esoteric influences and no single release to speak of – it's shown remarkable resilience in the intervening years.
But Kid A is hardly respected as a mere marketing anomaly. Seen from one angle, it's the anxious death rattle of a band that had all but collapsed under relentless hype, tour exhaustion and the general head-fuck of over-extended status. From another, it's a peculiar rebirth, even if it be a cloned one, as its loose concept suggests. Radiohead shed their rock persona, pushed past years worth of writer's block and underwent a painfully honest reinvention that tested every ounce of their bottomless talent, and which would define their band dynamic for the next decade.
That's them, though. For us, Kid A is simply a brilliant album on all counts, a watermark or litmus test, even, against which all the musical output of the '00s could be held. By opening up their refined palates to their oddest whims – erratic, free-form jazz, atonal orchestrations and a recording space packed with more digital processors than any lesser band would know what to do with – Radiohead turned out an album both unflinchingly complex and inexplicably gorgeous. This is where perfect gets its meaning. – Dustin Allen