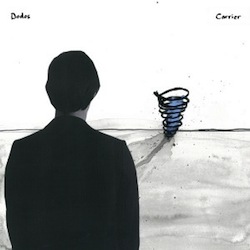 After four albums, Dodos singer/guitarist Meric Long felt an empty space in his music. In a sense, though, the effort to fill that space has been ongoing. The Dodos' breakthrough album Visiter, released in 2008, was the band's second as a duo, with percussionist Logan Kroeber adding an unlikely, yet pleasant concoction of country-blues and West African Ewe-influenced drumming. They slowed it down for Time To Die, added electric vibraphonist Keaton Snyder and teamed up with producer Phil Ek, whose recent accomplishments had included Fleet Foxes' debut as well The Shins' Wincing The Night Away, adding to the legitimacy of The Dodos' spot within the dreamy indie sphere of 2009. Though it wasn't their best material, The Dodos showed they weren't afraid to try something new, and for their follow-up No Color, The Dodos returned to being a duo, while featuring Neko Case on several tracks as a backup vocalist, adding to the abundance of musical talent resulting in what was their strongest album to date. Two years later, however, the empty space felt by The Dodos only grew larger.
After Canadian art-rockers Women took a break following a messy onstage flameout, guitarist Chris Reimer joined The Dodos on tour in 2011 and soon thereafter was adopted as the third member of the band. Reimer's use of distorted noise and fuzzy guitar textures exposed Long to new techniques after sticking with his acoustic finger-picking style used predominantly on previous albums. In February of 2012, however, Reimer died in his sleep. His untimely passing hangs heavy over fifth album Carrier, which was recorded after Reimer's death, but it left Long a chance to include him in spirit. This is readily apparent in "Confidence," displaying The Dodos' new direction while also revealing itself as the most powerful track on the album. It begins with a peaceful strum, with Long's boyish and peaceful voice singing, "So you had to come and take a friend away, my mind is empty," eventually building from a solemn intro to a big crescendo cloud, raining with rocking lo-fi glory.
For the first time in the band's history, Long returned to the band's hometown of San Francisco and wrote the lyrics before the music. The jam-based improvisation that made Visiter an unpredictable thrill has been replaced with a new vantage point, making Carrier a more mature and emotionally infused record. Opening track "Transformer" delivers the first glimpse of Long's melancholy songwriting, expressing how hard it is moving on after the passing of someone close. "What is a song? What is love? What does a song hold?" are the first lyrics he utters, as if he's proposing an exercise of delivering unanswerable questions for the sake of eliminating writer's block. The band's approach pays off on the album, Carrier's songs being so easy to escape into with their deep insights. The soft drums that eventually surface add The Dodos' rhythmic trademark that marked a considerable improvement on No Color, but this time with a more somber tone.
Carrier is not entirely gloomy. "Substance" is an energetic and gorgeous track featuring the "made-to-order" Magik*Magik Orchestra adding some much needed brightness to a song about failing human communication. The orchestra returns in the final track, "The Ocean," for a drifting and isolating conclusion. There are recurring themes of bereavement and alienation promising to satisfy The Dodos' following, but new listeners might enjoy this more once it gets a little cooler outside, it being some distance from a buoyant summer album. The empty space in their music of before has been filled with electric guitar effects, their finest songwriting and a warm remembrance of a fallen friend.
Similar albums:


The Dodos – Time to Die


Rogue Wave – Nightingale Floors


Someone Still Loves You Boris Yeltsin – Let It Sway