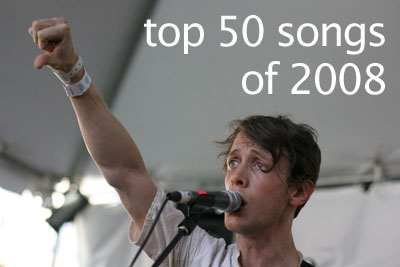 When the history books are written, 2008 will be notable for a hell of a lot of things. This year marked the election of Barack Obama as president, making him the first African-American to win the presidential election. This year also marked a pretty heavy recession, a $700 billion bailout for Wall Street and a plea for bailouts for Detroit. Let's just agree that the events of 2008 were, at best, a mixed blessing.
In music, however, it's an entirely different story. Without the overbearing heavyweights such as Radiohead, The Arcade Fire or Spoon to crowd up the year-end lists (nothing but love, but breathing room is good), 2008 give wide berth to newer, younger, more diverse acts to vie for top honors. We saw the birth of genres such as blog-house and shitgaze. Kanye West managed to show up everywhere, get arrested a couple times and piss off some hippies. Los Angeles became exciting again, American Boys became the new exotic treat, songs about listmaking were better than they should have been and hip-hop saved some lives. Hell, even the Grammy nominations were good this year.
As with every year, we voted as a group on the 50 best songs of the year. Not just singles but songs—album tracks, b-sides, all were eligible if they were released in some way or another. We've included links to videos, streams or MP3s with each song as well, so read, listen, watch and enjoy!
Los Campesinos! "My Year in Lists"
Hold on Now, Youngster is packed full of short bursts of infectious energy, and "My Year in Lists" is but one of many. Lyrically self-absorbed but still superb, it's a perfect tonic for rationalising that child-like angst isn't necessarily exclusive from intelligence and decency. Any self-doubt or loathing that might have been there before is amplified to the point of barbed half-comedy and a wake up call. Exaggerated emotion becomes entertainment with a touch of wisdom. Ridiculously, and (in my opinion) best of all, the song outlines that "nothing says "I miss you" quite like war poetry carved in your door with a Stanley knife." It sounds lovely too, possibly with a faint touch of "Well I Wonder" or some other Smiths tune in the violin. A smug cold month soundtrack for anyone clinging onto the abyss, and a catchy pop song to boot. – Thomas Lee
Deerhoof "The Tears and Music of Love"
After Deerhoof lost guitarist Chris Cohen to his full-time project Curtains following last year's Friend Opportunity, and were forced to operate as a trio on the road, the San Francisco noise rockers had a tough go of it recreating their tightly packed songs on stage, even with John Dieterich's nimble fingers manning the remaining guitar. Since Ed Rodriguez joined forces, however, Deerhoof have not only broadened their live repertoire exponentially, but new life has been breathed into their expansive sound for this year's Offend Maggie. That's particularly apparent on opener "The Tears and Music of Love" that, not unlike its predecessor "The Perfect Me" on Friend Opportunity, leads in with a raucous, dual-guitar assault. Thrusting low-end tone clusters against Greg Saunier's pounding snare, before intermittently breaking into a series of woozy decrescendos to mimic Satomi Matsuzaki's childlike coos, this track show Deerhoof at their most visceral. – Dustin Allen
Estelle featuring Kanye West "American Boy"
Behold the neo-Disco song of the year! West London-bred starlet, Estelle delivers bubbly perfection with "American Boy." Impossibly upbeat and breezy, Estelle's ultra-feminine vocals are pitch-perfect. For a few years, this John Legend protégé has been lurking in the lower reaches of the pop charts and she gets her dues with this song. Flashing a cameo by Kanye West (a perfect pop foil), "American Boy" personifies the carefree night out: the buzzing crowds, the dancing, the drinks and most importantly, that American boy. – Jackie Im
Shearwater "The Snow Leopard"
With similar piano phrasings as Radiohead's "Pyramid Song," Shearwater's "The Snow Leopard" might seem familiar at first, but as soon as Jonathan Meiburg's alternately dulcet vocal stretches and incredibly fiery yelps take hold, we're into newer and more gripping territory than we've ever tread. Imagine Antony, Andrew Bird, Jeff Buckley, Mark Hollis and Scott Walker jamming in a natural preserve, both fearing for their lives and marveling at the wilderness, and you might get an idea of the glorious and terrifying intense melodrama of "The Snow Leopard," for some an odd choice for a single, for me one of the best songs of the year. – Terrance Terich
Neon Neon "I Told Her on Alderaan"
As far as locations to tell a girl she's delusional go you could do worse than somewhere that doesn't actually exist, particularly the planet Princess Leia swore was peaceful, that lying bitch. As far as epic feats of condescension go you could do worse than "like I would give into some temptation/ I think her head needed medication." But synths set to the speed of schmaltz and a vocal so expedient only Rick Springfield could answer? You couldn't do much better. Might want to monitor John DeLorean, though—there's a certain place he might be spinning. – Anthony Strain
Lupe Fiasco "Hip-Hop Saved My Life"
Whatever eccentric ideas Lupe Fiasco might have about how long one's career should be and how complex he requires his album concepts to be, it's hard to deny that the dude's got something special when it comes to tightly wound lyrical narratives. In "Hip-Hop Saved My Life," his H-Town protagonist almost quite literally finds his life saved by "a bass heavy melody with a sample from the `70s and a screwed up hook that went `stack that cheese.'" Nikki Jean's chorus hook is something of a glamorous, star-gazing foil to Lupe's earnest, fallen-on-hard-times fable, turning writer's block into brilliant wordplay ("something something something/ stack that cheese") and flips his meta-inspiration into tear-jerking realism ("he picked up his son with a great big smile/ rapped every single word to the newborn child"). Bass banging jams rarely produce a package as warm and hopeful as this, while repeating the hook "stack that cheese" in the context of a fictional song, but if Lupe can make a song about a cheeseburger hot, then this isn't that much of a stretch. – Jeff Terich
Aeroplane featuring Kathy Diamond "Whispers"
In a year that saw a whole lot of great disco records released, "Whispers" was one of the finest. And while the armload of remixes Aeroplane unleashed in 2008—for Cut Copy, Friendly Fires, MGMT, The Shortwave Set and Grace Jones, among others—has greatly contributed to the mass of deserved hype surrounding the Belgian duo, the track was without a doubt their finest moment. It balances somewhere between disco, house and pop, and with Kathy Diamond providing vocals and a heavy dose of anachronistic class, it seems to stretch out into the warm night air, over an urgently thumping bassline and into the pleasure of heartbreak. When the bridge hits, it's like the fireworks exploding in a black sky, sand in your toes and excruciating pleasure of exorcising the past through recollection. – Tyler Parks
The Walkmen "On the Water"/ "In the New Year"
The Walkmen's You & Me is not an album of singles, by any means, but two songs, featured back to back on the group's fifth full-length, largely standout as a monumental pair among a stream of stunning melodies. "On the Water" and "In the New Year" act somewhat as foils to one another, the former a darkly romantic tune with a breathtaking buildup, while the latter is an earnest and hook-laden affirmation of one's own determined optimism. "On The Water" is subtler, flowing steadily like its own aqueous title, as Hamilton Leithauser sings this one "to the pigeons/ and the tugboats on the river," meditating on the rapidly passing scenery and his own conflicted love, before the song is swept up in an enormous climax of drums, whistles, bells and magic. Yet "In the New Year" is best summed up in its ascendant, bright eyed chorus: "I know that it's true/ It's gonna be a good year." – Jeff Terich
Stream – On the Water
Video – In the New Year
Death Cab for Cutie "I Will Possess Your Heart"
I admit, until 2008, I never really was a huge Death Cab fan. My girlfriend would play Plans and Transatlanticism in the car during our dates, and hearing Death Cab in the car was one of those cosmic, kick-in-the-head moments when everything makes sense. Maybe I just wasn't ready to truly listen and appreciate Death Cab like I do this year. When I heard this first single from Narrow Stairs, from the opening piano chords through the long and winding instrumental section, I was hooked. The thing that I grabbed me about "I Will Possess Your Heart" was Ben Gibbard's lyrics and Death Cab's rhythms, as they create a soundtrack that mirrors our current or distant lives. We all can relate to the longing that Gibbard feels when he sings "How I wish you could see the potential/ the potential of you and me…" I'll even admit that I never was a fan of extended instrumental openings to songs, but I love the way that "I Will Possess Your Heart" builds and personifies the rush of approaching the one person that sets your emotions ablaze. It takes time and those moments before our first contact is brought to life at the build up to Ben Gibbard's first vocals.
Yet there is a flip-sided meaning to this song that can be viewed very sinisterly. "I Will Possess Your Heart" might also be a song about obsession, and its multiple meanings make it an instant classic. What makes "Possess" not as ominous as song as say, "Every Breath You Take" is the yearning vocal by Ben Gibbard. Most of us have been there and he brings these emotions of distant love affection to light in this very brilliant song. – Adrian Cepeda
No Age "Eraser"
Cut from the same mold as Weirdo Rippers' standout "Every Artist Needs a Tragedy," No Age's "Eraser" is among the noisiest singles on our year-end list. "Eraser," the lead single off Nouns, is fueled by its feedback and slow building drum beat, shining at the brisk moment of eruption in which Dean Spunt's vocals revisit No Age's apparent fixation on death. While it's arguably not as strong as a song like "Teen Creeps," it goes far in putting No Age at the forefront of the rapidly emerging L.A. art-punk movement. – Tyler Weir