The Roots announce Do You Want More?!!!??! deluxe reissue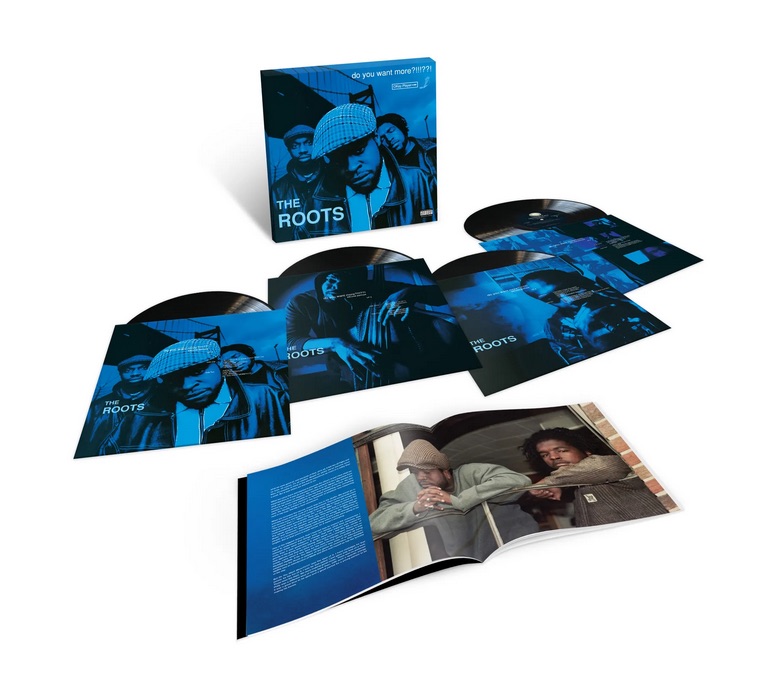 The Roots' 1995 album Do You Want More?!!!??! just turned 25, and the group has announced a new deluxe reissue for the occasion. On March 12, The Roots will release two expanded versions of the album via Geffen/UMe.
The reissue will be released in both 3xLP and 4xLP formats, one with nine bonus tracks and one with 18 bonus tracks. Each features a 24-page booklet, featuring photos shot by Mpozi Tolbert, essays by Questlove and Black Thought, as well as track-by-track commentary. Many of the bonus tracks are previously unreleased. Find preorder info here. Hear two of the bonus tracks, "Lazy Afternoon – Alternate Version" and "Silent Treatment – Street Mix" below.
The Roots Do You Want More?!!!??! tracklist:
A1 Intro / There's Something Goin' On
A2 Proceed
A3 Distortion To Static
A4 Mellow My Man
A5 I Remain Calm
B1 Datskat
B2 Lazy Afternoon
B3 ? vs. Rahzel
B4 Do You Want More?!!!??!
C1 What Goes On Pt. 7
C2 Essaywhuman?!!!??!
C3 Swept Away
C4 You Ain't Fly
D1 Silent Treatment
D2 The Lesson Pt. 1
D3 The Unlocking
Bonus Tracks
E1 Proceed II Feat. Roy Ayers
E2 Proceed III
E3 Proceed IV (AJ Shine Mix)
E4 Proceed V (Beatminerz Mix)
E5 Silent Treatment (Kelo's Remix)
F1 Silent Treatment (Beatminerz Remix)
F2 Silent Treatment (Black Thought's 87 You And Yours Mix)
F3 Silent Treatment (Question's Mix)
F4 Silent Treatment (Street Mix)
G1 In Your Dreams Kid (I'm Every MC)
G2 The Ultimate (Original '94 Version)
G3 ……(dot dot dot…on & on)
G4 Pffat Time
H1 Swept Away (Original Draft)
H2 It's Coming
H3 Lazy Afternoon (Alternate Version)
H4 Distortion To Static (Freestyle Mix) [Clean]
H5 Distortion To Static (Quest Jim Mix) [Clean]
Read our recent list of 10 Great Albums with Famous Backing Bands, including Jay-Z's Unplugged, featuring The Roots.