The Second Annual Trebblie Awards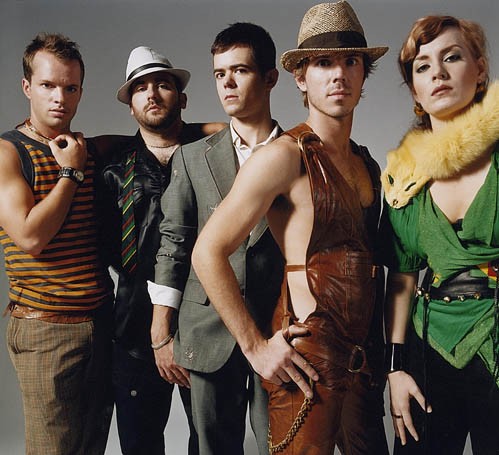 After coming up with what we agreed were the 20 best albums of 2004, we decided to keep the tradition alive and carry the coveted "Trebblie" awards into the new year. In choosing the best albums of the year, you leave out the other achievements in music that aren't covered. There are other things to consider, like how old can you be and still be cool? Or what was the most annoying album? Or what was the best b-side? And were the best albums of the year really the best albums of the year? Sorry, got a little carried away.
Anyhoo, there was plenty of good (and bad) stuff in music this year, and here's our attempt to put it all in context. Again. Enjoy!
The "Terrance opens his mouth and becomes even more unpopular" Trebblie for the most overrated (in his opinion) artist of the year:
Nominees:
Loretta Lynn
Dizzee Rascal
The Streets
The Thrills
The Hives
Winner: The Thrills
It really should be all of them. They are all deserving, but for respect's sake I'll eliminate Loretta Lynn. Dizzee and the Streets cancel each other out, and the Hives have some talent, so the Trebblie goes to the Thrills. Why? Try listening to it twice a day every day in a retail situation and then don't go insane. It's a huge ripoff of three other artists besides lacking ANY originality, and the singer has no chops whatsoever. It sounds like either he's a narcoleptic or he wants the audience to fall asleep on him. Plus, an Irish band inserting a California town name into every song does NOT make it Californian music. Annoying. They win. – TT
The "Best Album We Didn't Review This Year" Trebblie for…exactly what we just said:
Nominees:
Walkmen – Bows and Arrows
Mirah – C'mon Miracle
The Go! Team – Thunder, Lightning, Strike
Xiu Xiu – Fabulous Muscles
Dungen – Ta Det Lugnt
Winner: The Walkmen
As a small webzine run by a handful of people, we can't write about everything, though this year, we're surely going to try just that much harder. However, we did eventually get around to hearing most of the albums we wanted to, including the five listed above. Mirah gave us some powerful and lovely folk-rock. The Go! Team one-upped the Avalanches by playing most of their "samples" live (though not all of them). Xiu Xiu put the Casios on overdrive and upped the creep factor, while Dungen proved that singing in Swedish isn't as bad as it sounds. But The Walkmen truly showed off their talent with an album that slowly grows on you and reveals its brilliance. – JT
The "Harry Potter" Trebblie for a band that is getting a lot of hype, is probably good, and everyone tells me to listen to, but still won't:
Nominees:
Scissor Sisters
Kanye West
Alicia Keys
Green Day's latest album
Winner: Scissor Sisters
This award is so named because I get millions of people telling me, a bookseller and avid reader, that I just HAVE to read Harry Potter. No, I don't HAVE to. In fact, it's completely the opposite. I've heard enough about it that I know the whole story without having to read one word. Plus, I've got grown-up books to read. With all the hype surrounding some `cool' bands, there are some I just choose to avoid. The nominees in this list are indicative of that. Since I've actually heard the final three nominees and have still yet to hear one song from Scissor Sisters, but yet know all about their shtick, style, and zeitgeist capturing personae, they win. – TT
The "Best Teaser for 2005" Trebblie:
Nominees:
Bright Eyes "Lua"
And You Will Know Us by the Trail of Dead "Worlds Apart"
Bloc Party "Banquet"
Aqueduct "Hardcore Days and Softcore Nights"
Hood "The Lost You"
Winner: Bloc Party
Nothing is more exciting in any given year than a taste of what's coming next year. And in the past couple months, we've seen some great singles released that are precursors to albums to be released in the first months of 2005. Aqueducts Pistols at Dawn ep had some quirky moments. Trail of Dead got a little more radio-friendly. Hood beat the Notwist at their own game. And Bright Eyes? We didn't actually hear that song…
But Bloc Party's "Banquet" rocks harder than all of `em! – JT
The "Duran Duran" Trebblie for the "I Don't Care What You Think" band of the year:
Nominees:
Keane
The Killers
Winner: Tie
How these two bands get slagged is beyond me. So one is just piano, drums, and voice, and the other gets played in the O.C., but at a recent Holiday show in Seattle, with four other `edgier' bands, these two rocked the hardest, had more stage presence, and sounded the best. Hopes and Fears and Hot Fuss were two of the best albums of the year from two of its best newcomers. Cheers. – TT
The "Manta Ray" Trebblie For Best B-side (again):
Nominees:
Sufjan Stevens "Borderline"
Decemberists "Everything I Try to Do, Nothing Seems to Turn Out Right"
Franz Ferdinand "Shopping For Blood"
Snow Patrol "Tired"
Winner: Sufjan Stevens
Our b-side nominees are somewhat more numerous this year, thanks to a high volume of singles and EPs. Snow Patrol's track, though extremely rare and extremely good, is actually from a promo version of Final Straw. Franz Ferdinand's is good, but not nearly as beautiful as Sufjan's. Same goes for the Decemberists. Furthermore, Stevens gets the prize for writing a great song about Madonna. – JT
The Trebblie for best album title:
Nominees:
Animal Collective – Sung Tongs
Death From Above 1979 – You're a Woman, I'm a Machine
MF Doom – Mm…Food?
Air – Talkie Walkie
Winner: Air
I don't know what "sung tongs" are, but I like them. You're A Woman, I'm a Machine could either be bad sci-fi, bad porn or both. Mm…Food is just plain funny. But Talkie Walkie wins for Air's explanation alone: "It's what we call `walkie talkies' in France." – JT
The "Checkered Vans, Members Only Jackets, and Rolled Up Jeans" Trebblie for the band who best captured the eighties sound and transplanted it into the new millennium:
Nominees:
VHS or Beta
Frausdots
The Killers
Interpol
Winner: Watch This Space…
VHS or Beta tried to mimic the Cure, Frausdots the Church, the Killers Duran Duran, and Interpol Joy Division, and all to great effect. I don't think I can rightly call a winner on this one. All were great albums and they all had a great eighties era sound, but in the end, I think Interpol had the better album out of the four, but that wasn't what the award was for, was it? So the winner is VHS or Beta….no, wait. It's the Killers. On second thought… – TT
The Trebblie for the album of the year that most people will never have heard:
Nominees:
Dolorean- Violence in the Snowy Fields
A.C. Newman- The Slow Wonder
Rogue Wave- Out of the Shadow
The Delays- Faded Seaside Glamour
Destroyer- Your Blues
Earlimart- Treble & Tremble
Hint Hint- Young Days
Ratatat- Ratatat
Trashcan Sinatras- Weightlifting
Winner: Nine-way Tie
Loosely to the tune of "My Favorite Things"
Two Northwest crooners
And two New Pornographers
One sentimental
And one instrumental
One from Scotland which is way overseas
One from Seattle on Suicide Squeeze
A talented man who sounds like a girl when he sings,
These are a few of my favorite things!
Ok, now that the travesty of that song is over: Sure, every list has its Devendra Banharts and its Animal Collectives, and some year end lists do contain some of the above albums, but for the most part they will be completely unheard by the masses in favor of the awfulness of things like Eminem and Dashboard Confessional. Blecch. And yet again, I just can't choose. Take that listmakers! – TT
The "Mick Jagger" Trebblie for Those who keep rockin' well past rock `n' roll's cutoff age of 27:
Nominees:
Morrissey
Tom Waits
Mark E. Smith
Nick Cave
U2
Winner: Tom Waits
Morrissey gave us a surprisingly awesome album, as did the Fall. U2 and Nick Cave managed to stay fresh and interesting. But Tom Waits is older than all of them (though, surprisingly, not by that much) and weirder than ever. Therefore, he wins. – JT
The "I just can't take this disc out of my travel case, it's just too good" Trebblie which also shows my being behind the times as I don't have an iPod:
Rogue Wave- Out of the Shadow
Snow Patrol- Final Straw
Franz Ferdinand- Franz Ferdinand
Modest Mouse- Good News for People Who Love Bad News
The Dears- No Cities Left
The Court & Spark- Witch Season
Rilo Kiley- More Adventurous
The Faint- Wet From Birth
The Arcade Fire- Funeral
Sufjan Stevens- Seven Swans
The Mendoza Line- Fortune
Dios- Dios
A.C. Newman- The Slow Wonder
Elliott Smith- From a Basement on the Hill
Winner: Tie. Rilo Kiley & Modest Mouse.
Oh, man. Another toughie. This was such a great year for new music I just didn't know what to do with myself. This could easily have also just been a rehash of our Treble Top 20 of the year. But, in the spirit of honesty, the album that I truly have not removed from the zip-up Case Logic is a tie between Rilo Kiley's "More Adventurous" and Modest Mouse's "Good News for People Who Love Bad News". Every other album makes repeated long term appearances, but occasionally come out for a breather. Phew, that feels better. – TT
The "War, What Is It Good For?" Trebblie For Best Political/Protest song:
Nominees:
Ted Leo "Shake the Sheets"
The Briefs "Orange Alert"
Thermals "God and Country"
Q and Not U "Wet Work"
Winner: Q and Not U
There was a strong political undercurrent running through many of this year's best albums, though there were plenty of shitty songs that had their hearts in the right place as well. Q and Not U's was the best of our four favorites, mainly for how funky and catchy it is. If only The Ex were so groovin'! – JT
The "I gave it a shot, and I kinda like it, but maybe I need another listen, because I just don't like it like you like it" Trebblie for the album that just hasn't gotten under my skin…yet:
Nominees:
The Unicorns- Who Will Cut Our Hair When We're Gone?
Detachment Kit- Of This Blood
Madvillain- Madvillainy
The Concretes- The Concretes
Winner: The Unicorns
OK, some points to make first. One, I do like these albums, I really do, just not like you do. Secondly, and this is to everyone out there. Don't get mad at people for not liking something as much as you do. It's ok that people have different tastes. Think of it like a super special secret that you have and only a select few others know about. You'll feel better. I'd prefer that as opposed to those who continually try to get me to listen to bands that I will just never appreciate unless I find them on my own time. You can't force appreciation, you can only hope for it. Hence the above listed bands. My winner is The Unicorns, mostly because I know so many people who love it and I've given it more of a chance than the other three and still don't hear it. Is there something wrong with me? Well, yes, but not as regards this album. All you Unicorns fans, just get over it, maybe I'll recant my position years down the road like I did with Modest Mouse. (I used to hate `em don't ya know?) – TT
The "Metal Machine Music" Award for Most Disappointing Album from an otherwise great artist:
Nominees:
The Cure – The Cure
The Roots – The Tipping Point
Fatboy Slim – Palookaville
Winner: The Cure
Well, you could argue as much as you want that Badly Drawn Boy's newest album is his most disappointing, but dammit, we like it! Bobby Smith, however, just didn't sound like he was trying that hard. With too much competition coming from Morrissey and The Fall in the critics department, but still selling plenty of tickets to Curiosa, The Cure's "long-awaited" output this year just wasn't as good as we expected for how long it took for us to hear it. – JT
The Return of the "I Wish I Had Thought of That…Oh, Wait I Did!" Trebblie for Best Cover Song of the Year:
Nominees:
The Futureheads- "Hounds of Love"
Ben Folds- "Get Your Hands Off My Woman"
Mandy Moore & Michael Stipe- "God Only Knows"
The Postal Service- "Against All Odds"
Jay Bennett- "Pretty Good Year"
TV on the Radio- "Modern Romance"
U2- "Neon Lights"
Winner: The Futureheads
This was a close one also. Unfortunately, this year was not near as prolific a year for covers as the last, but there were a few gems. And despite the critical slings and arrows, the Moore / Stipe cover for the film Saved is pretty darn good and ironical. Gibbard was magical again with this cheesy Phil Collins song, Ben Folds continues to make good covers, but his "In Between Days" was better. Jay Bennett's Tori Amos turn was wonderful until he decided to make the instruments all wonky and dissonant. TV on the Radio gave a great nod to their fellow N.Y. post-punkers The Yeah Yeah Yeah's, and U2 covered Kraftwerk for gosh sakes! But it was the Futureheads who covered none other than Kate Bush who take the prize and back it up with an even better album as a whole. – TT
The "Yeah, That Album Really is That Good" Trebblie for Credibility in Music Criticism:
Nominees:
Junior Boys – Last Exit
Arcade Fire – Funeral
Sufjan Stevens – Seven Swans
Franz Ferdinand – Franz Ferdinand
The Futureheads – The Futureheads
Winners: All
You're going to hear that Loretta Lynn, The Streets and Kanye West are the be-all-end-all of music in 2004. You already know that Brian Wilson's Smile is good. And there's no questioning the justifiability of Elliott Smith's From a Basement on the Hill earning its props. But these five albums are as good as everyone says they are, regardless of how skeptical you may be. – JT
The Return of the "Taking it to the Next Level" Trebblie:
Nominees:
Interpol
Rilo Kiley
Blonde Redhead
Modest Mouse
Winner: Interpol
Why? Well, all four bands are deserving of the coveted Trebblie (which is in the shape of a guy with a laptop, an iPod plugged into his ears, and a nearby Big Gulp size coffee), but one had to win and this year it's Interpol. Rilo Kiley has always been great and just proved it once again (although it was a big leap forward, stylistically), Blonde Redhead took on a whole new sound altogether so we'll have to see if they can sustain it. Many would argue, myself amongst them in an amusing Gollum/Sméagol-like way, that Modest Mouse really took the bigger leap. This was ultimately a really difficult decision, and if you were to ask me tomorrow I might change my mind again. My reasoning is thus: 1) Modest Mouse really took their biggest leap with Lonesome Crowded West, 2) Dennis Herring and Benjamin Weikel deserve Trebblies of their own for Good News for People Who Love Bad News as the production and drumming were true stars. The arguments for MM are that the interweaving themes of enjoying depression and finally being OK with it are worked magically. Plus, the album is essentially what The Moon and Antarctica should have been. Interpol, on the other hand, took what they did on their first breakthrough album and made it that much better. While still getting his Curtis on, Paul Banks distances himself enough from the impersonation to create his own distinct persona. With Antics, Interpol has proven that they are now truly comfortable in their own skins and with their own sound. Songs don't get much better than "Evil" or "Slow Hands". – TT
The "Other side of the coin / female version of Ben Gibbard" Trebblie:
Winner: Jenny Lewis
Sure, she's in Postal Service with Ben, but it was her work on More Adventurous that showed everyone that she can be just as emotionally honest and heartbreaking as Mr. Gibbard. "Portions for Foxes" and "Does He Love You?" are downright brutal, making them the equals of "Tiny Vessels" and "The District Sleeps Alone Tonight". Now I'm wondering if "Tiny Vessels" is about her and "Does He Love You?" is about him. Hmmm. Disturbing. – TT