The Sixth Annual Trebblie Awards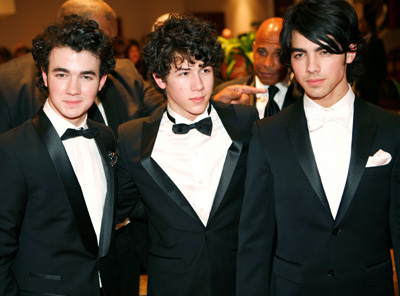 We don't have many traditions at Treble, but there's one we take very seriously: the annual Trebblie Awards. In fact, it's one of the oldest and longest running features at Treble, starting in January of 2004, shortly after this Web zine began. This is our sixth installment, honoring the best and brightest in…
Ah, screw it. Those who have been reading Treble for the past few years should know very well that this is just an excuse to come up with playlist ideas and make fun of everything. This year's no different. But we take the good with the bad, and there's a bunch of both here to sift through. We must warn you, however—if you don't have a good sense of humor, you might want to look elsewhere.
The `DAT' Trebblie for the trend / event that most signifies the death of the music business as we know it:
Nominees:
-Wal-Mart becoming an exclusive seller of particular music (Eagles, AC/DC, Garth Brooks, etc.)
-The top 4 selling albums of 2008 being: Lil' Wayne, Taylor Swift, Coldplay and AC/DC.
-The Jonas Brothers
Winner: 3-way tie. Music is doomed. – Ernest Simpson
The "Buy a Ford Today" Trebblie for best soundtrack for the economic meltdown:
-Cadence Weapon – "Real Estate"
-Neon Neon – "Dream Cars"
-Jóhann Jóhannsson – "Fordlandia"
Winner: Really close, but Cadence Weapon takes it, and for a very good reason. While Neon Neon's track is fun and Numan-esque, and Jóhann Jóhannsson abstract recreation of a utopian myth is gorgeous, Cadence Weapon at least bumps a party song while the economy crumbles. If you can't have wealth, you can at least have a good time. – Jeff Terich
The "Highway to Hell" Trebblie or guess which band/song is going to be played next on any station when yr driving listening to the radio in So Cal?
Nominees:
– Sublime
– Nirvana
– Offspring
– Coldplay
– The Killers
Winner: Any song from Coldplay and The Killers' "Human." I defy anyone to take a drive anywhere in Southern California, turn on the radio, and not hear at least one song from Coldplay or The Killers' "Human" before you reach your destination. This is a game mi novia and I like to play when we take car trips. Since our CD and mp3 players are busted, we are in purgatory listening to So Cal radio. Stop the madness! – Adrian Cepeda
The honorary Prevacid sponsored acid reflux `most unwelcome comeback' of the year Trebblie:
Nominees:
-Eagles
-Def Leppard
-Stone Temple Pilots
-New Kids on the Block
-Britney Spears
-Guns n' Roses
Winner: This is almost a toss-up, but the Eagles and their exclusivity deal with Wal-Mart is far more offensive than bland hair metal, Scott Weiland, doughy 30-somethings recalling their teenage hey-days or a media whore who never left the spotlight in the first place. With GnR, there's at least the possibility that there's free Dr. Pepper involved. Sweet! – Ernest Simpson
The "unhappy ending" Trebblie for most brutal outro:
Nominees:
Portishead "Threads"
Harvey Milk "Death Goes to the Winner"
Winner: Harvey Milk. Portishead's amazing Third comes to a close with one of the most eerie and unsettling alarm sounds one could commit to tape, but Harvey Milk's relentless pummeling at the end of Life…the Best Game In Town's leadoff track is like a repeated faceplant into a parking meter. And I mean that in the best way. – Jeff Terich
The "tree falling in a forest with no one around" Trebblie for the best album to be released that no one realized was released:
Nominees:
-Elvis Costello – Momofuku
-The Faint – Fasciinatiion
-David Byrne – Big Love: Hymnal
-Bloc Party – Intimacy
-Keane – Perfect Symmetry
-Kaiser Chiefs – Off With Their Heads
-Snow Patrol – A Hundred Million Suns
Winner: Bloc Party. All of these once heralded indie acts used to be at the top of the music heap, but have taken moderate to massive slides backwards, due to the unavoidable effects of time and distance. In my opinion, only Bloc Party made a big enough leap forward to have their album avoid irrelevancy. – Ernest Simpson
The "white jeans" Trebblie for the worst trend in popular music today:
Sole nominee and winner: Auto-Tuning.
Do I even need to explain? This invention is a travesty. Please make it stop. – Ernest Simpson
The "snap, crackle and pop" Trebblie for the album meant to be heard on vinyl:
Nominees:
The Walkmen – You & Me
Deerhunter – Microcastle
Fleet Foxes – Fleet Foxes
No Age – Nouns
Beach House – Devotion
Winner: No Age. While many great platters of vinyl were released in 2008, all better suited for analog sound systems than digital playback, No Age was the band that benefited most from having a stylus hit its grooves. Nouns, while the work of just two dudes in L.A., without any bass I might add, had a stunning array of nooks and crannies in which to get lost. Although Deerhunter gets special recognition as well for that aural feast of noise and awesome at the end of "Little Kids." – Jeff Terich
The "alas, we hardly knew ye" Trebblie for the `broked-up' band we will most miss:
Nominees:
– The Long Blondes
– Be Your Own Pet
– The Dirty Pretty Things
Winner: BYOP. Why? They were so young, with so much potential. Sure, the awfully sultry, feisty and enigmatic frontgirl Jemina Pearl Abegg will probably continue a career in music, but Be Your Own Pet was something special. (Sniff…sob) – Ernest Simpson
The "Mistakes and Regrets" Trebblie for record most deserving of Album of the Week that wasn't:
Nominees:
Frightened Rabbit – The Midnight Organ Fight
Fucked Up – The Chemistry of Common Life
Torche – Meanderthal
Jay Reatard – Matador Singles `08
Winner: All. Yeah, sure, it's a cop-out. But looking back, it's hard to find any good reason why these albums shouldn't have been album of the week at one point or another. Jay Reatard's punk rock blend with power pop hooks had us bopping around for some time, while Torche's mega-catchy pop-metal gave legitimacy to a genre that never really existed. Frightened Rabbit took their anthemic Scot-pop to greater heights, and Fucked Up, well, they've transcended `hardcore' at this point, playing something supremely heavy, progressive and conceptual. And man, is it good. And just for the record, Perversity albums were disqualified from this category. – Jeff Terich
The "Yes, I'm an old man and teenagers creep me out" Trebblie for the most obvious "shooting fish in a barrel" trend in teenage music:
Nominees:
-Twilight Soundtrack
-Nightmare Revisited
Winner: Really, aren't these the same thing? Sets of so-called dark pop songs for the Hot Topic set? And what's with all the Jack Skellington hoodies? What the fuck? Did we really need to do covers of this soundtrack? Especially with Amy Lee, Marilyn Manson and Korn? The really scary thing is that there are a few really decent acts on here. Why, Rodrigo y Gabriela, why? Can the whole Twilight / Tim Burton / Vampires thing just be over? – Ernest Simpson
The Trebblie for best intentional typo
Nominee/Winner: White Denim – Exposion
I don't know what exactly "exposion" means, but it took me a good week or so before I realized that there wasn't supposed to be an "L" in the title. Oops. My misake. – Jeff Terich
The "your mom" Trebblie for best comeback of the year:
Nominees:
– My Bloody Valentine
– The Verve
– The Breeders
– Portishead
– Q-Tip
Winner: Tie. Portishead and MBV. One's been gone for 17 years, the other 11. One released an album and one only toured, but both were more than welcome. MBV returning is like the holy grail of indie archaeology, even though most people didn't get a chance to catch their show. It was only important that they returned at all. It means the future could hold more in store. Not many were sure what the return of Portishead would bring, but everyone was wonderfully surprised by what they heard, namely Treble's "Best Album of 2008," Third. – Ernest Simpson
The "Going Underground" Trebblie for best album you didn't hear:
Nominees:
Cyne – Pretty Dark Things
Karl Hector and the Malcouns – Sahara Swing
The Dead Science – Villainaire
Arms – Kids Aflame
Au – Verbs
All the Saints – Fire on Corridor X
Winner: All the Saints. There were quite a few spectacular albums that coasted beneath most major media outlets' radar this year, and yet again, we'd like to honor all of them. Florida hip-hop that challenges sonic and intellectual conventions, a krautrock-Afrobeat combo, scary theatrical art pop, one-man pop brilliance and avant garde folk are all represented and deserving here. But All the Saints win this round, as their dark, spooky shoegazer chug set a new standard for rock bands dressed in black. Heaver than Interpol and far more stylish than Black Mountain, All the Saints bring the best of both burly riffsters and clove-smoking art rockers, and even went so far as to impress Touch & Go, who signed the band shortly after they released Fire on Corridor X. – Jeff Terich
The "Taking it to the next level" Trebblie
Nominees:
Gang Gang Dance
Shearwater
No Age
The Walkmen
Cut Copy
Deerhunter
M83
This is the big one folks, the award that all artists strive for. Okay, maybe not. I'm sure most of them don't even know about it. But in case any of you are reading this, you're invited for next year's ceremonies…(crickets)…moving on. The most interesting part about listening to hundreds of records each year, aside from discovering new things, is watching how artists progress. Inevitably some will falter, many will remain stagnant, some will hit a pretty enviable groove of solid records (I'm looking at you Britt Daniel), and some, a select few mind you, will take their music to the next plateau. Past winners include Death Cab for Cutie, Interpol, Sleater-Kinney, Hot Chip and LCD Soundsystem. Well, this year, we had a pretty crowded field of nominees, including Gang Gang Dance's increasingly more dance-driven sounds, Shearwater's gorgeous atmospherics, No Age's shoegazing punk, The Walkmen's sophisticated low-key rock, Cut Copy's new wave, Deerhunter's art rock and M83's electronic bliss. It was incredibly difficult to choose a winner, but looking over all the artists here, there is one who made the biggest leap from their prior album to their newest one, so we have to give credit where credit is due…
Winner: Deerhunter
Congrats, gents! Looking forward to hearing the next one, as well as Lotus Plaza and the next Atlas Sound disc. Make sure to get some sleep when you get a chance, too.