The Smiths : The Queen is Dead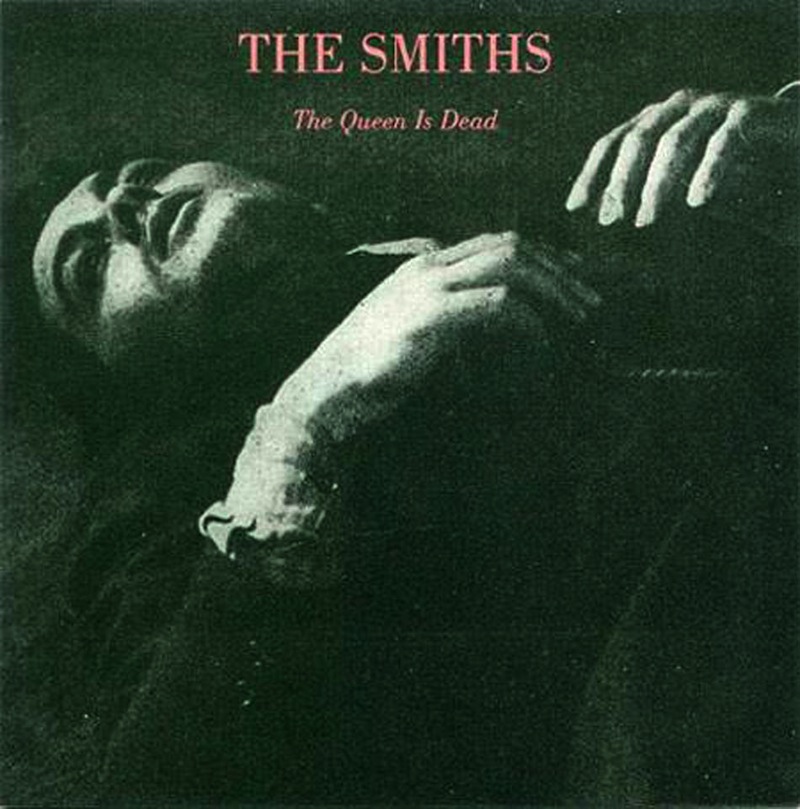 There was a party at the house of a friend of mine during my junior high school years. I hadn't been to too many parties, especially any where the kids went into the avocado groves to drink beer, smoke weed, and get to second base with their steadies. To compound the fear, it was not just a party filled with kids from my own school, people I was at least familiar with. It was, in fact, mostly populated by students from our 'rival' junior high. They seemed taller, bigger, and older somehow. I even heard rumors that one of them had hooked up with my girlfriend before we started 'dating'. I imagined that they still harbored a secret desire to see each other again, to rekindle their tawdry teenage lust. Paranoid? Damn skippy.
They hooked up a boom box outside on the patio near the pool which, in hindsight, was really dangerous. There was a pile of cassettes on the table next to it, and occasionally, when the desire struck someone, a tape would be changed and dancing, talking, and walking into the avocado groves would begin anew. I had just taped a record out of my sister's collection and wanted to play it. At that time, while I languished in the seventh grade, my sister was a sophomore in high school. As such, she had access to way cooler music than I did. I look back on her record collection with a little bit of awe and reverence. If you take out the complete Monkees collection, Rick Springfield, and Corey Hart, there were some real gems. She had the first Cure record, Three Imaginary Boys on vinyl! She also had The Top, The Head on the Door, the near complete collection of Depeche Mode's twelve-inch singles, and all of Duran Duran's albums and singles. The one that I had taped though was an album that spoke to me in a way that music had not yet spoken to me. It was The Smiths' Hatful of Hollow.
I put the cassette in after the one playing had ended and the opening strains of "William, It Was Really Nothing" began to emanate from the speakers. I imagined all of the partygoers turning their heads towards the stereo and then saying those words that every music lover yearns to hear, "What is this? It's really good." I wanted to be the arbiter of cool, the one with all the new music. I was smart, but not the smartest; athletic, but not the most athletic; better looking after I switched from glasses to contacts, but by far not the best looking kid. I needed to have something going for me, and it had to be 'the cool'. I pressed 'play', and what happened? A whole mess o' kids groaned, saying "Not the Smiths! This is a party, not a funeral!" or some such like that, I was too embarrassed to remember exactly. I was so embarrassed that I don't even remember what awful music they put on to replace it. I was not, however, embarrassed enough to stop listening to the band that now meant so much to me. In fact, it only fueled my fervor.
Over the next few years my love of Andy Rourke, Mike Joyce, Johnny Marr, and especially Morrissey grew. "How Soon is Now?" was released and the sound of Johnny Marr's room filling guitar effect combined with Morrissey's pained sorrowful lyrics made me feel at once that I was in some kind of future world where music shouldn't sound like this and that there was someone out there who knew how I felt to be a gawky teenager. In fact, the line So you go and you stand on your own, and you leave on your own, and you go home and you cry and you want to die was pretty much a description of every party I had ever been to. Meat is Murder followed soon after and opened a door to Morrissey's own past with "The Headmaster Ritual". "What She Said" had and has one of my favorite lines in What she said, 'I smoke cause I'm hoping for an early death, and I need to cling to something. "Meat is Murder" is one of the few songs that made me contemplate vegetarianism.
With three albums under their belts, a worldwide following, cult status, and money flowing in, the Smiths could have easily just phoned in the next album. Instead, they recorded and released The Queen is Dead. I remember hearing my local radio station talking about the fact that they had the new single to play, "Bigmouth Strikes Again." Thank goodness I didn't actually hear the song on the radio first.
Truly great albums are ones that are solid from beginning to end, not a skippable track in the lot, and not just a few singles with some filler. The Queen is Dead grabs you from the opening and never lets you go. The sampled snippet of "Take Me Back to Dear Old Blighty" leading into Mike Joyce's inspired and aggressive (finally!) drumming was and is breathtaking. Morrissey struck gold again with brilliant, subversive, and funny lyrics that were and are his trademark. His lyrics had always, up to this point, been political and social, but not as pointedly as in this song. And ultimately, he stayed true to his emotional gift in ending the song with life is very long, when you're lonely.
"Frankly, Mr. Shankly" is again in that funny / serious mode and can be taken as either. It also lodges in the brain with its bouncy bassline and rhythm. "I Know It's Over", on the other hand, is truly remarkable. Morrissey is at his most sedate state, whispering and lilting the gut wrenchingly `real' words over subtle instrumentation. I would want to insert a quote from the lyrics here, but I would want to quote the entire second half of the song. Just as in an earlier Smiths song, "Girl Afraid", Morrissey's poetry, and it is poetry, manages to capture perfectly paranoid inner thoughts of people with self-esteem issues. The bit about feeling the soil falling over his head was meant as a metaphor, but Jeff Buckley covered this song live and now gives it all new meaning.
The lyrics to "Never Had No One Ever" are sparing, but no less powerful: I had a really bad dream / it lasted 20 years, 7 months, and 27 days. One of my favorite songs, being the book lover that I am, is "Cemetry Gates". The way the entire band complements each other is truly wondrous. It's close to being the `happiest' song on any album of theirs and easily stands up today alongside lauded popsters like The Shins, Modest Mouse, and Death Cab for Cutie. You also can't go wrong mentioning Keats, Yeats, and Wilde. If nothing else, it taught kids who didn't read how to pronounce Keats and Yeats (no, they don't rhyme!). "Bigmouth Strikes Again" follows and preceded Thom Yorke's I want to live, breathe, I wanna be part of the human race by nearly ten years with and I've got no right to take my place with the Human race. "The Boy with the Thorn in His Side" was an easy bridge from Meat is Murder to The Queen is Dead, having come out as a single between the two album releases. It is a simple love story, as all the best are, and as always, despite the rumors and controversy, does not mention gender. I want to petition for this song to be the theme for gay marriage. It works brilliantly.
How can they see the Love in our eyes and still they don't believe us,
And after all this time they don't want to believe us
And if they don't believe us now will they ever believe us?
And when you want to Live how do you start? Where do you go? Who do you need
To know?
"Vicar in a Tutu" is probably the weakest song on the album but is strong enough, and still fits in thematically with the rest of the tracks. It's about acceptance of strange things, of events and ideas outside the `norm', rather than quick judgment and rejection, and of course a commentary on religion. The sister song to "I Know It's Over" comes up next in "There is a Light That Never Goes Out". For those who have had those blinding obsessions and crushes, you understand just what he's talking about. You want to spend every second possible with the object of your love, knowing that even death with that person is better than what you call your `real life'. Even though the object of desire might not even be aware of the feelings you might have, as in the song: and in the darkened underpass, I thought Oh God, my chance has come at last, (but then a strange fear gripped me and I just couldn't ask), that part doesn't really matter, it's the feeling inside and the proximity to the object that matter.
The album ends with a little absurdist poetry in "Some Girls are Bigger than Others". Beginning with a `fake out' fade-in and then fade-out and back in again, it is far from a novelty or trick. Holding up to the strength of the rest of the album, Marr's guitars are as crisp, jangly, and tight as always, with the rhythm section keeping the steady pace. In a way, it's on a par with The Beatles' "Her Majesty" as far as a `simple in its complexity' closing song. And just as the album opened, after the medley, with Morrissey's altered vocals (made higher pitched) in singing I don't bless them, it ends in the same way (muffled and echoey) as he intones Send me the pillow / The one that you dream on / And I'll send you mine.
The Queen is Dead would be followed by UK and US singles compilation releases in The World Won't Listen and Louder than Bombs, and a final original album in Strangeways, Here We Come. Although these releases all had some magic in them, only The Queen is Dead was sheer perfection as an album. It was their critical peak and now stands alongside some of the best albums ever made, hitting number 216 in Rolling Stone's recent 500 best albums of all time list and number 21 in Q Magazine's best albums list, the highest entries for the band in each list.
Although Morrissey and Marr have had their share of successes and failures since the band went their separate ways, everything they have done or are going to do will always be compared to the Smiths. There have been numerous influences and imitators since, but nothing yet has come close to the musical majesty that is The Queen is Dead. The band is now godfather to a whole slew of admiring bands and writers. Pretty Girls Make Graves took their name from a song off of the first album, Death Cab covered "This Charming Man", Placebo covered "Bigmouth Strikes Again", Douglas Coupland named one of his novels Girlfriend in a Coma while various characters actually spoke in Smiths lyrics, and Marc Spitz wrote a novel called How Soon is Never? about two rock journalists who try to get the band reunited. Morrissey and Marr were a magical pairing that will probably never be reunited, fictionally or not, but I for one am grateful for the music they already have made, and especially for The Queen is Dead.
---
Label: Rough Trade/Sire
Year: 1986
---
Similar albums/ albums influenced: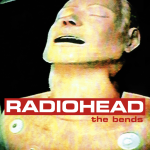 Radiohead – The Bends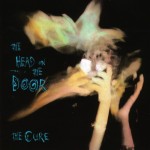 The Cure – The Head on the Door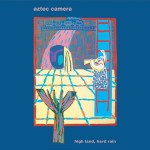 Aztec Camera – High Land Hard Rain