The Truth About Liars: The Treble Interview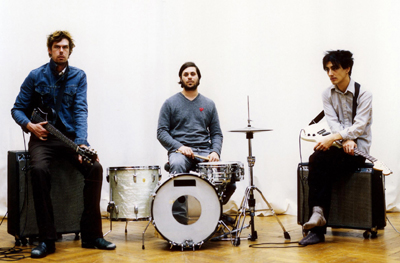 Birth Of The Weird
"When I have to describe our music to someone in an airport or something I usually just say rock and roll," says lead singer and guitarist Angus Andrew of his Los Angeles band Liars. But he's quick to clarify. "Weird rock and roll."
Experimental, murky, bizarre, proto-biker metal—all are terms that have been used to describe the distinct weirdness that is Liars, a rather indescribable auditory experience indeed. As abstruse as it is invigorating, the band's catalogue traverses disparate musical landscapes with seemingly little effort, never content to produce an album bearing the slightest resemblance to its predecessors. Sure most bands say their next album will sound completely different; when Liars say it, they mean it.
"At the moment what we're experimenting with is traditionalism," Andrew says. "It's interesting because now we're dealing with song structures and things that are very normal, and for us that's weird."
Having recently completed a stint opening for Interpol, a decidedly more conventional musical engine, Liars are again at the helm of their own headlining tour. It's a few hours before their Seattle performance (and Andrew's second of three interviews) that we sit down to chat. Visibly in pain, he thumbs through a book given to him the night before at their Portland show by Sleater-Kinney drummer Janet Weiss.
"It's called `Healing Back Pain: The Mind Body Connection,'" Andrew explains. "Apparently it's all just in your brain. Psychological."
Injuring his back just prior to this most recent tour, Andrew decided that instead of canceling he'd live through his discomfort, making certain minor changes to his usually emphatic performances.
"I'm sitting down most of the time, which is certainly unorthodox for me." So in spite of his (nearly) incapacitating pain, the band soldiers on. Yet Andrew is steadily optimistic through it all. "It's given me an opportunity to try a different way of performing, you know, than if I wasn't disabled."
Touring with Interpol offered the band similar opportunities, garnering much larger audiences (even if the crowds weren't there to see them) and arena-sized venues in which to disseminate their unique musical style.
"The Interpol tour was really exciting and so strange," Andrew reminisces. "When you're not the headliner it feels like you're battling with the crowd. You know people are just freaking out, and they were. And then to see us get up there and fuck it up and fall apart and make mistakes. It's like trial by fire."
This spring the band will have another chance to pass through the flames unscorched as curators of a European festival. Scheduled for May 30th in Vienna , Austria, the Donau Festival will feature cult actor Crispin Glover, filmmaker Kenneth Anger, Spiritualized, and of course, Liars.
The Berlin Effect
For their latest musical endeavor, Andrew and his fellow Liars, drummer Julian Gross and Aaron Hemphill (percussion, guitar, synthesizers), have taken the road more often traveled- that is, one fraught with verses and choruses—but not without bending the truth of the typical pop formula to their own mysterious whims. Self-titled Liars nods most prominently to the band's formative years, a time when grunge slipped its flannel noose around the nation's airwaves.
"We wanted to write songs that were like the ones that affected us when we were young, when music was so much more volatile," Andrew explains. "You had the posters on the wall and you'd write the name of the band on your sketchbook."
For the first time the band's lyrics delve into much more personal themes.
"As we were recording the process became nostalgic," he says.
As with their 2006 conceptual breakthrough Drum's Not Dead, Liars recorded their latest opus in Berlin, where Andrew still has an apartment. Leaving the country afforded the band an opportunity to seek solace from the distracting wiles of American culture as well as its less than amicable foreign policy.
"When I moved to Berlin, it was when the invasion of Iraq had begun and I started to feel like I didn't necessarily want to be living in America." Andrew more or less picked a spot on the map of Europe; Germany just happened to be where his finger landed. "I knew Berlin was cheap and historically pungent." And so it goes.
"The most important part is removing yourself from where you were comfortable before," Andrew notes. In many ways Berlin proved to be fertile ground for the band; a change of scenery and cross-cultural exploration from which many creative fruits have flourished. "Once you feel comfortable somewhere and you've established yourself then it's time to remove yourself from that environment."
But to attribute some of the band's finest output to something as simple as a trip across the Atlantic wouldn't necessarily be accurate; after all this is not a group of musicians who have ever suffered from any sort of creative stagnation.
"Environment is relevant to the extent that you allow it to be," Andrew says. "It's not just, for instance, going to record for three weeks in Colombia and assuming you're going to have a nice Spanish-cocaine influenced album. I think the point is that you move to Colombia and live there for a year and then that record is going to have that influence."
Truth For What Ails You
Whatever the affect, both Drum's Not Dead and Liars summon a spooky ambiance that chills even the most casual listener to the quick. The former, a brilliantly erratic experiment in tribal rhythms built largely on hypnotic percussion, invokes the sort of ritualistic unease that seems to have descended like thunderheads upon an increasingly fearful populace. In this way, the band's music serves an important role in documenting our modern experience.
"A lot of times our work is a reflection of the state of the world. You can always feel this palpable sense of paranoia, especially in America. It's really come to the fore in our generation," Andrew says, "this whole disease of fear that penetrates everything."
They Were Wrong So We Drowned, the band's David Sitek produced concept album about German witch trials, derived direct influence from what Andrew describes as "a period of insanity" that is "the Bush Era." It's a heady broth; churning vitriol that draws startling comparisons to our current political climate. While the possibility of being hung for witchcraft may not concern a modern audience, the thought of being spied on by our own government results for many in an understandably equitable sense of anxiety.
This kind of understated subversion, coupled with often bizarre but endlessly original sonic experimentation, finds Liars occupying a rather unique position among their more conventional peers, even if they aren't filling arenas with their name alone. Yet, anyway. And for Andrew, whose tangled mass of brown hair and grizzled beard seem to betray the activist within, this has been the vision all along.
"Doing what you think is right even though everyone and his daughter thinks it's wrong. That's what we've done the whole time."
If we are destined to become products of our environment—whether it be physical, cultural, political, or otherwise—that we should also be influenced by music and the sentiments of musicians is likely inevitable. Perhaps we should all be thankful that Liars are unafraid to deliver some truth when we need it most.