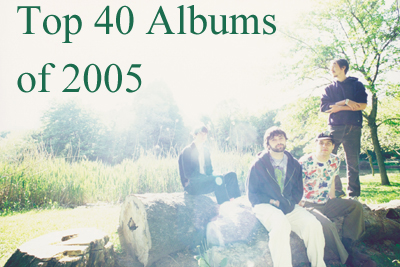 20. DangerDoom – The Mouse and the Mask (Epitaph)
Ex-KMD man Daniel Dumile, now lionized by pale indie webziners of all shades in his MF Doom incarnation, combined with Grey Album architect Danger Mouse to great effect on The Mouse and the Mask. Touching on Cartoon Network, and dancehall that isn't (Talib Kweli collaboration "Old School"); the record recalled a lot of things and nothing else on the market. Dumile and Burton made this writer as happy as music can in bringing about an unexpected Sparklehorse/Wu-Tang Clan collaboration as Mark Linkous crawled out of the mountains to play bass on Ghost-Face cameo "The Mask." Superheroes for life…until their souls vanish. – Thomas Lee
---
19. Andrew Bird – And The Mysterious Production of Eggs (Righteous Babe)
With all of the ridiculous, inane awards doled out to usually undeserving celebrities, one would think that there would be at least one award given for Best Whistler. Andrew Bird needs at least a little love for his superior talent. Bird's third release, And the Mysterious Production of Eggs, is positively epic in its own quiet and beautiful way. Each song on And the Mysterious Production of Eggs swells to create lush soundscapes with Bird's sometimes-nonsensical lyrics weaving their way through. And he whistles! Making it seem like just another instrument, Bird takes putting your lips together and blowing to the next level. Bring on the acceptance speeches and free swag! – Molly B. Eichel
---
18. Eels – Blinking Lights And Other Revelations (Vagrant)
Someday, Mark Oliver Everett will be happy, right? Who cares as long as he keeps making music like this! What some might have thought was music that could not be mined anymore, introspective autobiographical singer-songwriter sadness, was not only blown up into two full CDs of material, but they were both quality CDs. A friend of mine said "It's almost too much Eels." He's right, in a way, but overdosing on E's `revelations' is rapturous joy. Somewhere in the middle of a comparative triangle of Brian Wilson, Randy Newman and Beck, E manages to balance the ecstatic, therapeutic and sublime in two masterful discs.
The album is difficult to sum up, but the single, "Hey Man (Now You're Really Living)" makes an attempt by suggesting reveling in despair, complete with 'sha-la-la's.' "Trouble with Dreams," "In the Yard, Behind the Church," "Railroad Man," "Old Shit / New Shit," "Losing Streak" and "Ugly Love" are all songs that could end up on an Eels' greatest hits compilation, but the double album already feels that way. Back on Beautiful Freak, E wrote "One day the world will be ready for you and wonder how they didn't see." He could easily have been talking about Blinking Lights. – Terrance Terich
---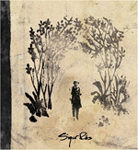 17. Sigur Ros – Takk (Universal)
Barely a Sigur Ros review goes by without ridiculous naturalist imagery or a reference to their nationality. It's understandable, though, given that this is a band that actually deserves their otherworldly tag. Songs like "Hoppipolla" and "Saeglopur" sound like the listener dreamed them up. Pretension free, fashion-unconscious, and better than most; Sigur Ros remind me that life is a lot less cynical than appearances suggest. Wake up world. – Thomas Lee
---
16. Franz Ferdinand – You Could Have It So Much Better (Domino – Epic)
Sure, you'll still want to dance, but You Could've Had it So Much Better, a worthy successor to Franz Ferdinand's Mercury Prize-winning debut, finds these lads avoiding the sophomore slum this time around by expanding well beyond the post-punk canon from which they were spawned. You'll want to dust off your old Adam and the Ants records when you hear "Evil and a Heathen" while "The Fallen" is cleverly and nominally funkified. Of course their signature strut is showcased on "Do You Want To" and frontman Alex Kapranos gets a tad bit more sincere with "What You Meant" and "Walk Away." This time around they've proved that they're far more than a pack of NME approved fancy boys from Scotland and a fantastically talented band all around. – Chris Pacifico
---
15. Bright Eyes – I'm Wide Awake It's Morning (Saddle Creek)
Conor Oberst: indie poster-boy heartthrob, DIY raconteur, political activist and friend to small animals. Before going on two lengthy tours, Conor and his band recorded and released two albums at once, the electronic leaning Digital Ash in a Digital Urn and the balls-out folk masterpiece, I'm Wide Awake It's Morning, (or as it's called in some circles, `The Better One'). On Morning, Conor's lyrics have never been as insightful, erudite or self-aware, making the title of the album more than just a side note. Guest appearances by Emmylou Harris, Jim James, and a host of others simply add to the brilliance.
The impassioned shouting of `They go wild…' in "Old Soul Song (for the New World Order)," the hushed intimacy of "Lua," the reflective and vulnerable story of "First Day of My Life" and then probably the best consecutive three song ending recorded in "Land Locked Blues," "Poison Oak" and "Road to Joy." "Poison Oak" in particular is a personal favorite going from quiet reminiscence to cathartic primal screams all accompanied by Mike Mogis' ethereal pedal steel. Everything is completely summed up by the end of the album when Conor sings, "I could have been a famous singer, if I had someone else's voice. But failure's always sounded better, let's fuck it up boys. Make some noise!" If failure sounds like this every time from here on out, then failure is an option I can accept. – Terrance Terich
---
14. Animal Collective – Feels (Fat Cat – Paw Tracks)
Reviewing the Animal Collective's Feels is like reviewing a day in a fecund field: The album gives the sense that there are in fact animals and insects passing you by, brushing past your legs, fauna growing around you all the while. Shifting from the acoustic Sung Tongs to the new album's vibrant, large in scope, spacey production, Animal Collective have not lost their ability to create anarchic music that, as quirky as it is, is still hypnotic. The clippity-clop gallop of "Did You See the Words" and the hippity-hop glee of "Grass" are instantly mesmerizing, like watching wild horses and mad hares racing by, respectively. "Banshee Beat," which builds from its initial stillness, captures an odd nocturnal quality, a night in which chirping crickets gather and build up momentum causing all animals to make calls to the moon. Yes, by the end of the album – as "Turn Into Something" breaks from its lively pace to usher in a morning dew – you feel a bit closer to the world around you and, more so, you feel that there is truth to Avey Tare's wispy yodel that "There's something living in these lines." – Hubert Vigilla
---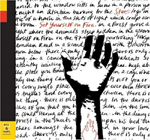 13. Stars – Set Yourself On Fire (Arts & Crafts)
The stars sing / I've got their song in my head…
This is actually a line from the Long Winters' "Ultimatum" but it's also a nice little turn of phrase for this review. Songs by the Montreal band Stars do indeed get stuck in my head, songs like the high energy love song "What I'm Trying to Say," the equally infectious "Ageless Beauty" and the softer closer, with choral help from the Dears, "Calendar Girl." Opener "Your Ex-Lover is Dead" (which made it onto our best songs of the year list) was so good, tourmates Death Cab for Cutie melded its lyrics into "What Sarah Said" off of Plans.
Torquil Campbell's honeyed vocals sound like Paul Heaton from the Beautiful South and Amy Milian's angelic singing complements them perfectly. Although still in the "opening band" netherworld, they put on one of the best live shows I've seen. Most listeners will be more familiar with the collective that Stars members have contributed to, that being Broken Social Scene, but Set Yourself on Fire, an exquisitely made sex album, is a huge artistic leap for the band, mature, accessible and soaring. – Terrance Terich
---
12. LCD Soundsystem – LCD Soundsystem (DFA – Capitol)
Prior to 2005, you probably heard shitloads of buzz about LCD Soundsystem, a.k.a. 35-year-old music geek James Murphy, a.k.a. the dude who runs DFA Records and may or may not have been the reason Death From Above 1979 had to put the 1979 in their name. But aside from all that, Murphy gives his own "homage" to various forms of dance music throughout the album's nine tracks, whether it be punk ("Movement), New Wave (`Tribulations") or Brian Eno ("Great Release"). This is a record for the mildly overweight, record collecting recluse in his mid-thirties that still lives in his parent's basement in all of us. – Chris Pacifico
---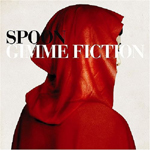 11. Spoon – Gimme Fiction (Merge)
A more appropriate title could not have been chosen for Spoon's fifth full-length, a compressed and minimal art rock opus swathed in mythology. There are beasts and dragons, the theatrics of one homoerotic Monsieur Valentine and some merchants of soul. Its very essence is one of legend, and it certainly didn't hurt when bloggers began creating their own myths about the album — the album's tracklist is meant to be played in reverse order, the album's artwork is meant to display "vaginal" imagery — most of which has been dismissed by the band. Even without the speculation and personal theories about the band's original intent, there's an unspoken grandiosity about the record, one that may not reveal itself at first, given the relative simplicity of the material. But even with a few chords, a simple piano melody, a stark bassline and Britt Daniel's super cool rasp, Spoon is capable of creating an indie rock opus, and on Gimme Fiction, they certainly have. — Jeff Terich