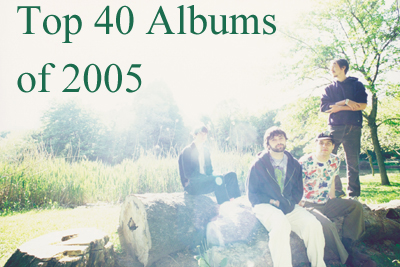 30. M.I.A. – Arular (XL-Beggars Banquet)
M.I.A. should stand for Most Individual Artist. Not in recent memory has a person like this appeared above the radar screen; she is fierce, hear her roar. M.I.A. does have her critics though. They tend to be very outspoken and although I can see how she is one of those `you either love her or hate her' performers, I personally loved her from the first moment I heard her. This year saw M.I.A.'s much-hyped debut record Arular hit the shelves to respectable sales, some more than respectable reviews, and her name rolling from the tongue of some of the most notorious taste-makers around. Believe the hype people, because she is sooooooo the real deal. Arular is almost like a mash-up mix, in that it's a record that mixes styles seamlessly to combine the world music influences of M.I.A.'s native Sri Lanka with dub, hip hop, and various forms of broken beat music. Not to mention she does it all, from rhyming to singing, dancing, and tailoring the most nostalgically inspired hip-hop wardrobe I've ever seen. Being a Sri Lankan refugee, M.I.A. is a lot more than your average immigrant living in England, and this is reflected in her lyrics. M.I.A.'s songs are politically-charged and many, such as "Pull Up The People" are delivered with all the conviction and ferocity of a seasoned guerilla rebel. Probably the single greatest part about Arular though is that it is politically charged, but like Gang of Four, its rebellion requires putting on your dancing shoes. – Christian Conlon
---
29. Antony and the Johnsons – I Am A Bird Now (Secretly Canadian)
Many people don't know quite what to make of Antony & the Johnsons, the controversial Mercury Prize winner of 2005. The controversy lies not in the gender bending act and themes, nor the `not so easily' accessible material, but in the fact that Antony now lives in New York, not England. A pox on him! Anyhoo, I Am a Bird Now, an album loosely based on a series of letters from hermaphroditic children wanting to be a different gender than they currently are, is a stunning work of vocal art. Antony's voice alters between Bryan Ferry, Jeff Buckley and Tracy Chapman, all over beautiful pianos and strings. He even gets some help along the way from friends Boy George and Lou Reed, both sympathetic to the gender confusion cause, as well as Devendra Banhart, who has championed Antony since his debut.
It's difficult to pick out particular standout songs as the album flows so smoothly from one track into another. I'm surprised that this album even spawned single releases. It seems to me that this piece is better digested as a whole. To me, making singles out of this is like seeing a close-up of one star in Van Gogh's "Starry Night." It is still beautiful and textured, but has no context. That said, the cascading piano in "Hope There's Someone" and the fifties Motown horns in "Fistful of Love" are stunning and captivating moments. Antony is a singular performer who is thankfully getting some recognition, controversy or no. – Terrance Terich
---
28. Stephen Malkmus – Face The Truth (Matador)
I was wary, I admit. I couldn't see why Stephen Malkmus would slap only his own name on Face the Truth. And just when his band, The Jicks, had started to sound less like some dudes playing with that other dude from Pavement, as they did on their debut, and more like a real live band, as on 2003's Pig Lib. And, well, good call Stephen. Although the Jicks make the occasional appearance, Malkmus recorded the majority of the record in his basement studio; it sounds like just that.
A lesser man would get lost in a sea of bedroom pop indulgences, but when the indulger is Stephen Malkmus, the sort of turbo-quirk brilliance present in most of Pavement's work shines through. Face the Truth starts out of the gate with "Pencil Rot," which itself begins with arguably the least pleasant synth line you've heard this year, and one you'll be humming before the song's end. We're privy to some of the best slacker-oriented guitar-rock since the demise of that other Malkmus project on the off-the-cuff "Baby C'mon." And all over Face the Truth, we're reminded a song can be catchy in a straightforward-rock sort of way and be weird as all hell at the same time. – Nate Hayden
---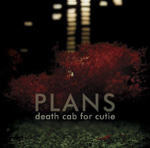 27. Death Cab for Cutie – Plans (Atlantic)
Their jump to Atlantic resulted in neither a large change in sound, nor a vast leap in experimentation, or even a watered down version of the past. Instead, it was the next logical step in a progression for Death Cab for Cutie. I guess things can happen at the right time and at the right place. This time around the boys from Bellingham have fallen more in love with the organ than ever, and do they ever use it. Jason McGerr has proven time and again that he is Death Cab's best drummer, while Nick Harmer has remained steady and solid on bass. But, no offense to them intended, Death Cab is all about Chris Walla and Ben Gibbard. Gibbard's songwriting and Walla's production and Britpop guitars make a lethal combination for the sappy suckers in all of us.
At their recent homecoming show, last stop on the tour, at the Paramount in Seattle, thousands of teenage girls sang along with first encore song "I Will Follow You Into the Dark." "If Heaven and Hell decide that they are satisfied, and illuminate the `NO's' on their vacancy signs." "Soul Meets Body" proved to be a worthy first single, though not my favorite on the record. That honor changes every time I hear the record, wavering between "Marching Bands of Manhattan," "What Sarah Said," "Someday You Will Be Loved" and "Different Names for the Same Thing." Plans is more than a worthy successor to Transatlanticism, making for one of the best three album progressions in pop history, from The Photo Album to now. Between "Styrofoam Plates," "Transatlanticism" and "What Sarah Said," one can have one hell of a melodramatic mix. – Terrance Terich
---
26. Devendra Banhart – Cripple Crow (XL-Beggars Banquet)
If there is one thing you can say about Devendra Banhart, it's that his music is intense. This isn't intensity like the Ramones had. And Banhart's music won't keep you glued to the TV screen like the 497th time you watched Purple Rain. The effect of Devendra Banhart's music is much less obvious than that. You might not notice it after one listen or even two, but eventually the power, honesty, and originality of Devendra Banhart's message and music will hit you like a ton of bricks. It is this mysterious witchery that is part of what makes Banhart's 2005 release, Cripple Crow such an enchanting piece of artistry.
However, such a bewitching record as Cripple Crow could not have such a hypnotic effect on the listener if Devendra Banhart was merely another folksinger. Part of what makes the musical tapestry of Cripple Crow unique is that it draws its sound from so many different genres. From the Beatlesesque "Heard Somebody Say," to the take no prisoners protest of "Long Haired Child." From the traditional nylon string Latin guitar parts on "Quedateluna," to the neo folk of "Cripple Crow." From the psychedelia of "Chinese Children," to the R&B of "Little Boys." This hodgepodge of musical influences is what allows Devendra Banhart to transcend the genre of folk, further drawing the listener into the majesty that is Cripple Crow.
The variety of styles and slow building intensity of Cripple Crow make it not only one of the best albums of the year, but add to the mystery of Devendra Banhart's unusual musical journey. On top of all that, there is a shameless innocence in Banhart's message. Much like the dirty hippie that has come down from the woods, Banhart is unapologetic about who he is and where he came from. This pure and harmless intention could be the key to the revolution, or at least to the one that's taking place in modern folk music. – Christian Conlon
---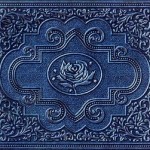 25. Ryan Adams and the Cardinals – Cold Roses (Lost Highway)
So, apparently, the best thing for Ryan Adams to do was become more ambitious. Releasing three albums in one year, totaling four discs, Adams managed to bless us with some of his best material, giving fans little time to breathe between albums. While Jacksonville City Nights was more or less a pure bluegrass album and the just released 29 returned to a stark sound famously heard on Heartbreaker, Cold Roses filled two discs (just over halfway each) with rootsy rock tunes reminiscent of Neil Young, The Band and Adams' former band, Whiskeytown (I still don't hear Grateful Dead and probably never will, though). On "Magnolia Mountain" and "Easy Plateau," Adams and The Cardinals take on a decidedly classic rock sound, while "Let It Ride" and "Sweet Illusions" mark two of the best alt-country tunes released since Wilco went astray. And even if the album is a tad long, it's far more refined and cohesive than it may initially seem. Admittedly, I may be the resident Ryan Adams fanboy geek on staff here at Treble, but if you couldn't guess by its position here, it made more than a few contributors weep in its epic, moving presence. — Jeff Terich
---
24. Kanye West – Late Registration (Roc-a-Fella)
For all the adoration we heap upon our pop stars, we impose a certain set of restrictions on what we'll allow them to be. Mos Def and Common deliver intellectualized and nuanced tales of the black urban struggle. 50 Cent and Nelly rap about bling and booty. As far as we, the audience, are concerned, the two archetypes are mutually exclusive. Mos does not drink Cristal, Fiddy don't think. But Kanye, somehow, we've let slip through the cracks. He can release a record populated largely by intricate beats and poignant (and at times hilarious) reflections on real social ills, and at the same time lay Prada leather to Red Carpet, all the while proclaiming his uncontested awesomeness. It's as if someone gave Ludacris Talib Kweli's set-list.
But, of course, none of this works if the music doesn't hold up. Luckily, Kanye (once again) proves himself more than proficient. From the shout-it-from-the-stoop non-melody at the core of "Touch the Sky" to the heart that holds together the ode/letter-home "Hey Mama," Kanye proves he's got both the chops and the soul to play whatever role he damn well pleases. And if cultural anomaly isn't your thing, well, who the fuck cares? It's not a great hip-hop record if it doesn't cover its dance-floor bases: get up, shake yer ass. – Nate Hayden
---
23. Maxïmo Park – A Certain Trigger (Warp)
There are times when reality and art crossover, when events in your life start to mirror fictions or works of art. Whether this points to the universality of diverse human experiences or just a series of strange coincidences remains to be determined, but Maximo Park's A Certain Trigger is my post-punk biography of 2005. You've got romantic frustrations, you've got some angst, you've got a whole lot of vamping, pomp, and swagger. Coupled with the pop hooks, spiky guitars, and songwriting reminiscent of The Smiths and The Jam, frontman Paul Smith uncannily narrates moments from my year. There's the sinking suspicion that someone I was dating was playing the field without telling me on "Going Missing" ("I sleep with my hands across my chest and dream of you with someone else"); an impassioned statement to win her over in "Kiss You Better" ("And if it comes down to me and him / You know I'd kiss you better"); and the punch to the throat on "Signal and Sign" ("I'd love to meet her, but she won't see me"). "Postcard of a Painting" reminds me of the desperate scrawls written to get another gal back and make amends. There's the eventual acceptance that these dames just don't dig in "Now I'm All Over the Shop" ("I know you'll be fine / Now that you're not mine"). But as with any year where a few things go awry, there are lessons learned. From "The Coast is Always Changing": "I am young and I am lost / Every sentence has its cost" and "Age makes no difference `til you open your mouth". But the most important lesson is from "Apply Some Pressure": "What happens when you lose everything? / You just start again / You start all over again." It's going to be a happy new year.— Hubert Vigilla
---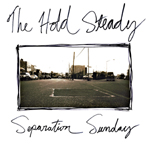 22. The Hold Steady – Separation Sunday
Skinny boys in tight pants and blazers with angular guitar lines and far too much eyeliner can be a little grating when all you want to is rock out. Enter the Hold Steady. More confident than their stellar debut, Almost Killed Me, the Hold Steady present Separation Sunday, the story of Hallelujah and Charlemagne in the mean streets of Minnesota. But the story line doesn't impinge on the Hold Steady's ability to rock. "Stevie Nix" wins the award for most kick ass guitar riff and frontman Craig Finn's more-talking-less-singing approach to vocals makes it easy to yell along to. Just make sure you don't spill your beer. – Molly B. Eichel
---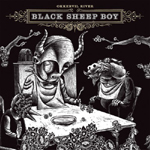 21. Okkervil River – Black Sheep Boy (Jagjaguwar)
Will Sheff doesn't play by the rules. First, he has the audacity to begin an album with a cover. Then, he builds a loose concept album around the character from that cover. Unheard of! But even with this odd revolt against conventions, Sheff and his Austin based band created one of the most consistently strong and emotionally affecting releases in a long while. Turning on the distortion for the first time, Okkervil River takes on the aggressive ("For Real"), the anthemic ("The Latest Toughs"), the dreamy ("A Glow"), all the while lending a voice to this supposed Black Sheep Boy. Sheff's narratives are vivid, touching and often disturbing, tossing in imagery of torn throats, the flash of steel from "real guns" and everyone burning. The string of tales, though loosely held together, creates an oddly cohesive collection, one that can be appreciated by sensitive poet and disheveled rocker alike. It's the smartest album ever to break your heart. – Jeff Terich