Tortoise : Beacons of Ancestorship
Since their inception, Chicago post-rock pioneers Tortoise have made music in the interest of defying convention. Neither a rock band, nor a jazz band, nor a dub, ambient, pop, dance or lounge act, Tortoise carved their own niche out of a blend of all of these, and an ear for the unexpected. From half-hour-long epic compositions like "Djed" to the glitchy electronic pieces on Standards, Tortoise has made a career out of stretching limits and re-molding the structures of acceptable norms of popular music while retaining accessibility. Yet by the time they released It's All Around You in 2004, the band had become too Tortoise for their own good. What was once novel and forward thinking became too familiar and too safe. As far as the group had progressed in a decade, by the end of it they were starting to pump the brakes on their creativity.
Though It's All Around You was the group's last proper full-length, they've nonetheless kept active, issuing The Brave and The Bold, a covers album with Bonnie "Prince" Billy, and box set A Lazarus Taxon, not to mention a vast array of external projects ranging from Exploding Star Orchestra to Powerhouse Sound. As long as the drought of new Tortoise material may have seemed, however, the time away has done the band well, as Beacons of Ancestorship finds the group sounding their most creative and inspired in ten years.
The most striking indication of the leaps and bounds Tortoise have made since their last outing is "Yinxianghechengqi," which is not only nearly impossible to pronounce, but a monstrous, noisy, Kraut-punk song as well. By no means played in any sort of linear pop song fashion, the track may still contain some scarce elements of Tortoise's more recognizable methods, but it's the first instance on record in which the group's post-rock sound is more accurately just rock. Still, just to assuage any fans' fears that the group has gone punk, "The Fall of Seven Diamonds Plus One," the song immediately following this distorted prog tantrum, is a breezy and elegant instrumental much in the vein of the group's earlier work. That said, its kind is a minority on Beacons.
Synthesizers play a prominent role on Beacons of Ancestorship, more so than on any other Tortoise release, save for Standards. Yet where that album delved into glitch and IDM textures, this has more of an organic, analog feel. On album opener "High Class Slim Came Floatin' In," the group approximates Neu! tackling cinematic boudoir funk, as little sense as that may sound. But its epic eight-minute span is stunning in scope, and a joy to journey through. "Prepare Your Coffin," meanwhile, is shorter and more direct, skipping along urgent rhythms as its melodies escalate into suspenseful and dynamic breakdowns. "Northern Something," one of the album's shorter treats, is a completely awesome throb fest, issuing an assault of distorted synthesizers and furious beats. And "Gigantes" builds from looped repetitions of what sounds like a detuned guitar into an electronic jam that's, dare I say it, actually quite danceable.
Toward the end of Beacons of Ancestorship, Tortoise venture into far stranger territory, with tracks like "Monument Six One Thousand" and "Charteroak Foundation" defying the idea of a mash-up by pairing lo-fi guitar tracks with seemingly incongruent bass and drum rhythms. Still, these songs are ultimately successful, due to the group's adeptness at rhythmic complexity and intricate arrangements. And ultimately that holds true for the album as a whole. Whatever fears of Tortoise losing their creative spark existed in the past five years can be cast aside with Beacons of Ancestorship. Still stepping outside of boundaries and redefining what a (post-)rock band can do, Tortoise sound as relevant and as vibrant as ever.
Similar Albums:
Trans Am – The Red Line
Fridge – The Sun
Battles – Mirrored
Download at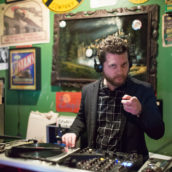 Jeff Terich
Jeff Terich is the founder and editor of Treble. He's been writing about music for 20 years and has been published at American Songwriter, Bandcamp Daily, Reverb, Spin, Stereogum, uDiscoverMusic, VinylMePlease and some others that he's forgetting right now. He's still not tired of it.