Live Review: Treasure Island Festival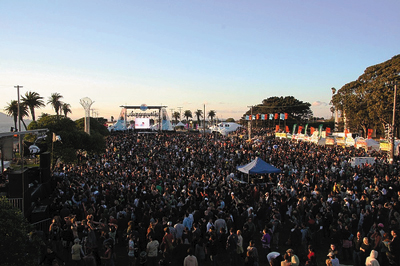 Some may say that Austin City Limits—with its massive lineup, still-scorching Texas temperatures and mid-September timeframe—signifies the end of the summer festival season, acting as last man standing in a long line of traditional festival predecessors, including Sasquatch!, Bonnaroo, Summerfest, Lollapolooza, etc. Twinkling brightly in the shadow of the mighty ACL, however, was the surprise inauguration of San Francisco's Treasure Island Festival. The humble gala managed to include all the important elements of the modern-day juggernaut music festival and par itself down to a tidy package of 28 amazing bands, a sampling of vendors and activities, and an equally fantastic time.
Traditionally, San Francisco has not boasted a festival scene that can truly compete with cities like Chicago, Austin, and New York. Noise Pop is based in and around the City over a couple weeks' time, the more formal events like the BFD and Download festivals are held in Mountain View's Shoreline Ampitheatre (40 miles outside of SF, mind you), and specifically eclectic festivals are held in Golden Gate Park and Stern Grove. Theoretically, this may be because the compact city of SF can only host so many people and activities in one inclusive place, preventing the addition of the more conventional large festival. However, by choosing Treasure Island as a venue, nestled in the Bay just a couple of miles from the City's shores, the powers-that-be have found space where there seemingly was none, presenting a truly marvelous festival that nips threateningly at the heels of the Lolla-ACL giants. And while Treasure Island will probably never be able to grow to the point of showcasing 100 acts and accommodating 80,000 people, there's really no reason that it should. As it is now, the smaller collection of 14 stellar acts and roughly 10,000 people per day made for—dare I say—the perfect festival experience. While the bathrooms were still gross and the ATM lines were still long, the crowd-induced crankiness and tripping over neighbors and spilling beer and widespread body odor levels were minimal. To top it off, the festival grounds were situated right at the island's edge, allowing for stunning views of the sparkling Bay and sailboats dotting the San Francisco skyline. And for those of us who find traditional summer festival heat to be unbearable, the salty sea breeze and occasional light fog made for a nice cool change of pace.
Besides the music, albeit the biggest draw for those in attendance, the festival (put on by Another Planet Entertainment and Noise Pop) showcased a few other noteworthy elements of entertainment, and hell, even some education. The festival's "Treasure Chest" featured stilt walkers, professional (and hott) hula hoopers, members of the Bay City Bombers, the mobile puppets from Big Nazo (some of which looked like giant boogers with legs), local crafters and poster artists, a McSweeney's/826 Valencia booth, a Ferris Wheel, and a large tent chock full of old-school arcade games. In order to augment the festival's extensive greening efforts, there were also educational booths about renewable energy, centers where you could turn in your recyclables for free swag, and opportunities to recycle old cell phones via the folks at CollectiveGood. It's become more than trendy to make our music festivals "green" in these days of the inconvenient truth, and it appears that all of the TI Fest's efforts to follow suit proved fruitful.
Kicking off on Saturday with the hip hop/electronica circuit, it became clear from the beginning that we were in for a great weekend. The festival's logistics proved for a flawless execution of events, as everything ran according to schedule—a far less common trait of most music festivals. The two stages, aptly labeled Bridge and Tunnel, worked in tandem with each other, and when one set ended, the other started right away at the other stage, never overlapping and creating a continuous flow of music. Zion-I was the first act we managed to catch at the Bridge Stage, and even when the power temporarily blew out halfway through their set, the hip hop duo and friends managed to keep the energy going and declared that "I seen San Francisco, she smilin'," once the sound was recovered.

Zion-I
Next up was Honeycut on the smaller Tunnel Stage, presenting a surprisingly solid Prince-like style of mod electro-pop, with Bart Davenport's falsetto vocals augmented by funky, soulful hooks and hip hop loops. I had not heard Honeycut before this set, but suffice it to say that I now consider myself a fan.
By the time M.I.A. conquered the Bridge Stage wearing a peacock bra over a blue T-shirt and yelling out "WHERE MY PIRATES AT?," the crowd had increased significantly and the Treasure Island Festival spirit was in full swing. The Sri Lankan goddess took the stage completely by storm, climbing up the rafters and showcasing her best tunes from both Arular and Kala before bringing a gaggle of badass ladies from the audience onto the stage to dance along. Closing the set with "Galang," I found myself realizing that M.I.A. was one of only a handful of female musicians that would take the same stage over the course of the weekend (what's up with that, Treasure Island?), and she still managed to give one of the best performances of the entire festival.

M.I.A.
The most surprising acts of the day came in the form of Flosstradamus and then Gotan Project. Flosstradamus managed to throw together a major dance party at the Tunnel Stage, mashing up club favorites like Daft Punk, Jay-Z ("Big Pimpin'," yo), and Cypress Hill into one kick-ass set. Gotan Project, while starting off somewhat forgettable, launched themselves into an incredibly intricate montage of piano, synth, guitars and strings, falling somewhere in between tango and electroclash, and it was absolutely beautiful.
DJ Shadow and Cut Chemist, however, failed to deliver. Performing a set that they dubbed "Hard Sell," the specifics of their art was explained through a mock intro video, explaining that the DJs would spin only the non-traditional 45s on eight different turntables – i.e., these two spin geniuses were supposedly about to blow our minds with their mad skillz. And while the music was more or less solid, those who put on their funky shoes found themselves without much inspiration as the set failed to peak.
After the sun set and the crowd starting breaking out the hoodies (note to self: bring more layers next year), Kinky closed out the Tunnel Stage with their mariachi-tinged electro-funk that absolutely rocked the crowd.
Thievery Corporation then topped off Day 1 of the Treasure Island Festival, their nine-piece band bringing sitar-led, belly-dance sprinkled electronica to the packed festival grounds. Thievery's live set is a true concert spectacle, with the two drum sets, mixers, bass, guitar, horn section, and a rotating cast of lead singers oozing chemistry and dynamic eclecticism.
Day 2 of Treasure Island began with a trip across the Bay Bridge in one of the festival shuttles, as dictated by the festival's somewhat-intimidating transportation system. Those who did not purchase VIP tickets were not allowed to park on the island, and therefore had to shuttle in from a large parking lot near downtown San Francisco. This was an element of the festival that I approached with some apprehension, as there seemed to be potential for disaster. However, we found the system to be much more efficient than it originally implied, with cushy, zero-emission vehicles, brief waiting periods, and easy trips on and off festival grounds. Major kudos to the festival planners for creating a transportation system that was both efficient and environmentally friendly.
After a rousing game of foosball (I demand a re-match), we caught Au Revoir Simone on the Bridge Stage as our first act of the day, whose beautiful and erudite synth-pop was an extremely good sign of what the festival still had in store. The three ladies displayed remarkable chemistry and humility, declaring over and over how happy they were to be a part of the weekend's festivities. We dubbed their sound "electro hippie" and then geared ourselves up for the rest of the day.
Local honky-tonkers known as Trainwreck Riders were next, playing a nutsy set of garage-meets-rockabilly and displaying explosive energy as the sun broke through the early afternoon fog. They're definitely a fun group, though I must admit I wasn't totally blown away. However, I think I'm in the minority here, as the Riders seemed to please many members of their Treasure Island audience.

Trainwreck Riders
Another set of local boys was next in the form of Two Gallants. Interestingly enough, friends of mine arrived right around this time, one of whom used to play in a band that Two Gallants opened for about five years ago. He said that back then, they weren't all that great, and could hardly rise above mellow coffee shop rock. Now, however, the Two have earned their spot as main stage players at a festival like Treasure Island, their folk-blues rock emanating strongly across their hometown bay. Their set was fairly low-key, but nonetheless enjoyable.
M.Ward then brought his raspy voice to the stage, conquering the growing afternoon masses with his warm, meditative folk-rock. The songs in which he sat at his grand piano were especially captivating, and as his raspy, whiskey-tinged voice wafted over the festival grounds, I felt widespread levels of swoon permeate from the crowd.

M. Ward
L.A.-based Sea Wolf's Alex Church made a point to highlight the oft-hatred that the Bay Area expresses toward our Southern CA counterparts ("Everyone here hates L.A., it's fucking hilarious!") in between the band's stellar indie pop numbers, including ubiquitous favorite "You're a Wolf." Clap Your Hands Say Yeah took on the crowd next, and while I felt that some of the band's finesse is lost within such a large setting, they still procured an excellent sense of their signature gossamer pop-rock.

Sea Wolf
I was curious as to how well Built to Spill would translate their live act for a festival set, as their guitar-hero rock seems as if it would work better in a sprawling, headlining concert setting. However, by mixing up their set with songs like "Liar," "You Were Wrong" (my personal favorite), "Conventional Wisdom," and "Car," Doug Martsch and Co. managed to deliver a solid performance that was concise without compromising their trademark guitarscapes.
Spoon's live shows are notorious for being as crisp and clean as Britt Daniel's fitted shirts, and having personally seen the band twice in the past year, I can safely say that this is usually true—the quartet remains tight and locked to the style of restraint as their greatest asset. Britt is usually the upright backbone to this body of sound—however, Spoon's performance at Treasure Island saw the Brittmeister acting outside the box, incorporating more improvisation and unbridled enthusiasm to the amazing set. He punctuated the refrains of "They Never Got You" with a bunch of extra `oooohs' and `yeahhhhhs' and went completely wild during the guitar solo for "My Mathematical Mind" in particular, which made the performance all the more spectacular. I don't know if it was the sunset ("It's a nice night for rock and roll!"), the pelicans flying across the sky above the stage, the enthusiastic crowd, or his big red cup of what my friend Natalia dubbed "courage juice," but Britt played like a man possessed. I've said it before and I'll say it again—Spoon is simply extraordinary. I can't declare enough love for this band.

Spoon
The festival closed with none other than Modest Mouse, for whom I saw at least twenty die-hard fans waiting at the base of the stage from the moment the festival opened for the day. I always try to act too cool for Modest Mouse, but I realized on this night that there's no reason to continue such an act of silly defiance. The band is excellent, the addition of Johnny Marr only furthering the cause, and their set was absolutely infectious. Extra kudos goes to Isaac Brock and his vibrant band for playing at full force while either infected with or just getting over the flu – how rock and roll is that?

Modest Mouse
In the aftermath of the very first Treasure Island Festival, I have not been able to keep myself from gushing about its success, and everyone I've come across with who were also in attendance have felt the same way. It was both a haven for some of the best current music and a perfect showcase of the city of San Francisco and the population within, who have been patiently waiting for such an event to come along. When you can get everything you could really want from a music festival, find it to be extremely accessible and environmentally-friendly, and don't experience quasi-deaths from heat stroke—all the while looking out across the gorgeous views of the San Francisco Bay—it really doesn't get much better than that. For the wonderful folks at Another Planet Entertainment and Noise Pop, I have just one question: What took you so long?
Special thanks go out to Another Planet Entertainment, Listen Up PR, and Noise Pop for all their tremendous efforts.
And extra special thanks go out to my new friend Matt Mills, for being the other half of Team Awesometown and taking such awesome shots.