Treble at 10: Bizarre musical moments of the last 10 years
We've spent the last few weeks celebrating our 10th anniversary through a series of articles highlighting the music that made the decade one to remember. But we're closing it in a different way, showcasing all the stuff that made the decade truly bizarre. Here's a selection of trends, phenomena and other such stunts that made the decade unforgettable in a way we might prefer to forget.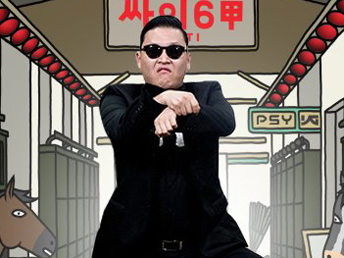 Viral Video Mayhem
You wanted your Internet, huh? You wanted your decentralization of media, your populist-driven artistic agenda, your shattered elitist glass castles and your urchin-led Bastille storming? Freedom isn't free, pal. (Usually you get a 404 Error or two.) As the Internet, specifically YouTube, gave widespread voice to nearly everyone in the world, a terrible thing happened: it gave widespread voice to nearly everyone in the world. Say what you want about how awful the ogre media gatekeepers were – except for the Macarena, they had their standards.
The internet-driven breakout hit – which we'll define as a song by a musical newcomer, or someone with limited global presence, that rose to prominence via YouTube with absolutely no label sponsor – plays off the nebulous data of search strings and permalinks.
As such it creates a whole new aesthetic construct based on some measure on disbelief. For example: "I can't believe that Psy guy dances like that!" Or "I can't believe someone let Rebecca Black near a recording studio!"
It's impossible to pin down the characteristics of a viral pop classic. You could say it's either so bad or freakish that it's good, or that it's so perfectly executed that it's funny. But over the past ten years, these songs – for whatever reason – seemed to point the way towards some rickety, unstable viral pop sea that's going to eat up our Dramamine budgets real quick.
"Chocolate Rain," Tay Zonday (2007)
Given its 2007 release date and with over 94,000,000 YouTube views, "Chocolate Rain" could be considered the first major WTF hit. Its pinging, shrill and never-ending piano/drum riff suggests a pre-professional Casio, and Zonday's dramatic, Paul Robeson-esque baritone sounds like it would be right at home in a community theatre production of Show Boat. But in a conscious R&B song, not so much.
To be honest, though, all Zonday might have needed to make this song palatable was an editor. The socially conscious lyrics aren't bad if you read them out (minus the title in every other line). It's the song structure and production values that made it such a curio. Contemporize the sound, say "Chocolate Rain" only once every four lines, and have Tay sing from the throat a bit more… Call me, Tay. Let's talk. I'm an Evergreen State Geoduck just like you!
"Friday," Rebecca Black (2011)
"Chinese Food," Alison Gold (2013)
Oh, ARK Music Factory. The welcome mat to the antechamber of the cathedral of fame – or maybe just the woodshed. The L.A. production company is little more than the cybernetic equivalent of the "song poem" industry, which was active in the back pages of hobby and music magazines between the '50s and '80s. Instead of sending $15 and a copy of your poem to be set to music – an actual, legitimate business model which resulted in such bona-fide classics as "Jimmy Carter Says Yes" and "A Blind Man's Penis" – ARK charges artists or their representatives/parents a single mortgage payment (like, $4,000), and they write, arrange, produce and record a special music video, and post the results on YouTube.
Their breakout hit was Rebecca Black's "Friday," about which very little needs to be said, except that most of its hits probably came from internet articles and Google searches for "worst song ever made." With their new song by 12-year-old Alison Gold, "Chinese Food," ARK seems to have gotten the point that they'll glean more industry credibility if they admit they're more suited to novelty songs. In a way that kind of data-driven redefinition is admirable. On the other hand, "Chinese Food" is now the #29 song on the Billboard charts. That can't be good for the Four Horsemen crowd.
"The Fox," Ylvis (2013)
Like the seminal 2001 internet meme "Yatta!" from a Japanese sketch comedy show, "The Fox" is a product of Norwegian comedians that's just curious and inexplicable enough that some might not think it's a joke. (Their new video "Massachusetts" should clear up any questions about their comic intent. Maybe not in Massachusetts.) One could take "The Fox" – which is the #6 song in America as I write this – as either an absurdist free-for-all that gets better the sooner you turn your frontal lobe to snooze mode, or another example of how European art just flies way too above our heads, like Salvador Dali, Roberto Begnini and Mr. Bean.
"Gangnam Style," Psy (2012)
1.8 billion YouTube hits. Billion. That is roughly one view for every four people in the world. The biggest K-pop song in the history of the cosmos got much more attention for its nouveau equestrian dance craze, but Psy's song had just the slightest satirical bent, as it's a sly commentary on would-be hangers-on, desperately trying to fit in to the posh Gangnam District of Seoul. In other words, this is Weezer's "Beverly Hills" or Randy Newman's "I Love L.A.," just 6,000 miles west.
"Lazy Sunday," Andy Samberg & Chris Parnell (2005)
"Dick in a Box," The Lonely Island feat. Justin Timberlake (2006)
"I'm on a Boat," The Lonely Island feat. T-Pain (2009)
All these originated as SNL Digital Shorts from Saturday Night Live, but their popularity on YouTube far outstripped the numbers they got from TV. "Lazy Sunday" – released before the Lonely Island were a name, but included on their debut album Incredibad – stands with an even bigger shadow of influence than most of the songs on this list. The comic rap exchange between the Island's Samberg and SNL veteran Chris Parnell was one of YouTube's very first breakout smashes, period, and may have raised the video service's profile so high that Google snapped it up two months later. It jump-started Samberg's career as well, and being the most successful gangsta rap about a pleasant Sunday in New York seeing The Chronicles of Narnia, it's one of the funniest hip-hop songs ever made by anyone.
Almost any other Lonely Island video could go on this list, but "Dick In A Box" and "I'm On A Boat" had such widespread cultural, uh, import that they nearly created tempests as big as "Lazy Sunday." Plus "Dick" won everybody involved an Emmy, including Timberlake (he's a co-writer), which was to the TV awards show as "It's Hard Out There For A Pimp" was to the Oscars. Somewhere on a cloud up there, Spike Jones is laughing himself hoarse.
"Auto-Tune the News," The Gregory Brothers (2009-2010)
Launching just as the Tea Party was flexing its toe knuckles and cable news reporting rocketed down its steepest devaluation, Brooklyn wise-asses The Gregory Brothers ripped out a whole series of news clips strung together as songs, in which political superstars and junior-circuit pundits were treated with the Auto-Tune pitch correction program. The best was Episode 6, in which diatribes by Michelle Bachmann, John Boehner, and Sarah Palin were gloriously belittled by song, and a doctor commenting on Michael Jackson's demise turned in one of the great hooks of the decade when he said he knew one day he'd "wake up dead." The series changed its title to Songify the News and the Brothers also focused on single-subject clips (remember "The Bed Intruder Song"?), but the 13 original ATTN's still bring the most bite.
"Trololo Song," Eduard Khil (recorded 1976, popularized in 2009)
Finally, the rare instance when YouTube reached to music's practically pre-historic past to inform its currency. Eduard Khil, a Russian baritone, recorded this song under the title "I Am Glad, 'Cause I'm Finally Returning Back Home," but the song contained no actual lyrics – just the most basic, populist vocalese that children three and older could sing along with. The song's unknowing, unaware simplicity undoubtedly has something to do with its origins in pre-glasnost Russia, when you couldn't get much Western pop behind the Communist borders. If you hadn't heard Skynyrd, Elton John or even the freaking Carpenters in '76, this may be all you could have come up with. The song found its way onto The Colbert Report, and Christoph Waltz did a memorably dirty parody for Jimmy Kimmel Live!; that helped this blithe, absolutely-could-not-be-more-complicated aire become a legitimate postponed hit. Khil, for his part, received the song's post-irony success with elderly grace and good humor in the years between "Trololo's" late success and his death in 2012. – Paul Pearson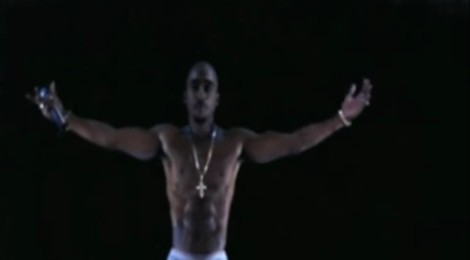 Holograms, stunts and Crunkcore
Concert Holograms
The Coachella Music Festival has been known as America's go-to music weekend for stunning feats in booking (Daft Punk and Madonna in 2006, Rage Against the Machine in 2007, Prince in 2008) and occasional surprise visits. A 2012 reunion of Dr. Dre and Snoop Dogg brought another drug thug, Tupac Shakur, out of the woodwork — despite him having been dead since 1996. With fresh words and on-stage interactions, 2Pac v 2.0 wasn't really a hologram but a grand-scale application of technology and magician's tricks that had previously been used to resurrect dead CEOs for corporate events. Since then, significant virtual "appearances" have been made by the late Eazy-E, PSY, Kelly Clarkson, and a host of J-pop and K-pop artists. The Pacific Rim in particular wants to use the technique to simulcast artists' concerts, which must make good business sense somewhere for someone. Yet there's even more sinister talk of moneygrubbing "resurrection tours" featuring Jimi Hendrix, Elvis Presley, Freddie Mercury, Marilyn Monroe and Michael Jackson. Would your mind be blown because you're seeing a dead legend, or because you're creeped out at the idea of seeing a dead legend? – Adam Blyweiss
brokeNCYDE
At the beginning of brokeNCYDE's "Freaxxx" video, a couple emo kids dressed in neon step out of a Range Rover. Some dude with a 40 starts screaming metalcore style. There are dancing girls, a guy in a pig suit, and more screaming in the faces of those dancing girls. And then during the bridge, some kind of weird heartbroken jilted-lover kiss off kind of thing? All after repeated choruses of "Let's get fucking freaky now." If you can understand how any of these elements fit together, then you're a better person than I am. As I understand it, the Albuquerque group (for which maybe we can credit some blue meth) plays "Crunkcore," which is a strange hybrid of metalcore aggression and dirty south hip-hop beats. And it's awful. It's worse than witch house. And witch house is the worst. And if you thought "Freaxxx" was confusing, then watch "Teach Me How To Scream," which is like LMFAO for frustrated suburban teenage boys who need to get their aggression out at/because of the opposite sex. In the video there's an oddly homophobic and maybe even racist incident involving harrassment of a tall, black transvestite. I'll go with the juggalos, thanks. – Jeff Terich
Jack White meets ICP
Run DMC and Aerosmith. Jay-Z and Linkin Park. House of Pain and Helmet. Music history is full of all sorts of rock/rap collaborations. Some attempts are mind-blowing, others are simply embarrassing, but the Jack White produced Insane Clown Posse track, "Leck Mich Im Arsch," somehow managed to be both at once. In 2011, while working on an arrangement of Mozart's well known canon (which originally featured live instrumentation by JEFF the Brotherhood), White decided to take the project to its logical end and throw America's favorite 'love-to-hate-em' clown rappers in the mix. They're lyrics were inspired by the canon's title, which loosely translates to "lick my ass." How charming. Call it what you will (bizarre, an atrocity, a waste of talent, etc. etc.) but Jack and ICP joining forces was definitely memorable. – A.T. Bossenger
Death Grips No-Show
I was late to jump on the Death Grips bandwagon, but after a few listens to The Money Store earlier this year I was hooked. After failing to secure Lollapalooza tickets before the festival sold out, my last resort was to choose an after party, and for $18 I punched my ticket to see Death Grips on Aug. 2 at the Bottom Lounge. Two months later, the day finally arrived to encounter what I envisioned as an intense primal experience at a sold-out venue that holds around 300 people. Death Grips were scheduled to go on at 11 p.m. At around 10:45 p.m. the backdrop was revealed. It was a Gmail screenshot of an apparent suicide note sent to the band in July. It was signed by the initials AJJ, and was basically about how afraid the fan is to not have Death Grips' music in the afterlife. Perplexed but extremely excited the crowd stood by, but then 11 p.m. came and went.
Eventually music started to blast out of the speakers and everyone around me went nuts, even though the only thing onstage was various cables and a drum kit. A couple songs later the crowd surfing, jumping, and pushing started to calm down. I don't remember the exact playlist, but I did get to rock out to "Hustle Bones" and "Get Got" with a bunch of inebriated strangers which was cool, but after fifteen minutes of recorded songs, the sound of disapproval from fans started to compete with the music's volume. Around midnight the show was officially cancelled. Some kid furiously forced his way past me and started knocking down the cymbals. He grabbed the kick drum turned around and slammed it to the ground.  I watched three people rush over and fail miserably as they tried to kick through it. Eventually everyone began taking turns smashing it on the ground. I watched it eventually break from a distance and decided to leave since there was nothing left for them to destroy.  The next day word began to spread about the "violence" that went down. The kick drum did get smashed, but I didn't see any signs of it getting out of control. Billboard, NME and Pitchfork reported that fans stormed the stage and trashed the equipment which isn't completely accurate.  A few weeks later it was reported that the whole thing was a stunt, and the pre-recorded music was the show. Despite the anger after my first Death Grips show forcibly put on hold, in hindsight, it was pretty bizarre seeing everything but members show up for a performance. I'll definitely be noided the next time I buy tickets to see them. – Dan Pritchett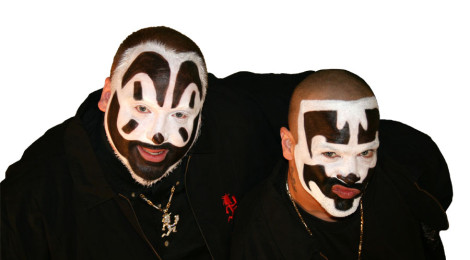 The Decade in Juggalos
Juggalos — If  you've seen them, you've probably avoided them (unless you are one, or your name is Chris Pacifico). Spawned from the minds of the forever bewildering, Detroit 'hip-hop' duo Insane Clown Posse, Juggalos (aka "True Juggalo Homies" aka "Not Juggahos" aka "Why Has It Come To This") are the cult-like super fans of both ICP, and the entire miasma of acts that can be found on the ICP-owned label, Psychopathic Records. Since the early '90s, Juggalos have been identified by their penchant for Faygo soft drinks, loud cries and responses of, "woop, woop," and most notably, the black and white clown paint that adorns their faces. The face paint is worn like a badge, the exclamations are not-so-secret greetings and affirmations, and the Faygo? Just a delicious (and affordable!) indicator of where this all started: Detroit, Michigan. Even in bankruptcy, Juggalos prevail. Because Juggalos are for life, ninja.
For better or worse, this gutter-fed and proud counter-culture of our generation made it into the mainstream by the mid-aughts. Around this time, people started noticing instead of ignoring the Juggalos in their midst, and soon, everyone from Rolling Stone to the Village Voice to Deadspin was chronicling them, and a documentary ("American Juggalo") would soon follow suit. In 2009, comedy had gotten in on the presumed joke and took it one step further. Here is a quick rundown of the notable comedic moments inspired by the always bizarre and seemingly obtuse Juggalo culture.
Saturday Night Live – Kickspit Underground Rock Festival  & The Gathering of the Juggalos Infomercial– the most well-known facet of Juggalo culture is the annual carnival of dark souls christened, "The Gathering of the Juggalos." All accounts of the Gathering contain the same motifs: drugs, nudity you don't want to see, drugs, nudity you may want to see, drugs, nudity you're not sure if you wanna see, drugs, lots of, "woops, woops," lots of Faygo, Vanilla Ice and drugs. It's like white-trash Christmas only better cause it spans multiple days (white-trash Chanukah?) and it takes place outdoors in some godforsaken Illinois location.  However, unbeknownst to many was the fact that the Gathering sponsored their own infomercials promoting the event.  I have no idea what channel they ran on, I have no idea what time they ran at, but they exist, and we as a species are better for it.  Watch an excerpt from an actual infomercial, and the SNL parody version of the infomercial. And no, I am not sure which one is funnier.
It's Always Sunny In Philadelphia – "Juggalos 4 Life, Bitch" – Though the plotline is merely a face painted step-child to the "A" story of this classic episode (Lethal Weapon 5!!!), the Sunny gang manages to encapsulate a lot of Juggalo ethos and personal strife in only a handful of minutes. After saving a high school, wannabe Juggalo from being bullied in the boy's bathroom, Charlie takes the lad under his wing, but only after he gets an elementary run down of the Juggalo code. The emotion comes from the obvious; Juggalos (literally) paint themselves as outsiders and wear that label proudly, but without hatchet wielding family members there to support them, they're just another misunderstood member of someone else's society. Perhaps we all need to be more like Charlie and listen.  But under no circumstances should we ever be bathing teenage boys.
Workaholics – "Straight Up, Juggahos" –  A blind date turns into an impromptu outing at the aforementioned Gathering as the dudes attempt to save Jillian from the clutches of Juggalo nation. But in an unexpected turn of events, Adam, Ders, and Blake slowly begin to see not only the appeal as outsiders, but their own status as outsiders, and soon they grow accustomed to the breadth and opportunity afforded to them by the Juggalo community (you know, before they realize that Juggalos are insane). Oh, and Adam gets down with a nunchuck wielding Rebel Wilson way before their "Pitch Perfect" days.
Insane Clown Posse – "Miracles" – Given this is a column linking the effect of Juggalo philosophy on mainstream comedy, one may expect that the parodied SNL version of this video from the forefathers of this entire movement would be here. But no. I have never seen that version. Watching SNL spoof this video would be like watching the remake of the "Pink Panther;" superfluous and impossible to match in its comedic chops and (potential) self-awareness.  Also – you Googled how magnets ACTUALLY work after seeing this, didn't you? It's OK, I won't tell.
Insane Clown Posse featuring Ron Jeremy, Jason Mewes, Brigitte Nielsen, Todd Bridges, and so many, many more – "Big Money Rustlas" – In 2010, the Juggalos worldwide scored a massive victory in the form of a 90-plus minute, full-length straight-to-Goodwill stores release  of "Big Money Rustlas," a western (I suppose) that features pimps, midgets, ghosts, horse penises and true Juggalo homie, Vanilla Ice.  The much-funnier-than-me Max Silvestri summed up this "film" better than I ever could. All I can say for certain is that viewing this effort will be a barometer of your dedication to the study of Juggalo culture, as well as a mirror as to exactly where you are in life. Potential Juggalos scholars everywhere, beware. – Kevin Falahee