Treble's Top 100 Singles of the '90s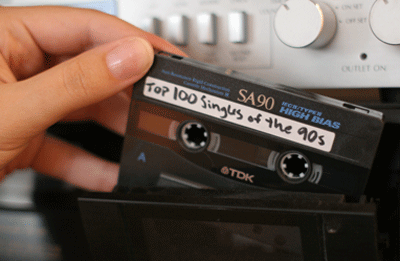 Depeche Mode – "Enjoy the Silence" (Mute, 1990)
"Words are very unnecessary, they can only do harm."
Mind you, these words come from a lead singer's mouth, possibly the most charismatic lead singer of the '80s and '90s. I'd be hard pressed not to include Violator in my top five albums of the entire decade of the '90s, coming out just two months into the ten year span. Depeche Mode was easily my favorite band of that year, and Violator the holy grail, the touchstone, the gold standard of Depeche Mode albums. Out of an album full of high quality synth-pop (and even guitar!) gems, including "Personal Jesus," "Halo," "Clean," "World in My Eyes" and "Policy of Truth," there was just something about "Enjoy the Silence" that made it the best song off the album. It might have been the inclusion of those twangily played guitar notes or it might have been the angelic chorus bursts from the synthesizer. It might have been the video with Dave Gahan and the roaming lawnchair, or it might have been the lyrics denoting that the more one delves into a relationship with conversation, the worse it gets. Other than "Never Let Me Down Again," it's probably DM fans' most recognized and requested songs and with good reason. After the first few verses go by and the first chorus comes around, there's a burst of kinetic energy, made more apparent in Failure's brilliant cover of the track for For the Masses. It was reported that members of DM thought the cover was even better than their original, but you won't catch me saying that. At least not out loud. – Terrance Terich
Watch Video
Download at iTunes
Pavement – "Cut Your Hair" (Matador, 1994)
"Cut Your Hair" was arguably Pavement's greatest flirtation with mainstream success (i.e., MTV and heavy-hitting alternative rock radio flashed coy smiles and gently brushed a few elbows by giving the song some actual airplay), but that unsurprisingly does not altogether define the Little Indie Band That Could of the 1990s. I hope that the irony is not lost on anybody here, seeing as the song's underlying snark takes a jab at the idea of selling out and the music industry's increasing focus on commercial success while turning a blind eye to the music itself: "I dont remember what / But I don't care, I care, I really don't care / Did you see the drummer's hair? / Advertising looks and chops a must / No big hair! / Songs mean a lot / When songs are bought." There are some that will say that music should have never become an industry, and I wonder if Stephen Malkmus would agree. Seeing as Pavement was one of the first bands to enjoy a reasonable level of success (not to mention a heavy cult following) while receiving support from an independent record label, it seems as if the band did in fact overcome the now-defunct assumption that a band must be signed to a major label in order to see both attention and success. It's no wonder that Pavement is often considered to be one of the pioneers of the indie rock movement, and it's the almost-success of "Cut Your Hair" that stands as a permanent footprint on the road for god knows how many bands to come and make their mark. – Anna Gazdowicz
Watch Video
Download at iTunes
Elliott Smith – "Waltz #2" (Dreamworks, 1998)
The first single off of XO, Elliott Smith's Dreamworks debut, "Waltz #2" was much larger in scope than any of Smith's previous releases, save perhaps for "Miss Misery." And yet the added instruments and layered production of this somber waltz did not detract from the song's introspective poignancy. The lyrics are both lush and evocative, dealing in vivid concrete images ("First the mic, then a half cigarette," "She shows no emotion at all / Stares into space like a dead china doll") in order to explore a tale of family dysfunction. The lyrics never state it outright, but there are oblique notions of a falling out with the narrator's parents. Some speculate that the song is actually a depiction of Smith's own relationship with his biological mother. I can't help but think of the refrain "I'm never going to know you now / But I'm going to love you anyhow." It's so simple but so powerful. Wailing strings trail those sad lines as the song nears its conclusion; like soufflés deflating and buildings imploding. It's a testament to Smith's genius that even as the sound of his work became grander his songwriting skills never dulled. – Hubert Vigilla
Download at iTunes
Neutral Milk Hotel – "Holland, 1945" (Blue Rose, 1998)
The peak of Jeff Mangum's Anne Frank fascination that made possible In the Aeroplane Over the Sea, "Holland, 1945" transcends the sadness of its subject matter to become something inexplicably joyful, a hymn to the struggle against brutality and tyranny, however often stymied, that makes life terribly beautiful even in its darkest cast. Jeff Mangum sings a sad song happy and in so doing erects a monument from the ash and debris of events that have come to symbolize the 20th century's most unthinkable tragedy. – Tyler Parks
Download at iTunes
Oasis – "Wonderwall" (Creation, 1995)
"Wonderwall" begins with the quiet strums of Noel Gallagher's acoustic guitar. Without having heard the song before, one might expect the hushed and whispery voice of someone like Elliott Smith. Ryan Adams' cover of this song is closer to what one might expect from an acoustic love song. Instead, brother Liam's voice comes barreling in Noel once said of his brother Liam that he had the best voice in rock and roll. While I'm not willing to completely agree, due to a lifetime of listening to hundreds of rock frontmen and women and a lack of a brother's hubris, I will say that a case can be made for his brash vocal prowess. As I've intimated, Liam's voice isn't one that you might think would work for this kind of song, but work it does, to the tune of a top 10 single.
Beatles references abound in the track including the terms `backbeat,' a word used in the Chuck Berry song "Rock and Roll Music" that the Beatles used to cover as well as being the title for a Beatles biopic. It also featured the line, "all the roads we had to walk were winding," referencing the Beatles song, "The Long and Winding Road." The title itself is a reference to the George Harrison soundtrack album to a 1968 film of the same name, a collectors' item today. When Liam sings, "You're my Wonderwall," he might be saying that the person who is `saving him' is as important to him as his George Harrison album. Whether its homage or just plain thievery with Oasis, it's hard to distinguish, but "Wonderwall" is such a great song it hardly seems to matter. Interestingly enough, the US single contains another great Oasis song, sung by Noel, called "Talk Tonight," which some might say (pun intended) borrows from X's "See How We Are." So, the fact that Noel is pissed at Green Day for how much "Boulevard of Broken Dreams" sounds like "Wonderwall" seems silly. When asked what songs he wants to be remembered for, Noel responded very quickly with "Live Forever" and "Wonderwall." Good choices, mate. – Terrance Terich
Watch Video
Download at iTunes
Jeff Buckley – "Last Goodbye" (Columbia, 1995)
I shouldn't need to tell you how great Jeff Buckley was. I shouldn't need to tell you that you need to own Grace. I shouldn't need to, but I'm afraid that there might be people out there who don't, and that makes me sad. "Last Goodbye" is probably the most radio-friendly and accessible song on Grace, Buckley's one complete quintessential album. The song and its lyrics were heartbreaking back then in 1994, but they're even more heartbreaking now as we've lost him so early in life. The song is about a breakup, something to which nearly everyone can relate. But whereas most retreat from dealing with the pain, Buckley confronts it head on, lingers there with it and tries to understand. Buckley expresses his own pain, his own regret and his own sorrow in the first verse, stating the end of the affair, but then in the second section, he tries to get into the head of his newly-made ex. "Did you say `no, this can't happen to me' / Did you rush to the phone to call / Was a voice unkind in the back of your mind / Saying maybe you didn't know him at all." Sadder still, the line, "you gave me more to live for, more than you'll ever know." You did the same for us, Jeff. – Terrance Terich
Watch Video
Download at iTunes
Portishead – "Glory Box" (Go! Discs, 1994)
Driving through a world lit by flickering neon, on my way home from somewhere. San Diego, a college student, sedate in the shadows cast by a late night radio show that never failed to sedate. I hadn't gotten into Portishead earlier for whatever reason, but there was something about the intimacy of "Glory Box" in that moody, solitary setting that made me slightly uncomfortable and uncontrollably attracted to it. Beth Gibbons imbues the fragile lyrics with an emotional depth that resonates from beginning to end. – Tyler Parks
Watch Video
Download at iTunes
Pulp – "Common People" (Island, 1995)
While Damon Albarn was the poster-boy for the fey prettiness of Britpop, and the Gallaghers were the uni-browed spokesmen for Britpop bad boys, Jarvis Cocker was the resident intellectual, foppish and lanky, slightly comical with a playboy's flair and disdain for the upper class. This all comes through in Cocker's one bright and shining breakthrough single (at least in the US), "Common People." Pulp was well known in the UK, long before fifth album A Different Class was released in 1995. While it might have been difficult for American listeners to understand references to British politics and the class system, everyone understood slumming, and that's exactly what the subject of the song "Common People" was doing.
Cocker weaves a tale, with affected breathiness and swagger, of meeting a girl at college and `letting' her seduce him. So, what's the catch? Well, she's a rich kid who wants to find out what it's like to do `poor people' things. When she proposes that she wants to do `common things that common people do,' our humble narrator obliges, giving her a lesson in humility and shame. She laughs at his suggestion that she pretend she has no money and he prods her to notice that the people who actually have no money aren't smiling. He tells her that there's no way she'll ever understand what it's like to be `common people' because she'll always have money and that will always color her view of situations. Jarvis explains it far better than I ever could. It's practically a short story in song, for crying out loud. Everyone who loved British music loved this song. Heck, it was such a touchstone track that William Shatner covered it! – Terrance Terich
Watch Video
Download at iTunes
Radiohead – "Fake Plastic Trees" (Parlophone, 1995)
As the strains of the song came drifting through the air currents over the campgrounds near the Gorge, I realized, this is the alternative ballad of our generation. In fact, it's probably the defining song of our generation. Thom Yorke, and his `oh so many' phobias, weaves a three-part tale of this culture's disconnectedness from reality, mass consumption and the `business' of everything. The first verse centers around a girl and her `fake plastic' life, at first starting with the literal, her chemically made watering can and her phony plants, but then goes into the figurative with the `rubber man,' and the town that is ultimately becoming unrecognizable as what it once was. And what does all this do to her? Why, it wears her out, of course. Verse number two involves the `broken man' she lives with and his plastic surgery practice that merely delays the inevitable. He's worn out, too. Finally, there's Thom's `fake plastic love,' who looks and feels like the real thing. And this, children, is what's at the crux of this song, the world being more obsessed with things that are `virtually' the same as the original rather than the actual original. The Sims, virtual reality, avatars, `reality television,' etc. These are the trappings of this culture. It's enough to make Yorke feel like he `could blow through the ceiling.'
Reportedly, the recording of this song occurred after seeing Jeff Buckley perform, which, frankly, is enough to get anyone into an emotional state. But that combined with the fact that Thom nailed the vocals in the first two tries before breaking down crying made for one of the decade's most indelible performances. The transformation from stark acoustic ballad to electric orchestral bombast is the other part of what makes this song so memorable. We all love it when Thom extends the word `wears' after the second verse, and the music swells around him. But why do we love it? Because we feel what he feels. All of our pent up anxieties are released in a wash of musical therapy, beginning with that instant and continuing through the verse. But that's not even the whole song. Don't forget the incredible coda. After the grandiosity of the final verse, we jump back to the stark acoustics and Thom singing the desperate and futile lyrics, "If I could be who you wanted all the time." It's as if he's saying, we can change so much around us with technology and marketing, but the things we cannot change are ourselves. It's not all academic. It's also simply an expression of sadness at a relationship that is seemingly not working out.
That's really just the tip of the iceberg when it comes to "Fake Plastic Trees." I'm sure a lot of people would say that "Smells Like Teen Spirit" is the touchstone of our times, but for me it's "Fake Plastic Trees." – Terrance Terich
Watch Video
Radiohead – "Paranoid Android" (Parlophone, 1997)
The characteristics that make Radiohead's "Paranoid Android" an incredible single are the very same ones that, following common sense, make it a horrible choice for a single. It's six-and-a-half minutes long, well surpassing that prime three to four minute length for radio play. There's sort of a chorus, and there are hooks, kind of, but mostly the song is a big, operatic alterna-prog epic. The band isn't in the video. Hell, Thom Yorke doesn't even say the name of the song. And there's no way in hell you can dance to this song or dedicate it to your squeeze. Marketing this gigantic, unwieldy beast must have been tricky. And yet I heard it on the radio. I saw the video on MTV. I even recall staying up late to see its premiere on 120 Minutes and found myself awestruck by it. It was the antithesis of "Creep," which was probably the point, and in being the leadoff single from Radiohead's OK Computer (which just turned ten years old, by the way), gave popular music a much needed kick in the pants.
In some ways, "Paranoid Android" continued the themes of alienation and consumer society that were explored on The Bends: "ambition makes you look pretty ugly/ kicking, squealing, Gucci little piggy" From there, however, stream-of-consciousness shouting matches come into play ("you don't remember, you don't remember, why don't you remember my name?) amidst the "yuppies networking" and "the crackle of pigskin," and possible origins in Douglas Adams' Hitchhiker's Guide to the Galaxy. And only a lyricist as twistedly brilliant as Thom Yorke could follow a line like "the panic, the vomit" with "God loves his children." In these six minutes, Radiohead seem to encapsulate the absurdity of the human experience without saying anything very specific at all. In fact, given that the song was born out of a handful of songs, there's a non sequitur like quality to it all that lends more background to its abstraction, though little in the way of explanation.
The visceral aural experience of "Paranoid Android" is one of rushing emotions, intense surges of adrenaline and bipolarized highs and lows. It's gentle and beautiful, it's harsh and chaotic. It's like a 1990s version of "Bohemian Rhapsody," without the flamboyance and Gilbert & Sullivan influence. The dreamlike minor key bridge can reduce one to tears, while Jonny Greenwood's kickass solo could find that very same person air guitar shredding within 30 seconds' time. Very few bands release songs this ambitious as a single (ambition makes you look pretty ugly, remember?) and fewer still succeed. I'm not even sure I can name another song to have had any tiny bit of radio play in the past ten years with this level of audacity, let alone a radio single this long. Songs like this have no business being on the radio. And yet it was, thumbing its nose at the modern rock `fridge buzz' at the time, blatantly flouting convention, confusing millions and inspiring just as many. – Jeff Terich
Watch Video