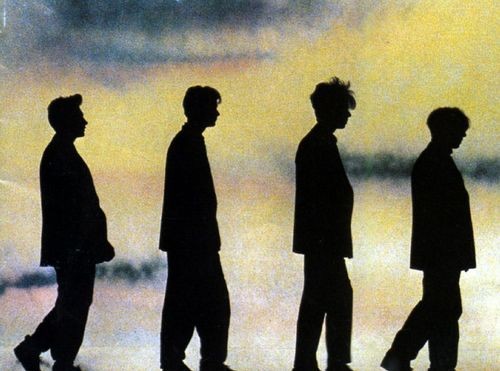 The portentous Orwellian year had passed, the Reagan years were just past their midpoint and more importantly, the glam and glitz of early `80s rock and new wave was making way for music of a higher level, sounds that would have ripples still felt to this day. I was in seventh grade, going into eighth grade in 1985. I had my first real girlfriends, we called it `going with,' and my mind was just beginning to open up to new things, ideas and concepts, the biggest of which was music. True, 1985 had its share of horrible music including Phil Collins' No Jacket Required and Whitney Houston's Whitney Houston, not to mention the still going strong 1984 release Reckless from Bryan Adams, whose songs I frustratingly still can't get out of my head. Take a look at the absolutely fantastic music that came out of 1985 as described below and you'll agree that despite the previously listed bad apples, 1985 was a watershed year for music. Grunge fans, you can have your 1991. Punk aficionados, the same goes for 1977. Give me 1985 any day.
All About the Females
Previous to 1985, a lot of decisions I made, especially the music I listened to, had everything to do with trying to impress particular girls. As an adolescent boy, most thoughts are dominated by an attempt to gain favor with the female sex and music was no exception. Duran Duran, Wham!, and Culture Club filtered out of my stereo speakers as music was just as much about image and glamour as it was actual music. Michael Jackson's Thriller was undoubtedly a massive influence on the early part of the decade, as was Madonna's Like a Virgin. I didn't have to have either of these albums pushed on me as it was somewhat a `cool' requirement to own them. If you didn't own Thriller, a Members Only jacket, and Izod shirts, you might as well get used to sitting by yourself at lunch and drawing unicorns.
But, as I said, I embarked upon my first romantic relationships, which consisted of dates to all of miniature golf, dances, and Disneyland, and music was still part of that courting ritual. OMD, or Orchestral Manoeuvres in the Dark (not Old Men in Drag, as my mother was wont to say), played a big role with their 1985 album, Crush. Panned now as hollow and derivative, its songs meant a lot to me and my friends. "So In Love" and "Hold You" were heavily repeated as theme songs to teenage love (although the latter, embarrassingly my and my girlfriend's `song', was about loving someone who is already taken which shows you how much I really paid attention to lyrics). "Bloc Bloc Bloc" and "La Femme Accident" were great bus ride sing-alongs.
Howard Jones and the Hooters were two other acts that may seem insipid now, but were huge back then. Dream Into Action and Nervous Night boasted huge pop hits. "Like to Get to Know You Well," "Things Can Only Get Better" and "No One is to Blame" were sing along inducers while "And we Danced," "Day by Day" and "All You Zombies" was the best 1-2-3 punch of opening tracks recorded that year. I still remember roller skating to songs by both Jones and the Hooters, before a sleazy restaurant chain sullied the name forever.
If you had a girlfriend in 1985, chances were you were taking her to John Hughes movies on dates. The previous year, Sixteen Candles had been released, making John Hughes a teen movie auteur sensation and Anthony Michael Hall the most lovable nerd in history. The trend continued in 1985 with The Breakfast Club and its huge hit from Simple Minds, "Don't You Forget About Me," a precursor to the great album, Once Upon a Time. Weird Science, and its introduction of Oingo Boingo to the world before its cult smash Dead Man's Party. And finally came National Lampoon's European Vacation, featuring hits by Power Station and The Jam. It would be one more year until two hugely influential films with ground breaking music would be released in Pretty in Pink (featuring most people's introduction to New Order and Echo & the Bunnymen) and Ferris Bueller's Day Off which sent fans into a tizzy to find the non-existent soundtrack album. Meanwhile, Back to the Future was big box-office success, but its Huey Lewis soundtrack left something to be desired.
Not only did my music tastes consist of music that my girlfriends liked (I slightly exaggerate by using the plural, as two of the `goings with' ended after mere days), but there was also music being released that consisted of singular female voices. Kate Bush had been around for awhile, but it wasn't until Hounds of Love that she had a large resurgence in her fan base. "Running Up That Hill" and "Cloudbursting" were eclectic enough to be considered `different,' yet accessible enough to be pop mainstays. Aimee Mann made her group debut with `Til Tuesday and the album Voices Carry. I still listen to this groundbreaking mix of new wave pop and singer / songwriter skills today. Mann not only started a career that lasts until this day, but also started the fashion trend of the rat-tail. Voices Carry would start my life long love affair with Ms. Mann, and I think she's just as much the bee's knees now as I did then.
Pop Goes the World
It would be two more years until Men Without Hats would sing the song with that particular title, but pop would still be the music du jour in 1985. Music video was still in its toddler years with Michael Jackson having broken boundary after boundary in the world of MTV. One of the most groundbreaking videos of that year, and one of the catchiest pop songs of that or any other year, was a-ha's "Take On Me" from the underrated album, Hunting High and Low, its effects are still felt today as bands such as Coldplay cite the Norwegian band as a big influence. Besides Madonna, another one named singer with a feminine voice made waves in Green, the lead singer of Scritti Politti. Their album with the year included, Cupid & Psyche `85 featured the hit singles "Wood Beez" and "The Perfect Way." The fact that these two albums are still in print is testament to their importance and effect.
Tears for Fears exploded with their sophomore album, Songs from the Big Chair. Having had previous radio play with songs from The Hurting including "Mad World," (recently remade into a hit for the film Donnie Darko by Gary Jules) "Change" and "Pale Shelter," nothing would prepare them for the success of such songs as "Everybody Wants to Rule the World," "Head Over Heels," and "Shout." Tears for Fears took the frivolity out of the two man synth pop act that was evident in Wham! and made pop music contemplative again. I can remember getting all worked up inside by the end of "Shout," letting the music take me.
U2 took a break between The Unforgettable Fire and their landmark The Joshua Tree by releasing Wide Awake in America, an EP with two live tracks and two b-sides that would be a precursor to what was to come in 1987. It's amazing how much power you can pack into four songs, but U2 did just that, making it a must have purchase for 1985. I can remember chatting with the friendly clerk at Backstage Records in Fallbrook, discussing U2 singles and how they were probably the most important band of the time. I distinctly remember that his favorite song was "Stories for Boys."
Prince also continued his chart attack after the success of Purple Rain with Around the World in a Day. This is where Prince donned the paisley, making it his corporation trademark, and would take '60s psychedelic pop and soul in a new direction. There wasn't anyone in 1985 who wasn't singing along to "Raspberry Beret." Admit it. Whereas Purple Rain slapped me in the face to the adult world of sex and pain, Around the World in a Day reminded me that everything would eventually be alright, because life just wasn't funky unless it had that 'pop.'
Some lesser known acts, at least at the time, or depending on where you lived, also had quality music at this time. The Dream Academy debuted with their self-titled album and dreamy baroque pop hit, "Life in a Northern Town." Around the same time they also recorded their beautiful, gauzy cover of the Smiths' "Please Please Please Let Me Get What I Want," a UK only single release with an instrumental b-side version that appears in the art museum scene in Ferris Bueller's Day Off in 1986. The song was already a short masterpiece, but in Dream Academy's hands it became like the art hanging on the museum walls, timeless.
Australian powerhouse group INXS was on the verge of breaking big with Listen Like Thieves, containing the tracks "What You Need," "Shine Like it Does," and "This Time." Following the U2 timeline, in a way, it wouldn't be until 1987's Kick that INXS had a mass appeal with the song "Never Tear Us Apart." (After singer Michael Hutchence's suicide, there were eerie parallels between Hutchence and Ian Curtis. Both were charismatic frontmen who hung themselves. One had the popular song "Love Will Tear Us Apart" and the other had "Never Tear Us Apart." Coincidence?)
Oingo Boingo was the biggest local band in the world at that time, playing to sold out crowds in Southern California, but not really making a splash anywhere else. Their 'day of the dead' décor and new wave meets post punk sound was infectious and Dead Man's Party their biggest album to date. The title track, "Stay" and the theme from "Weird Science" were the big songs off of the album.
Going in a New Direction
All of these bands were fantastic and could have been enough to sustain my fascination with popular music, but without the next few bands, there would have been something missing. The following acts had a more mature sound that was a shock to my senses I would not easily overcome. Without hearing these bands, my appreciation of any and all future music might have been greatly diminished. These are the bands that I look to with reverence, awe and fondness.
Two bands with different influences and backgrounds, but with equal effect on the landscapes were Depeche Mode and Echo & the Bunnymen. Each English band, from Basildon and Liverpool respectively, had four previous albums under their belts, DM with their at first poppy, and growing increasingly darker synth pop, Echo with their Velvet Underground and Doors influenced post punk melodrama. In 1985, both bands released singles compilations that allowed American listeners, such as myself, to 'catch up' with Catching Up With Depeche Mode and Songs to Learn and Sing. The former included a preview of the gorgeous darkness to come in Black Celebration with "Fly on the Windscreen." The latter included their worldwide breakthrough, "Bring on the Dancing Horses," also to be featured on the aforementioned Pretty in Pink soundtrack. Although I hurl disdain upon them now, greatest hits packages were perfect for kids with a budget who could both not afford every release and be unable to lay hands on imports.
Some of the best music of 1985 had limited cult followings, and even some, I hate to admit, I would not even hear at the time. The Jesus & Mary Chain's partnership of brothers Jim and William Reid, as Barry of Championship Vinyl so eloquently put it, "picked up where…Echo & the Bunnymen left off." Their debut album, Psychocandy, after a few skronky feedback laden singles, was a heraldic album ushering in a new age. The album has been noted as causing ripples that would create Britpop, shoegazing and chill-out music.
Meanwhile, in Minneapolis, the Replacements had just signed a major label deal and released Tim, a blueprint to college rock that still remains relevant today. "Bastards of Young" and "Kiss Me on the Bus" proved that even scruffy Midwesterners could not only rock, but also produce quality songs. "Here Comes a Regular" would be the first warning that Paul Westerberg would have a successful singer / songwriter solo career.
The Waterboys' third album, This is the Sea was the best Irish tinged blend of folk rock on the planet. Mythology, hooks and melodramatic singing would highlight one of my favorite albums of 1985. The epic building title track, "The Whole of the Moon," and the sexy "The Pan Within" would highlight a triumphant album that would jump start not only singer / songwriter Moke Scott's career, but also that of Karl Wallinger, who would later split off and create World Party.
Four monoliths of college rock would release some of the best work of their lives in 1985. Manchester's New Order finally grew into their own sound after one album of uncomfortable distance from the death of Ian Curtis, the singer of the band when it was called Joy Division, called Movement, and one album of lush synth and bass mastery called Power, Corruption and Lies. It was singer Bernard Sumner who finally found his legs in Low Life, which featured the hits "Love Vigilantes" and "The Perfect Kiss."
Another Manchester band, the Smiths, released their second full length called Meat is Murder. Although some claim that it is not as groundbreaking as their debut, or as important as its successor, The Queen is Dead, it was the accompanying single that found acclaim, that being "How Soon is Now?" The song would vault Morrissey and Marr into the rock stratosphere, remaining their most recognized song today.
The Cure, along with alternative music in general, was also headed in a new direction. The Head on the Door was a large step forward for Robert Smith and company. While their previous "trilogy" of albums had a dark gothic influence, The Head on the Door and its tracks "In Between Days" and "Close to Me" would move into more pop driven territory that would lead to 1987's Kiss Me, Kiss Me, Kiss Me and one of their biggest hits, "Just Like Heaven."
On American shores, in the deep south of Athens, Georgia, R.E.M. was releasing their third album, Fables of the Reconstruction. "Can't Get There From Here" and "Driver 8" were my first introductions to the band, halfway through their indie lifespan. Although not my favorite from the band, it was my first, and the firsts always find a special place in your heart.
Now, imagine all of this great music, and throw on Tom Waits' Rain Dogs. Makes you think, doesn't it?