Truly Great: Depeche Mode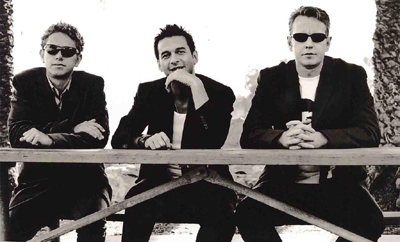 I don't know why, but I can't remember which song was the first I heard from Depeche Mode. It could have been "People Are People," but then again, it could also have been "Just Can't Get Enough," "New Life" or "Get the Balance Right." I do remember owning a cassette of Some Great Reward that surprisingly didn't suffer from repeated playing. I also had a vinyl copy of People Are People, the U.S.-only singles compilation that featured the massively popular title track and one of the band's strongest singles, the aforementioned "Get the Balance Right." Although some of their most popular songs, and some of my favorites including "Blasphemous Rumours," are almost always now referred to as naïve, they had a profound effect on me.
Up until that point, the only 'alternative' band I had ever embraced had been Oingo Boingo, and that's only because it was pretty much required by Southern California law. My world was ruled by top 40 radio until Dave Gahan and Martin Gore showed me the way. Love songs weren't merely love songs anymore, they were backhanded slaps of reality. I became an ardent fan of DM with the release of their third album, after Vince Clarke had left and formed Yaz (Yazoo, at first). Clarke's departure was probably the best thing that could have ever happened to the group. Not only did it allow Martin Gore's songwriting to take center stage, leading to one of the most dynamic songwriter / mouthpiece partnerships in music history, but it also brought in the vastly underrated, yet magnificently talented, Alan Wilder.
It didn't happen immediately, but Gore's songwriting skill began to build steam with each successive release. A Broken Frame was somewhat an exercise in standing on his own two feet, picking up where Clarke left them. Construction Time Again found Gore gaining his own distinctive songwriting voice in tracks like "Told You So," "Shame," and the crowd favorite, "Everything Counts." Some Great Reward, however, was the band's first real signature triumph. Gahan mastered his own sense of drama and sensuality, Wilder arranged songs that were electronic symphonies rather than just dance club throwaways, and Gore looked deep inside himself for dark inspiration. For teenagers, including myself, Martin Gore's lyrics were an introduction to adulthood. We wanted to learn more about the big bad world and its hidden pains and pleasures, while Gore looked at the world with a soul that straddled the divide between adult realist and adolescent fantasist. He, through Dave Gahan, said things that we had all been longing to hear. Gore became the symbol for the emotionally passionate introvert, hiding behind the keyboard, piping up in a sweet shy falsetto when appropriate, while Gahan became the symbol for the brash and confident extrovert, gyrating and shouting with abandon, and there would be no stopping either of them.
Black Celebration, one of Treble's favorite albums of the '80s, took the band's game to the next level. Whereas Spinal Tap thought their album cover could become 'none more black,' DM and later hi-definition televisions proved that things could get much darker. "Stripped," "Fly on the Windscreen" and the title track are glorious examples of dancing despite the specter of death, almost reveling in mortality. Themes seemed to pour from one song into another. Although the first side was loaded with singles, some of DM's best tracks seem to stack the deck of the b-side. It's because of songs like "But Not Tonight," "New Dress" and "World Full of Nothing" that Black Celebration is considered by fans to be their best album.
Music for the Masses, another Treble favorite from the decade, started a firestorm of fan frenzy for Depeche Mode. The album's title was meant to be somewhat of a joke, considering their theretofore-limited success, but their own prophecy would soon come true, evidenced in the form of a sellout show at the Rose Bowl. "Strangelove," as the album's first single, would only be the tip of the proverbial iceberg of great songs within. "Behind the Wheel," "Little 15," and perhaps especially "Nothing" and "Never Let Me Down Again" showcased the spectacular creative harmony within the band, with Gahan and Gore's dual vocals never sounding as sweet as they do in that latter song, which became their signature. To me, there is almost no better live album than 101, a concert at the Rose Bowl in Pasadena that was captured in a companion documentary by D.A. Pennebaker. One of the great things about the new deluxe reissues of the DM albums is the inclusion of mini-documentaries. The one for Music for the Masses shows a humbling moment in the lives of the four band members. Dave Gahan starts waving his arm back and forth, urging the people out there in the darkness to do the same, but as the lights swing out, we see, along with the band, that they aren't just faces in the black. What we see is over 80,000 people waving their arms along with Dave. While this may have been one of Gahan's shining moments as a showman, the camera also captures the absolutely stunned faces of Wilder and Andrew Fletcher. They look like deer in headlights, finally realizing just how big their little band really was. It still gives me goosebumps.
Things didn't let up for DM in the new decade. While most bands would find themselves paralyzed by the trappings of fame, the Mode found themselves even more energized, though also near a spiral into rock and roll clichés such as rampant drug use. Violator was a breakthrough in much the same way that Black Celebration was, maybe even more so. In essence, Gore combined the pop accessibility of their previous studio album with the darkness of the one before that to create a kind of Frankenstein's monster of pop mastery. To this day, only "Enjoy the Silence" rivals "Never Let Me Down Again" as one of the band's most beloved tracks. Add to that the now legendary (thanks to a Johnny Cash cover) "Personal Jesus," "World in My Eyes," "Halo" and "Policy of Truth" and you have an instant classic. Even the band's b-sides from this time, including the miraculous "Dangerous," were astounding. That momentum would not let up, even three years later, with the release of Songs of Faith and Devotion. "I Feel You" and "Walking in My Shoes" would become necessary inclusions on any DM retrospective and they ruled the alternative airwaves.
If Ultra and Exciter failed to receive the acclaim that their predecessors gained, it's only because people weren't paying attention. Each of these albums still hold treasures to be unearthed by listeners who had passed them over previously. Having gone through a harrowing time addicted to drugs and a suicide attempt, Gahan rebounded to take singing lessons, delivering an unparalleled performance on Ultra. Exciter attempted to regain the power of Violator, and came fairly close, though not close enough for some casual fans.
Rather than a comeback, Playing the Angel was an affirmation of the brilliance of Depeche Mode. The album finally lived up to the 'best album since Violator' tag, something to which the band even admitted. This album, from a band now 25 years old, was what the world had been waiting for from Depeche Mode. It had everything, Gore's patented confessional lyrics and Gahan's powerful delivery. From the siren-like intro to "A Pain That I'm Used To" to the closing strains of "The Darkest Star," Playing the Angel was a triumph, so much so that there was even a 101-like double live album to follow.
Depeche Mode has gone through their share of troubles, but the core of Martin Gore and Dave Gahan will always keep listeners like myself coming back for more. I, too, am still straddling that divide between adult realism and adolescent fantasies, forever thankful that there will be music to guide me through it all. Gore and Gahan have become for me a kind of sociological dyad. I more associate myself with one, while I long to be the other. The same goes for the Gallagher brothers, the Glimmer Twins and even Ernie and Bert. I've always found myself more like Bert, the avid collector, anal retentive housekeeper and all around serious grump, annoyed by everyone, but I've always wanted to be more like Ernie, fun loving, affable and carefree. This is why I have a tattoo of Ernie on my left shoulder. Every morning he reminds me to worry less and have more fun. Maybe this means that the right shoulder is reserved for Dave Gahan.
Truly Great Discography
Some Great Reward
Black Celebration
Music for the Masses
Violator
Songs of Faith and Devotion
Playing the Angel
Best Of, Vol. 1