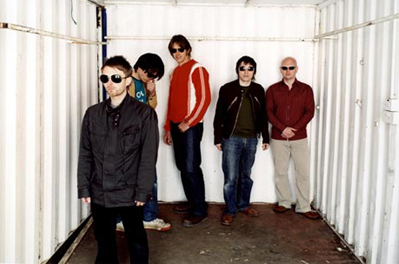 With articles and reports everywhere heralding the internet release of In Rainbows as the first herald of the death knell of the major label compact disc, we here at Treble decided to look back at the band's incredible catalog. Thom Yorke, Jonny Greenwood, Colin Greenwood, Ed O'Brien and Phil Selway have been on a tumultuous and, at times, baffling but rewarding journey over the last twenty-one years as a band, and fourteen years of recording music. Radiohead has achieved success in the most rare of methods possible. They are not flashy rock stars, there are no real gimmicks, they despise media blitzes and generally shun spotlights. And yet, they became one of the biggest bands in the world, with their latest release being downloaded more than 1.2 million times on the day of its web release.
Radiohead fans are a cultish sort. But, can they still be called a cult when there are so many people in the group? Truth be told, I've only ever met one person in my life that wasn't a Radiohead fan, a person who vocally expressed, if not a dislike of the band, a mild, numbing malaise about them. In an ironic twist, some of his self-professed favorite bands and albums include Gomez's In Our Gun (aka "the one that sounds like Radiohead") and Deerhunter's Cryptograms, another band heavily influenced by Radiohead�s sound. We, as Radiohead initiates, know the story. We know how they began as schoolmates and formed a band called 'On a Friday.' We know how eventually they got better, signed a record contract, and released one of the most recognizable singles of the '90s, "Creep." Despite the band's later weariness and negative reaction to the song, acts ranging from Jeff Buckley to Damien Rice and U2 have covered "Creep," recognizing its inherent genius.
Although Pablo Honey would yield only one real hit, the band declared it their 'greatest hits as an unsigned band,' as it was a collection of their best material up to that point. The Bends succeeded where Pablo Honey faltered, finding at least five successful singles, and a massive groundswell of word-of-mouth support for the record. But it was OK Computer that would put Radiohead into a realm seldom tread by rock bands other than the Beatles, that of fan hysteria, critical acclaim and a sense that each time out, Radiohead would simply get better and better. That argument can be made with Kid A, an experimental and groundbreaking album that many critics put on their 'best' lists. It's an album that defies the concept of radio-friendly singles even more than its predecessors, fiercely adhering to the 'album as a whole' concept, and although initial fan befuddlement, an eventual favorite among the Radiohead faithful.
If Kid A was Radiohead's Vertigo, technically adventurous, entertaining and critically lauded, then Amnesiac was their North by Northwest, equally entertaining, built upon the same themes, but with a different set of atmospheres. Hail to the Thief found the band straddling that line between a return to rock and the digital experimentation they had been tinkering with. Band members changing up instruments on stage and a sense of political upheaval were also to be found in the album and resulting tours for the oft-underrated affair. And now we have In Rainbows, the first 'real' album by an established act to be self-released online. Many are calling it the return to greatness as signified by OK Computer, and not just because of the exact match of letters in the title. Ultimately, that's up for you, the listener to decide, but here's a sense of what we here at Treble think about Radiohead's past releases.
Truly Great Discography
The Bends
OK Computer
Kid A
Amnesiac
Hail to the Thief
In Rainbows