George Lewis Jr. doesn't want to believe or be in love. He said as much in 2010's "Slow," a gorgeously catchy standout from Forget, his debut album as Twin Shadow. And yet, essentially the whole of that very album centered on memories of romantic entanglements — some fond, some painful, many from the perspective of someone whose most important lessons in love were learned at a much younger age. One of the bigger takeaways of these synth-driven confessions, however, is that Lewis, himself, is often the one who turns a good thing bad. He reminisces about a reunion with someone whose heart he broke at 15 in "Tyrant Destroyed," steals another man's girl because she "hates his moves" in "I Can't Wait," and sums up his own Midas-in-reverse affliction perfectly in "Castles In the Snow": "Everything I touch turns cold."
If pop culture records dating back to "Dracula" have taught us anything, however, it's that chicks dig a bad boy, and Lewis plays that up even further on second album Confess. On the deep blue album cover, Lewis stands, smoldering, in a leather jacket and greased-back pompadour, looking like some kind of James Dean/Stephen Patrick Morrissey hybrid that only gains potency with the motorcycle-riding, beast-fighting video for "Five Seconds." He may be playing up a certain stereotype, but it's one with a firm basis in reality; Lewis was in a motorcycle accident before recording the album, though he continues to ride, and said in one pretty brutally honest interview, "I'm starting to question the importance of truly coexisting with someone, if it's really healthy at all."
So, Lewis probably isn't going to sport a wedding band anytime soon, which seems to be for the best, because on the even brighter and expansive pop dynamics of Confess, he's a dangerous man. When he pleads, "I have to be with you" on "Beg For the Night," the implication is that it's really only to satisfy a temporary desire, which he more or less confirms later as he sings, "If you need me again, then let me know." He's sometimes cruelly blunt, as in "Golden Light," when he states, " Some people say you're the golden light/ And if I chase after you, doesn't mean it's true." And the curse of two different partners' opposing endgames leads ultimately to conflict on the Prince-with-drumline bombast of "Patient": "I want to be adorned by your lips and your hands/ can't seem to tell you this/ when you analyze every single kiss."
Reading between the lines, or directly at them for that matter, is easy at a distance, yet the lush arrangements and skyscrapers of synthesizer on Confess are the sonic equivalent of those dreamy blue eyes in which we can't help but get lost. It's, simply, gorgeous. The Cure- and Smiths-inspired post-punk arrangements of Forget have undergone a big budget makeover, providing the proper level of gloss and sparkle to a group of 10 meticulously crafted tunes. On more than one occasion Lewis channel's Prince at his peak, most notably on the dark, guitar-driven slink of "You Call Me On," yet "Run My Heart" takes its inspiration from another prominent `80s icon, riding a rhythm that recalls Springsteen's "I'm On Fire." The dark synth-pop strut of "When the Movie's Over" re-imagines M83's Saturday night euphoria a few minutes after the buzz has worn off and the world seems beautiful in a much more tragic sense. "Five Seconds," meanwhile, is the moment in which Lewis most seamlessly bridges his emotional songwriting sensibility with his penchant for breaking hearts. He sings "I'm not trying to make you cry," but it's clearly already too late for that; and yet as he's backed by a triumphant buzz of keyboards and acoustic guitar, bellowing out "there's no way to forget it all," he's never sounded so affecting or sympathetic.
On Confess, Twin Shadow sparks up a lot of different emotions and scenarios, but the album can best be summarized in the chorus of "Run My Heart": "This isn't love/ I'm just a boy/ you're just a girl." It's not romantic in the capital-R sense of the word, but Lewis clearly understands how powerful instincts and impulses can be, and the damage that too much emotional investment can do. But he's not trying to give anyone the wrong idea here — Confess is all about uncomfortable honesty, and making it sound as good as it possibly can. Nobody ever really wants to be on the receiving end of many of the declarations Lewis makes, but with his gentle croon, his heavenly synthesizers and dazzling guitar solos, it's the sweetest self-delusion one can endure.
Similar Albums:
M83 – Hurry Up, We're Dreaming
Prince – Purple Rain
Future Islands – On the Water
Video: Twin Shadow – "Five Seconds"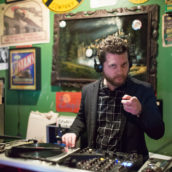 Jeff Terich
Jeff Terich is the founder and editor of Treble. He's been writing about music for 20 years and has been published at American Songwriter, Bandcamp Daily, Reverb, Spin, Stereogum, uDiscoverMusic, VinylMePlease and some others that he's forgetting right now. He's still not tired of it.