Tyler, the Creator : Wolf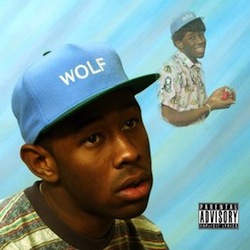 The bad rap against rap, one it deserves more often than not, can be boiled down to this: It has cornered the market on repeating ad nauseam the simple theme of "I am better than you." Forms of this domination are limited as well, usually through the skill of rapping, the drug trade, the money you earn from either, the sex you have because of it, or dropping your competition — sometimes permanently — through physical violence. Rare are the hip-hop acts who change the paradigm by looking at the music's surface or underlying politics, or by examining the social and emotional self as a result of singing their lives. Odd Future Wolf Gang Kill Them All aren't about to channel Malcolm X like Public Enemy, so on his latest album Wolf, OF's leader Tyler, the Creator cements his status as a complicated storyteller by lamenting his status as a complicated storyteller.
It's a brave new point-of-view for an artist so quickly and constantly steeped in controversy, but it's not a unique shift. We've seen this before, on an even grander scale, from the once and future Marshall Mathers. Eminem hit the charts and airwaves with freakish spitting and crackling production; Tyler's already established himself as a sick, slick lyrical mind, and with any luck, Wolf makes a star out of fellow Odd Future beatmaker Hodgy Beats. Em told tales colored by the willful ignorance and malevolence of otherwise idle youth; Wolf has its sad share of apparent misogyny, as well as interludes forming a loose story about a mad rival musician named Sam. Each made critical splashes, each were labeled violent and intolerant, and each grew to look at their fame with wonder and skepticism. Tyler's writing, even beyond his telling cautions in songs like "Rusty" and "Pigs," suggests he's well aware of this rap legacy.
On "Answer" he suggests changing his name to that of Eminem's daughter, Hailie, while angrily and poignantly calling out his own absentee father, desperate to do things with him as well as to him. "IFHY" is his jagged ode to a lost love, honing his desires to the point of chasing down her new boyfriend. While Eminem seemed to put some time and space between tracks that in part relived his past successes—and in some cases became huge successes of their own — on Wolf no less than three tracks reference Tyler's startling video for "Yonkers," from 2011's Goblin, and how it changed his life for better and worse. The song that best details that conflict between his newly fat stacks and his pop-up army of detractors is probably Tyler's encounter with a group of gay fans at an amusement park, "Colossus/The Bridge of Love," an uncomfortable discourse on obsession and free thought that's fluid, literate, and yet possibly casually hateful.
And that song signals how OFWGKTA, Tyler, and specifically Wolf diverge from Eminem's path. Rooted squarely in this digital, immediate-satisfaction age, Tyler wants to say everything all at once, and repeat it like so many Google results. Countless are the ways in which he demands you suck, or get off, his dick; there are too many long, slash-connected songs that ultimately go nowhere; "Trashwang" and "Treehome95" are full of guest stars that blithely ignore his presence and don't really feel like Odd Future canon. Indeed, this is the moment where, in spite of Tyler's attempts to grow up — not just with some introspective flow but with diversifying his creative outlets and learning the power of PR — he's made an album where everything sounds on the verge of being a skit. He may very well be better than us, but when he diffuses it by saying he's just fucking with us is he really fucking with himself?
Similar Albums:


JJ Doom – Keys to the Kuffs


Big K.R.I.T. – Return of 4eva


Death Grips – The Money Store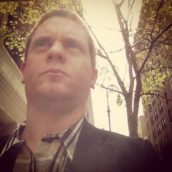 Adam Blyweiss
Adam Blyweiss is associate editor of Treble. A graphic designer and design teacher by trade, Adam has written about music since his 1990s college days and been published at MXDWN and e|i magazine. Based in Philadelphia, Adam has also DJ'd for terrestrial and streaming radio from WXPN and WKDU.